Click Here for More Articles on REGIONAL - WASHINGTON, DC
BWW Review: WILDERNESS at the Kennedy Center Disappoints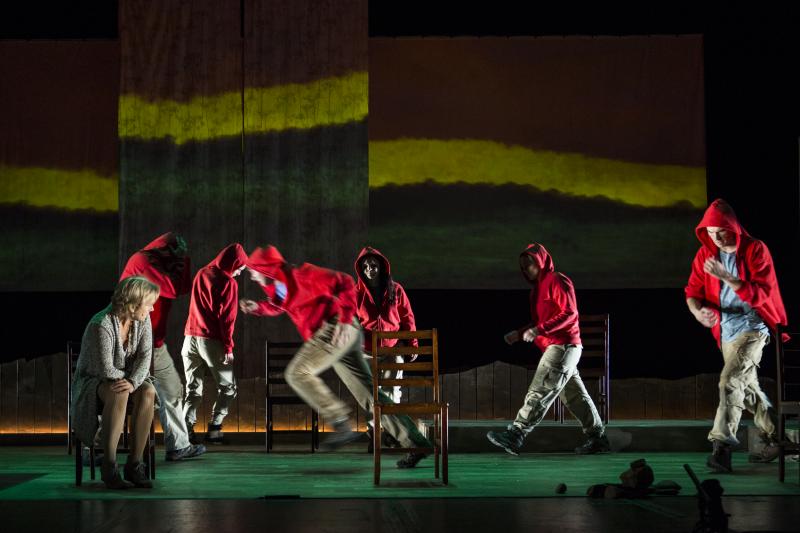 In Seth Bockley and Anne Hamburger's Wilderness - now in performance at the Kennedy Center - we meet kids who are/were in need of an intervention. They deal with such varied challenges as drug abuse, self-harming, and anxiety/depression. Some are coping with real emotional trauma due to a variety of less than pleasant experiences whether in the distant or recent past. That intervention, invited by their parents (who are at their wits end), is a trip to the Utah desert. There, they learn survival skills and hopefully tackle their issues with the help of counselors some of whom who have faced similar challenges. We see the ups and downs they experience while participating in the program and learn, through monologues and interviews, about the issues each deals with on a daily basis. They have some compelling stories.
Besides the compelling stories, the production boasts an earnest young cast portraying troubled kids and the counselors (Holly DeMorro, Caitlin Goldie, Taylor Noble, Scott Freeman, Jake Williams, and Luke Zimmerman) that try to help them. The young cast offers up some extremely honest and natural performances along with Jan Leslie Harding, portraying a parent of one such child. Projected video-based interviews (designed by Michael Tutaj) with the parents of the children the actors portray provide the production with another dose of realism.
The trouble with it all though? Even with some solid acting, an earthy folk rock score (with some nice vocals by Holly DeMorro), and some decent technical elements, there's something amiss.
For 90 minutes, you may feel like you're watching something you've already seen in a televised documentary, though probably not as gritty and raw. Or worse, you might feel like you're watching a presentation geared at educating undergraduate and graduate students in psychology and social work about some of the challenges their future clients might face and mechanisms to address those challenges. You might even - as I did - feel like you're watching a predictable documentary, with some dialogue that's just a little too precious, especially designed to be shown in a university classroom.
Perhaps the problem is that one of the co-writers (Seth Buckley) also directs the shoW. Maybe someone with a little bit of distance from the material would have been able to squeeze out something a bit more unique, theatrical, and immersive. Perhaps some rewrites would make it feel less like a teaching exercise. Whatever the case, it was not, in my opinion, worthy of a production at one of the country's most prominent arts institutions. That's pretty unfortunate.
Running Time: 90 minutes with no intermission
WILDERNESS plays the Kennedy Center's Family Theater - 2700 F Street, NW in Washington, DC - through October 15, 2017. For tickets, call the box office at 202-467-4600 or purchase them online.
Photo Credit: Baranova Photography