Click Here for More Articles on DC - Theatre Life
BWW Interview: Theatre Life with Amber Paige McGinnis
Today's subject Amber Paige McGinnis is currently living her theater life at Theater J as the director of the Tony Award-winning play The Last Night of Ballyhoo. The production runs through December 31st.
Amber is one of the fastest rising directors the area has to offer. In just five short years she went from being an Assistant Director at such prestigious houses as Folger Theatre (Romeo and Juliet)to directing at places like WSC Avant Bard, Source Festival, and Flying V. That was only the beginning of what some would say has been a meteoric rise.
More recently, Amber directed World Builders at Forum Theatre. She then followed that up with what I consider to be her breakthrough production. It was Equus at Constellation Theatre Company. If you didn't know who Amber Paige McGinnis was before seeing that show, you definitely did when you walked out.
Just prior to The Last Night of Ballyhoo Amber directed Top Girls at Keegan Theatre, a theater she had assistant directed at a few years earlier. It's so nice to see people come full circle.
Amber has been seen on stage just once in Never the Sinner at 1st Stage. Read more about her acting career in her answer to the first question below.
Her dance background came in handy for Constellation Theatre Company's The Ramayana. On that production she was Assistant Director and Choreographer. Is there anything she can't do?
Though we are in the thick of the holiday season and there are a myriad of theatrical offerings to choose from in our areas, if you are looking for a southern drama presented in top drawer fashion, check out The Last Night of Ballyhoo at Theater J. The sure to be quality production features Shayna Blass, Susan Rome, Sasha Olnick and other first rate performers guided by one Amber Paige McGinnis - a rising gem in the DC theatre community whose work always impresses.
When you first started working in theater, was directing the only thing you wanted to do or were there other areas of interest?
The first thing I ever did was play "Squeakers the mouse" in a Christmas production at my church. This is where I peaked as an actor. Thankfully I was also a dancer so I grew up on the stage doing more moving and less talking (which is still my preference to this day) and worked closely with my mom who ran the dance studio. It wasn't until college that I took my first directing class and it was an instant fit. Like many career origin stories, mine started with a professor who believed in me and said, "you're a born director." I haven't looked back since.
Where did you receive your training?
I received my first formal training for theatre in undergrad at Gardner-Webb University in North Carolina, then attended Baylor University in Texas for my MFA in Directing.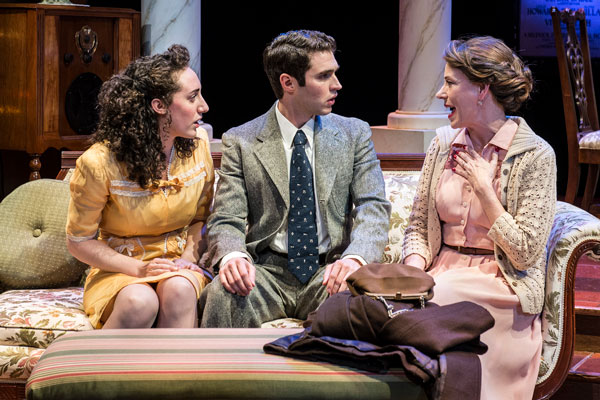 Can you please tell us a little something about The Last Night of Ballyhoo?
This play has been such a joy to work on! The cast and design team are amazing and it's a wonderful gift to get to go to rehearsal every day and laugh. The play is a family comedy set in Atlanta in December 1939. While much of the world during this time had turned its focus on the crisis of WWII, Atlanta was instead preparing for the premiere of Gone with the Wind. It's also the time of year when many well-to-do Southern Jewish families celebrated Ballyhoo, an annual celebration that culminated with a dance on the last night. Most of the play unfolds in the Freitag house, the home of a wealthy Jewish family that has become so assimilated into southern culture that they have a Christmas tree in their living room. When Joe Farkas, a young man from New York City starts working for the family company and falls for one of the young girls in the house, the family of German Jews struggles to reconcile the prejudice they hold towards Joe's non-assimilated Eastern European identity. The conflict and comedy that arise make for a fun and heartfelt journey that I think audiences will love!
As a director, what was it about Alfred Uhry's writing that made this project attractive to you?
Well to be honest, one of the first things that excited me about it was that it's set in the South. Having grown up in North Carolina, this is actually the first Southern play I've ever directed. I grew up with Gone with the Wind (my sister's name is even Tara!). But the thing that really made me relate to the play in a serious way was the question of what it means to turn your back on your identity and culture and what it feels like to be an outsider. That's something that I think all of us have experienced at one point or another. The play brilliantly explores difficult themes of prejudice and anti-Semitism through the lens of comedy, which will hopefully invite audiences to ask themselves hard questions while also having a good time.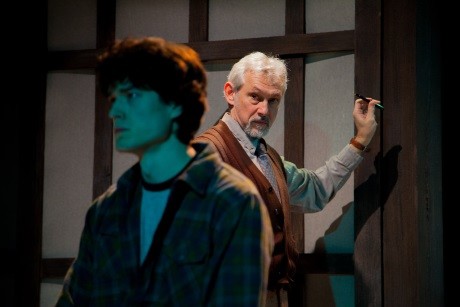 You directed a terrific production of Equus a few years back at Constellation Theatre Company. Can you please talk about the experience of putting that show together and can you also talk a little bit about how you took what some might say is a highly clinical script and made the experience accessible to everyone?
Oh boy- Equus is one of those plays that I'm not sure anyone ever figures out fully. Where that play sings loudest for me is when it's asking questions that we can't answer. What does it mean to be "normal?" Have we as "evolved" humans started to lose our sense of worship and awe? For that production, we put those questions at the center of each character and I think the accessibility came from audiences being able to connect with at least one of those perspectives (and hopefully open themselves to others.)
What advice can you give to someone who is fresh out of college and wants to have a career as a theatrical director?
When I got out of college I was working full time at an outlet mall in Gaffney, SC and had to drive an hour (up hill both ways) to pick up theatre work in Charlotte. I said yes to everything. Stage Managing, board op, Assistant Directing, Choreography...So my advice would be to take every opportunity you can to build trust and prove your work ethic with other theatre collaborators. If you do good work with kindness, often more opportunities unfold. BUT...if they don't...you gotta be brave enough to make your own opportunities.
What does 2018 hold in store for you?
This spring I'll be directing my first feature film called International Falls (Still looking for investors! ) But as far as theater work goes, I'm still trying to nail down projects for the 2018/2019 season. Nothing booked yet, but if nothing comes through I'll just have to take my own advice by making my own opportunities.
Special thanks to Theater J's Director of Marketing and Communications Laurie Levy- Page for her assistance in coordinating this interview.
Theatre Life logo designed by Kevin Laughon.