Kerrie Anne Greenland And Teddy Tahu Rhodes Join Sydney Philharmonia Choirs For Carols At The House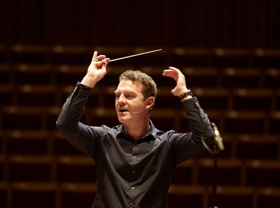 Get ready for the ultimate Christmas music event at Sydney Opera House this December, when two of Australia's favourite performers, Helpmann award winners Kerrie Ann Greenland and Teddy Tahu Rhodes, join the combined Sydney Philharmonia Choirs for their much-loved Carols at the House.
A highlight of every Sydney-based music lovers' calendar, this inimitable biannual program brings all the joy and magic of the season, presenting rarely performed arrangements of Christmas carols for large symphony orchestra and chorus, and filling the Concert Hall with the power of 500 virtuoso singers from the combined Sydney Philharmonia Choirs.
There's something for everyone in this glittering program: from Bach's monumental Christmas Oratorio to timeless classics such as Amazing Grace and Silent Night, the ever-popular Sleigh Ride and White Christmas, plus select Broadway favourites and a dash of Australia's own.
Highlights are sure to be the world premiere of a newly commissioned Christmas carol from Sydney composer Luke Byrne, showcasing the power of the full Sydney Philharmonia chorus and orchestra; alongside a final Centenary Year tribute to Leonard Bernstein, with a duet performance of his acclaimed Take Care of this House, from the musical, 1600 Pennsylvania Avenue, performed by special guests Teddy Tahu Rhodes and Kerrie Anne Greenland.
Sydney Philharmonia Choirs Artistic Director and Carols at the House Conductor Brett Weymark says, "Carols at the House is a very special date in the Sydney Philharmonia calendar. After a year of serious music making, it's a chance for us to let our hair down, sing some of the most exquisite and uplifting Christmas music, and welcome back some old friends - this year, Teddy Tahu Rhodes and Kerrie-Anne Greenland."
"Teddy first performed with the Choirs back in Christmas 1999, in his first Australian concert performance. We have enjoyed a long and rich relationship over the decades, which continues to grow with each collaboration. Similarly, I met Kerrie-Anne when she was a recent WAAPA graduate and have enjoyed every opportunity we have had to work together. Vocally she is extraordinary: quite chameleon-like in her ability. And she is also an absolute joy to perform with."
"Both are perfect for our Christmas show: able to move seamlessly from big sounds to intimate moments in their performances; and bringing just the right type of personality to get the audience involved in some fun participatory elements," Weymark concludes.
Join Sydney Philharmonia Choirs for this uniquely elegant celebration of Christmas, 8pm Friday December 7, 1pm Saturday December 8 and 1pm Sunday December 9. Tickets from $42. Book now at http://www.sydneyphilharmonia.com.au/carols-at-the-house-2018/
For Christmas aficionado, there's also a special Discover workshop focusing on the choral classics of the season. Explore the history behind the Christmas music tradition, get into the mood by lending voice to a few favourites, and then join the Philharmonia for an exclusive sneak peek of full cast rehearsals for Carols at the House. 6pm to 8.30pm, Tuesday December 4, Sydney Opera House Concert Hall Northern Foyer. Tickets, $44. Register now at http://www.sydneyphilharmonia.com.au/discover-2018/
More Hot Stories For You