LA FAMILIA ADDAMS y DIRTY DANCING se instalan en el Espacio Delicias de Madrid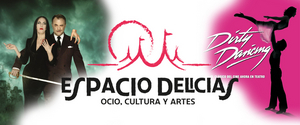 El próximo 3 de octubre el éxito LA FAMILIA ADDAMS vuelve a Madrid para instalarse en el Espacio Delicias hasta el 9 de diciembre. Además, el 21 de diciembre será DIRTY DANCING el que se instale en este espacio para su regreso a la capital.
Desde que se estrenase en octubre de 2017, LA FAMILIA ADDAMSha cosechado éxito por toda España.
LETSGO es la productora encargada de esta versión de LA FAMILIA ADDAMS. que cuenta con un reparto formado por Carmen Conesa (Morticia), Xavi Mira (Gómez), Lydia Fairén (Miércoles), Frank Capdet (Tío Fétido), Alejandro Mesa (Pugsley) y Javier Canales (Lurch), y cuenta con libreto de Brickmanny Elicey música de Andrew Lippa.
Este musical comenzó su recorrido por los escenarios en el Ford Center for the Performing Arts Oriental Theatre de Chicago en 2009 y continuó sus representaciones en el Lunt-Fontanne Theatre de Broadway en 2010, consiguiendo un gran éxito entre el público. En 2014 se estrenó en español en la ciudad de México y en 2017, además, el musical estuvo de gira por el Reino Unido.
Las entradas para esta nueva temporada pueden conseguirse web del espectáculo y en las taquillas del Espacio Delicias.
DIRTY DANCING, por su parte, es un musical romántico escrito por Eleanor Bergstein, dirigido por Federico Bellone, coreografiado por Gillian Bruce, vestuario de Jennifer Irwin y producido por LETSGO, regresa a la capital después de una larga y exitosa gira por toda España en la que se han alcanzado ya más de 400 representaciones y cautivado a más de 400.000 espectadores. Será la tercera vez que este espectáculo visite la capital. Puedes conseguir tu entrada en este enlace.
En cuanto al resto de la temporada, el Espacio Delicias también ha anunciado que se representará THE HOLE ZERO a partir del 17 de octubre y HOTEL HABANA SHOW a partir del 12 de diciembre.
Espacio Delicias es un nuevo centro de ocio, cultura y artes situado en el corazón del barrio de Legazpi que transportará el teatro y la cultura al formato carpa, además de contar con espacios al aire libre para gastronomía, conciertos y mercados temporales.
Tienes toda la información en su página web.
Related Articles View More Spain

Stories

Shows