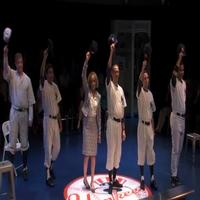 by BroadwayWorld TV - Oct 9, 2013
Primary Stages presents the World Premiere of Bronx Bombers, written and directed by Tony Award nominee Eric Simonson (Broadway's Lombardi). The production opened last night, Tuesday, October 8, and features Francois Battiste (Broadway's Magic/ Bird) as Reggie Jackson and Elston Howard,Chris Henry Coffey (Off-Broadway's Water by the Spoonful) as Joe DiMaggio,Bill Dawes(Broadway's Lombardi) as Mickey Mantle/Thurman Munson,Christopher Jackson(Broadway's In the Heights, Memphis) asDerek Jeter, Wendy Makkena (Broadway's Side Man) as Carmen Berra, Keith Nobbs (Broadway's Lombardi) as Billy Martin, Richard Topol (Broadway'sThe Normal Heart, The Merchant of Venice) as Yogi Berra, John Wernke (Broadway's The Lyons) as Lou Gehrig, and C.J. Wilson (Happy Now? at Primary Stages, Broadway's The Big Knife,Glengarry Glen Ross) as Babe Ruth. Bronx Bombers runs through October 19 at Primary Stages at The Duke on 42nd Street. BroadwayWorld brings you highlights of the cast in action below!
by Stage Tube - Jul 23, 2012
Two Time Tony Award Nominees Alison Fraser and Mary Testa return for the 29th episode of Michael Cyril Creighton's critically acclaimed web sitcom "JACK IN A BOX." Check out the clip below!