by Stage Tube - May 23, 2013
Playwright Douglas Carter Beane currently has two shows on Broadway - a new book for Rodgers and Hammerstein's Cinderella and a new play The Nance starring Nathan Lane and directed by Jack O'Brien.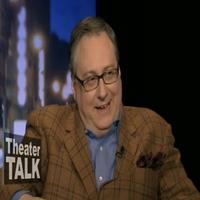 by BroadwayWorld TV - Feb 18, 2010
Theater Talk is the TV series featuring in-depth conversations with actors, directors, writers and others working in the New York theater. The show is co-hosted by Michael Riedel, Broadway columnist for the New York Post, and the show's Executive Producer, Susan Haskins, and is jointly produced by Theater Talk Productions and CUNY TV, the station of The City University of New York. In an upcoming episode, Riedel and Haskins discuss the truth behind gossip columnists - like those portrayed in Mr. & Mrs. Fitch - with the play's scribe, Tony nominee Douglas Carter Beane (Xanadu, The Little Dog Laughed, Give It Up!). BroadwayWorld brings you a preview of the conversation.