by Alexa Criscitiello - Oct 16, 2018
Angela Lansbury has enjoyed a career without precedent. Her professional career spans more than half-a-century, during which she has flourished, first as a star of motion pictures, then as a four-time Tony Award-winning Broadway musical star, and most recently as the star of 'Murder, She Wrote,' the longest running detective drama series in the history of television.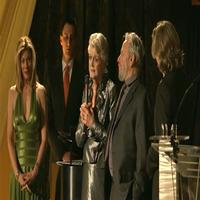 by BroadwayWorld TV - Apr 14, 2010
Angela Lansbury, the great star of stage, film, and television, was honored April 12 with the first annual Stephen Sondheim Award, given by Virginia's Signature Theatre at a black-tie Gala Benefit at the Embassy of Italy. The Sondheim Award, established by Signature last year in the name of America's most influential contemporary musical theater writer and composer, was presented to the actress by Mr. Sondheim himself.