Fifty Million Frenchmen - 2019 - Off-Broadway
The year is 1929, the month is June. It's the season when all the Americans invade Paris-and all the Parisians leave town. This classic boy-meets-girl musical set in the city of love introduced the world to such memorable Cole Porter favorites as "You Do Something to Me," "You've Got That Thing," and "The Tale of the Oyster." Originally opening on Broadway in 1929, Fifty Million Frenchmen was one of Porter's earliest hits and a precursor to the success that was yet to come. Irving Berlin was such a fan that he took out an advertisement calling Fifty Million Frenchmen "the best musical comedy I have seen in years!" The York is delighted to kick off its Cole Porter Mufti celebration with this show, in the revised version created by Tommy Krasker and Evans Haile for a 1991 concert presentation, emphasizing its remarkable score.
(New York, NY)
619 Lexington Avenue
Fifty Million Frenchmen Off-Broadway Cast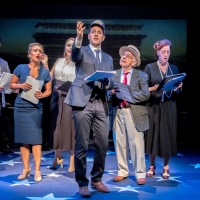 by Michael Dale - October 5, 2019
Say what you will about ANYTHING GOES and KISS, ME KATE, but for this musical theatre lover, there's no finer Cole Porter score than the one he whipped up for the 1929 hit, Fifty Million Frenchmen.