Rodgers + Hammerstein's Cinderella - 2013 - Broadway
Rodgers + Hammerstein's Cinderella is the Tony Award-winning Broadway musical from the creators of South Pacific and The Sound of Music that's delighting audiences with its surprisingly contemporary take on the classic tale. This lush production features an incredible orchestra, jaw-dropping transformations and all the moments you love - the pumpkin, the glass slipper, the masked ball and more-plus some surprising new twists! Be transported back to your childhood as you rediscover some of Rodgers + Hammerstein's most beloved songs, including 'In My Own Little Corner,' 'Impossible/It's Possible' and 'Ten Minutes Ago' in this hilarious and romantic Broadway experience for anyone who's ever had a dream.
"The ultimate and most enduring of makeover shows is back in town, and this CINDERELLA is no passive damsel waiting for a rescuing knight. She takes charge of her destiny."
-The New York Times
"EYE-POPPINGLY OPULENT enough to wow any six-year-old at heart!"
-The New Yorker
Video preview
Photo preview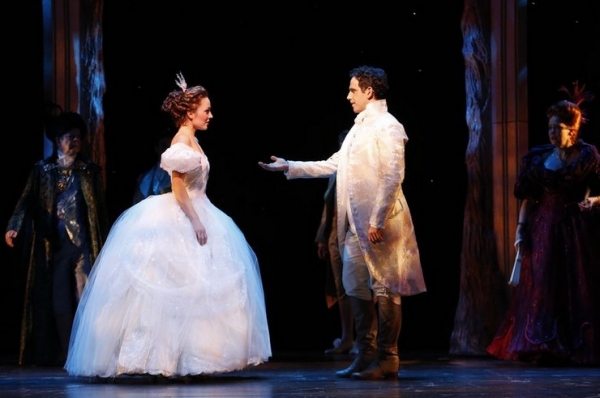 Schedule
Running Time: 2 hours and 20 minutes, with one intermission
Featured Reviews For Rodgers + Hammerstein's Cinderella
'Cinderella' casts a new spell on Broadway - USA Today
The new production of Rodgers + Hammerstein's Cinderella (* * * 1/2 out of four) that opened Sunday at the Broadway Theatre finds Osnes less surprisingly cast, but just as beguiling. The musical, appearing on the Great White Way for the first time, began its life as a 1957 TV movie starring Julie Andrews -- leaving the current star with a pretty big pair of glass slippers to fill.
Review: Bway's 'Cinderella' filled with freshness - Associated Press
What's this happening in Cinderella's magical kingdom? Is that a challenge to absolute monarchy we hear amid the romance and dancing? My goodness, it is: There's a demand for democracy. Children, there's even a call for economic justice. What kind of fairy tale is this? In the hands of playwright Douglas Carter Beane, a quite fine one actually.... Beane has succeeded, proving he may be Cinderella's real fairy godmother. His script crackles with sweetness and freshness, combining a little "Monty Python's Spamalot" with some "Les Miserables."
Rodgers + Hammerstein's Cinderella Broadway Cast