Amazing Grace - 2015 - Broadway Tickets, News, Info & More
Amazing Grace is a new original musical based on the awe-inspiring true story behind the world's most beloved song. A captivating tale of romance, rebellion and redemption, this radiant production follows one man whose incredible journey ignited a historic wave of change.
John Newton (Tony Award nominee Josh Young), a willful and musically talented young Englishman, faces a future as uncertain as the turning tide. Coming of age as Britain sits atop an international empire of slavery, he finds himself torn between following in the footsteps of his father-a slave trader-or embracing the more compassionate views of his childhood sweetheart (Erin Mackey). Accompanied by his slave, Thomas (Tony Award winner Chuck Cooper), John embarks on a perilous voyage on the high seas. When that journey finds John in his darkest hour, a transformative moment of self-reckoning inspires a blazing anthem of hope that will finally guide him home.
Video preview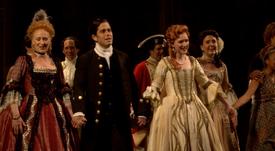 Photo preview
Schedule
Running Time:
Two hours and 30 minutes, with one intermission
Twitter Watch
@agmusical
03/27/2020 04:58pm
(3/3) Now in celebration of #WorldTheatreDay and to lift up things that fill our hearts with joy... what's the firs… https://t.co/w8lDCweoC3
Featured Reviews For Amazing Grace
'Amazing Grace' theater review - amNY
On the heels of President Barack Obama breaking into "Amazing Grace" during a eulogy, a well-meant but embarrassingly uninteresting musical depicting the life saga of the hymn' writer has opened. Watching it, you keep thinking, "How in the world did this get to Broadway?"...Resembling an old-fashioned adventure novel, "Amazing Grace" is packed with changes of fortune, sentimentality and one-dimensional characters. Smith's mushy, forgettable songs sound like the work of someone who loves "Les Miz" but has little talent of his own...Too bad they couldn't just sing "Amazing Grace" at the start and save everyone 2 1/2 hours.
'Amazing Grace' Review: How Sweet the Set - Wall Street Journal
New musicals that open in the summer tend to be ill-fated, and "Amazing Grace," which purports to tell the "awe-inspiring true story" (so says the news release, anyway) of John Newton (Josh Young), the British slave trader turned abolitionist who wrote the words to the 1779 hymn, is unlikely to break that rule...On the credit side, the cast is superb-especially Chuck Cooper as Newton's twice-enslaved manservant-and Gabriel Barre's sumptuous staging not infrequently creates the illusion that there's more to "Amazing Grace" than meets the ear...Whatever its weaknesses, this is one of the best-looking musicals to reach New York in recent seasons.
Amazing Grace Broadway Cast