Russia Theater Reviews
View the latest BroadwayWorld reviews of live + streaming theatre in Russia.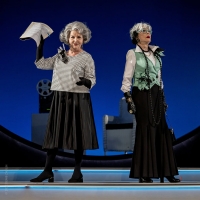 BWW Review: John Misto's Play MADAME RUBINSTEIN is Staged in Moscow by Yevgeny Pisarev at The Moscow Pushkin Drama Theatre
by Ani Arutyunyan - February 22, 2022
A memorable and witty show based on Australian John Misto's play 'Madame Rubinstein' and staged by Yevgeny Pisarev, was premiered in the Moscow Pushkin Drama Theatre. This performance is hinged on the main character brilliantly impersonated by a renowned Russian actress Vera Alentova (she has gained...
BWW Review: CHEKHOV INTERNATIONAL THEATRE FESTIVAL IN MOSCOW PRESENTS ELECTRA IN THE UNDERWORLD at Mossovet Moscow Theatre
by Ani Arutyunyan - November 29, 2021
This year Chekhov International Theatre Festival in Moscow welcomed ÉLECTRE DES BAS-FONDS (Electra in the Underworld) - the show initially premiered in legendary Théâtre du Soleil in 2019 and directed by an acclaimed actor and theatre director Simon Abkarian. Abkarian is a former member of the famou...
BWW Review: MAZEPPA - Opera Blockbuster at Bolshoi Theatre
by Ani Arutyunyan - July 08, 2021
Recently the Bolshoi Theatre presented Tchaikovsky's three acts opera 'Mazeppa', based on Pushkin's poem 'Poltava', part of cultural legacy of Mazeppa. Pushkin took some creative freedom in order to create powerful characters and grand passions. The opera was composed between June 1881 and April 188...
BWW Review: GORBACHEV at The State Theatre Of Nations
by Ani Arutyunyan - July 07, 2021
Despite the ongoing pandemic the theatrical season 2020-2021 was very productive, especially for the State Theatre of Nations, where we can see some of the most influential and talented actors on stage, such as Yevgeniy Mironov and Chulpan Khamatova. 'Gorbachev' turned out a sensational performance ...
BWW Review: CHESS at MDM Theatre - Back Where It Started
by Daria Vorobyeva - October 24, 2020
You all know Chess – that grand musical about the rivalry between Soviet and American chess players with a love triangle and fleeing the Soviet Union. This fall, it finally reached Russia with the help from Dmitry Bogachev and his company Broadway Moscow. It has it all – a notable director, great ca...