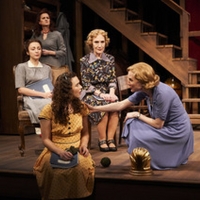 BWW Review: Finely Written, Creatively Directed, Well-Acted, Funny, INTO THE BREECHES! at CPH
by Roy Berko - Sep 22, 2019
As the lights come up on the Tony Winning Cleveland Play House's opening production of its 104thseason, it's 1942 and the Oberon Play House (a stand-in name for CPH), is about to open its season. There is a major problem, however. The plays scheduled are all Shakespeare, the company's males are all off fighting in World War II, and the director is in the service of his country.
Humana Festival Founder Jon Jory and More to Join Cleveland Play House's Hall of Fame
by BWW News Desk - Oct 1, 2015
Cleveland Play House will honor a new class of those who have contributed to its vibrant history with a Hall of Fame induction ceremony and luncheon on October 25th from 11:30 a.m. - 2:00 p.m. at Cibreo Privato located at 2037 E. 14th Street. 2015/16 inductees will include Jon Jory, a former apprentice actor at CPH who went on to found the Humana Festival of New American Plays, The Resident Company of CPH (1921-88), and the CPH Heritage Award will be presented to Karamu House, the revolutionary theatre who, like CPH, is also celebrating its 100th anniversary this year.
Dee Hoty Among Honorees at Cleveland Play House's 2013 Hall of Fame Induction Luncheon
by Kelsey Denette - May 8, 2013
Cleveland Play House (CPH) will host their 17th Hall of Fame Luncheon on Tuesday, May 14th in the Allen Theatre at PlayhouseSquare. This year's honorees have contributed to the success of CPH through many different avenues, and their professional accomplishments have accentuated CPH's proud history. This year's recipients include Dorothy and Frank Draz, Dee Hoty, Barclay Leathem and Jack Weston. Also being recognized is The Women's Committee of Cleveland Play House, which will be presented with the Heritage Award by Roe Green for their contributions to CPH.