Latest News on Mildred Thompson:
Latest News on Mildred Thompson
Mildred Thompson News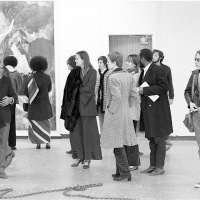 Staller's Zuccaire Gallery Presents Exhibition of Black Artists and Abstraction in the '60s and '70s
by Stephi Wild - Nov 29, 2022
The Staller Center's Paul W. Zuccaire Gallery opened a new exhibition entitled Revisiting 5+1, developed in conjunction with the Museum of Fine Arts, Boston's current feature exhibition, Frank Bowling's Americas.
Kemper Museum of Contemporary Art Presents 'Magnetic Fields' Exhibit
by Christina Mancuso - Apr 27, 2017
Kemper Museum of Contemporary Art is pleased to announce the forthcoming exhibition, Magnetic Fields: Expanding American Abstraction, 1960s to Today, which will be on view at Kemper Museum June 8 through September 17, 2017, and will then travel to the National Museum of Women in the Arts in Washington, D.C. Magnetic Fields is the first U.S. presentation dedicated exclusively to the formal and historical dialogue of abstraction by women artists of color. The exhibition has also garnered major support and merit through the reception of prestigious grants from the National Endowment for the Arts and from The Andy Warhol Foundation for the Visual Arts. The exhibition is organized by Kemper Museum of Contemporary Art, Kansas City, Missouri, and co-curated by Erin Dziedzic, director of curatorial affairs at Kemper Museum, and Melissa Messina, independent curator and curator of the Mildred Thompson Estate, Atlanta, Georgia.
Mildred Thompson Frequently Asked Questions
How many Broadway shows has Mildred Thompson been in?
Mildred Thompson has appeared on Broadway in 1 shows.
How many West End shows has Mildred Thompson been in?
Mildred Thompson has not appeared in the West End