Latest News on Kate Forton
Kate Forton News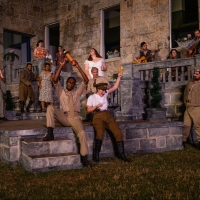 Review: MUCH ADO ABOUT NOTHING at Chesapeake Shakespeare Company
by Tina Collins - Jul 15, 2022
A multi-talented cast in a unique, romantic setting makes for a lovely summer evening. Shakespeare's MUCH ADO ABOUT NOTHING is the progenitor of the modern rom-com. Maybe this is why it has been placed in so many different eras of civilization from its original Renaissance setting to Edwardian England to the Roaring Twenties to its present incarnation in Post-World War II France. No matter where it travels, audiences will recognize the bickering protagonists, gossipy friends, meddling family, village buffoons, and broad comedy with a touch of tragedy.
Review: World War Two MUCH ADO? Who Knew?
by Jack L. B. Gohn - Jun 23, 2022
What did out critic think? The essential attribute of the play, the combative romance of Benedick and Beatrice (Dylan Arredondo and Anna DiGiovanni), is the only truly sacred element of the play. Dylan Arredondo and Anna DiGiovanni, give these principals a full-throated presentation, Arredondo leaning heavily on physical comedy and DiGiovanni on the more cerebral element. In the end, their predicament is that in their merry combat each of them has painted themself into a corner; they need to become lovers but for all their formidable brains neither can do it without the help of friends and a development in the subplot that gives them an excuse to reset their relationship. This problem gives them a delicate palette of emotions to evince: scornful derisiveness, hesitancy, hypocrisy, passion, rueful candor. Arredondo and DiGiovanni serve these changes up charmingly.
BWW Review: Rumor Has It that RUMORS at Just Off Broadway is a Delightfully Funny Production
by Kristen Price - May 11, 2019
Just Off Broadway's (JOB) delightful production of Neil Simon's RUMORS includes exactly what we all need right now - an evening full of plenty of laughs. From the setup to the final pay off, this cast brings the chuckles (and a few guffaws) to a decades old script, that still holds up today. The story begins, how every great story should, with a party. In this instance, it's in a fancy house in New York, circa 1990. However, from the start, things seem a little off. The man of the house, may have tried to end his life, and the woman of the house is missing. Also, all of their closest friends are gathered for their anniversary party. From then on, things go spectacularly awry. Basically, it has all the makings of a fabulous farce.
Photo Flash: Tickets On Sale Now for Just Off Broadway's COMPANY
by BWW News Desk - Sep 20, 2017
Tickets are now on sale for Just Off Broadway's production of Stephen Sondheim's COMPANY! To purchase tickets, CLICK HERE! Also, check out photos of the cast and show below!