Latest News on Fraser Morrison:
Latest News on Fraser Morrison
Fraser Morrison News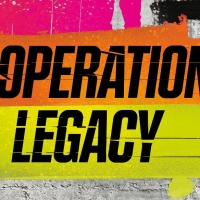 Cumbernauld Theatre Announces Spring/Summer 2023 Season
by Stephi Wild - Nov 30, 2022
Cumbernauld Theatre at Lanternhouse has announced its 2023 Spring/Summer season, with tickets now on sale for all productions.
Photo Flash: Camden Schoolchildren Promote Walking Campaign with Cast of STOMP
by BWW News Desk - Apr 27, 2017
Today, Thursday 27 April, Argyle Primary School in King's Cross took part in Camden Council's 'Daily Mile' campaign to boost walking in the borough. The children set off from the school (on Tonbridge Street) to the Ambassadors Theatre, to take to the stage with STOMP cast members Andrew Patrick, Rob Shaw, Rhys Shone and Sam Wilmott. They were also joined by Camden Council's Cabinet Member for Children, Angela Mason CBE. Scroll down for photos!
VIDEO: Cresswell, Morrison Give Advice to Wannabe STOMPERS
by Rocky Christopher Fajardo - Jun 15, 2014
With a novel theatrical spectacle like STOMP--sans dialogue and conventional lyrics-- the parameters set by orthodox stage direction take a backseat to the unique, personal touch that each new performer brings into any STOMP production wherever in the world it may be staged.
VIDEO: STOMP Supports Environmental Causes
by Rocky Christopher Fajardo - Jun 15, 2014
"Whenever we can, we support any outreach programs," STOMP Co-Creator Luke Cresswell shares on STOMP's long and steady involvement in environmental causes geared toward recycling, re-using, and clean-up drives all over the world.
VIDEO: The Inevitable Element of Danger in Each STOMP Routine
by Rocky Christopher Fajardo - Jun 15, 2014
STOMP Co-Creator Luke Cresswell and Rehearsal Director Fraser Morrison laugh peevishly together like schoolboys having fun on a playground as they recall the wildest experiments they have ever concocted throughout the creative journeys they had to take in finding instruments for the show and developing and polishing the technical know-how on how to use them without hurting themselves and the STOMPERS.
VIDEO: The Ultimate Source of STOMP Inspiration
by Rocky Christopher Fajardo - Jun 15, 2014
'The nice thing about STOMP is that there are so many different inspirations, and everyone brings all those different inspirations into the show,' shares Fraser Morrison, STOMP rehearsal director.
VIDEO: STOMP Routines: 10 Minutes to 10 Years in the Making
by Rocky Christopher Fajardo - Jun 15, 2014
All the numbers in STOMP's high-octane, innovative repertoire are polished consistently by the extensive years of STOMPING experience that the creative and production teams have accumulated, coupled with the unique, personal flair and flavors that each STOMP performer brings to every production.
VIDEO: In The Beginning: Stuck in a Sticky STOMPing Situation
by Rocky Christopher Fajardo - Jun 15, 2014
STOMP Co-Creator Luke Cresswell vividly looks back on the early days when he would unknowingly gather unlikely inspiration from the oddest places--sometimes even during his gigs with internationally-renowned club DJ and recording artist Fatboy Slim.
STOMP (Reboot) Returns to Manila Next Week, 6/17-22
by Rocky Christopher Fajardo - Jun 11, 2014
With the people behind STOMP already having a general idea on how Filipino audiences respond to the show's unique theatricality--based on how it had wowed audiences in its first run at the Cultural Center of the Philippines (CCP) in 2011--perhaps the biggest surprise that awaits STOMP's impending return to the CCP from Tuesday, June 17, to Sunday, June 22, is how having a Filipino-American cast member Andres Fernandez would draw in a novel kind of enthusiasm from his fellow Pinoys.