Latest News on Frances Harrison
Frances Harrison News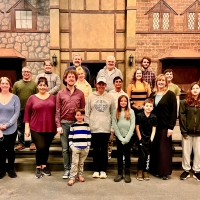 Interview: Director Susan Speidel of A CHRISTMAS CAROL at Chatham Playhouse
by Gina Sarno - Nov 30, 2022
I had the honor of interviewing Susan Speidel, the director of 'A Christmas Carol' at Chatham Playhouse.

BWW Review: A CHRISTMAS CAROL at The Chatham Playhouse
by Gina Zenyuch - Dec 8, 2018
The Chatham Players Proudly Presents The 30th Anniversary of A Christmas Carol by Charles Dickens
Arcola Theatre Announces Winter Season
by Liz Cearns - Oct 4, 2016
The Arcola Theatre today announced its Winter Season, with new plays by David Greig, Ron Hutchinson, Christina Lamb, Belarus Free Theatre, Christine Bacon, Sergio Blanco and Henry Naylor.
SOUTHERN COMFORTS to Play NJ's Bickford Theatre
by Robert Diamond - Oct 27, 2008
It's War-Between-The-States once again in the New Jersey Premiere of Kathleen Clark's Off Broadway hit, SOUTHERN COMFORTS, running Thursday, November 20, to Sunday, December 14, at the Bickford Theatre, 6 Normandy Heights Road, in Morristown, NJ.
Frances Harrison Frequently Asked Questions
How many Broadway shows has Frances Harrison been in?
Frances Harrison has appeared on Broadway in 1 shows.
How many West End shows has Frances Harrison been in?
Frances Harrison has not appeared in the West End