BWW Review: GUTENBERG! THE MUSICAL! Silly Spoof Delights Newtown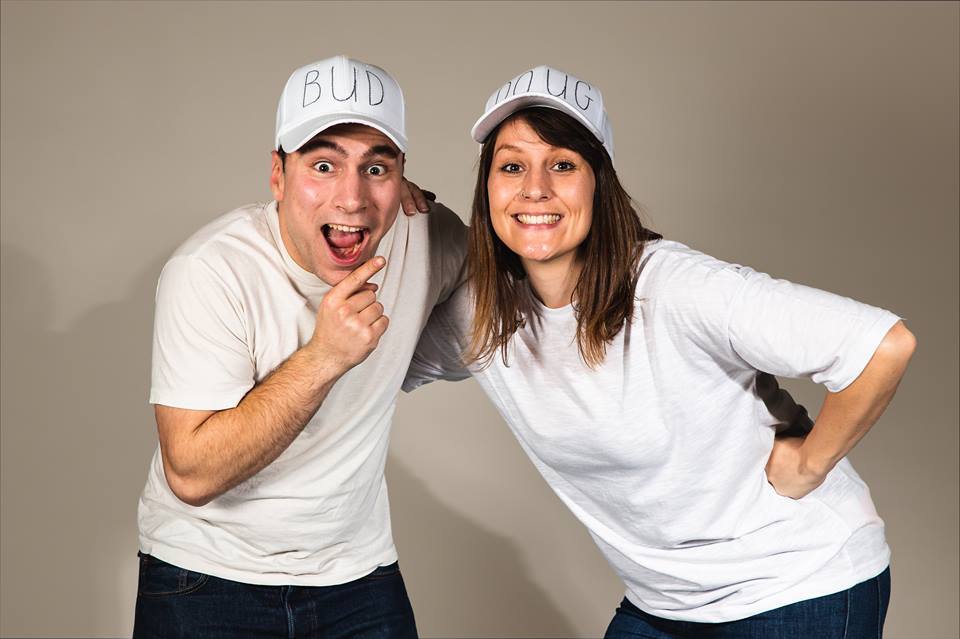 Bud and Doug have achieved the dream of many a musical theatre fan - they have written their own show. They have poured blood, sweat, and tears into their story, and they are here in the Newtown Community Centre to pitch their work to their eager audience. And of course, a fair bit of sweat comes with the performing as well as the writing. Because Bud and Doug are the only performers in this two act musical extravaganza.
It's important for Bud and Doug to tell a real, important, historical story, so they have chosen Johann Gutenberg (questionably famous inventor of the printing press) as their muse. The playwrights spin a surprisingly dramatic tale set in the German town of Schlimmer, where local hero Gutenberg must fight against the towns evil monk in order to bring literacy to the people.
Armed with a couple of simple props, and a vast array of hats to differentiate between characters, these limitations don't stop Bud and Doug from pulling out all the stops. They may only be two people, but this is a musical written for a cast of twenty. Or maybe two hundred. The only remaining questions is whether Bud and Doug actually have the talent to pull it all off. The stakes are pretty high for the pair - from the get go, they let us know that there are some very important Broadway producers in the audience.
The shows hilarity comes from being a low budget affair aiming to include all the trappings of a large scale Broadway production. This means the shows score is chunky - composers Anthony King and Scott Brown haven't let their actors off the hook. Numbers such as "Schlimmer", "Words, Words,Words", and "Festival" are full-bodied chorus numbers - complete with dance breaks. It's impossible not to feel gleeful watching Bud and Doug totter under a pile of hats as they tear through about five characters apiece in a single song. You're constantly waiting for the show to come crashing down around their ankles.
However, the only thing more satisfying than watching Bud and Doug fail is watching them succeed. A lot rides on the talent of Kevin Orlando (Bud) and Charlie Potter (Doug). Both actors not only have strong vocal performances, but manage to clearly differentiate between the array of characters they're required to play (a task MD Michael Stebbings no doubt played a role in). It would be easy to give in to the chaos, which would still provide a good laugh, but I vastly prefer watching the skill of a performer who can switch between accents midway through singing a bar of music.
Alongside the telling of the tale, Bud and Doug are there to provide some commentary for the unenlightened, who may not be aware of the clever theatrical techniques they are using. This is useful for members of the audience who may be less versed in Broadway tropes - while it's a great laugh for those already all too familiar with the concept of the 'I want song' and the 'rock'n'roll Act I finale', Bud and Doug are here to fill in your less musical mate. These interludes also give the audience a chance to spend some time with Bud and Doug outside of the roles they are playing. Potter plays Doug with an air of wide-eyed terror, a classic adaption of the performer who is eager yet terrified to find themselves in the spotlight. Orlando's Bud hold more confidence, approaching everything he does onstage with a touch of dumb enthusiasm. It would be easy to play the two characters in a similar vein, and shows skill from both performers and director to create two strong, separate personalities for the characters.
The biggest challenges the production faces comes along with the venue. While the performers have clearly worked hard to perform at a great volume for us to hear (especially difficult as they are un-mic'd) acoustics can, at times make it challenging to understand what the performers are saying. The lighting design swings between being a hilarious feature (such as when Bud and Doug make use of a disco ball to pump up the drama) and seeming uncertain of itself. There were occasions where lighting cues seemed a beat or two behind the performers, and I was unsure if this was a deliberate nod to the low-fi production value or a genuine error, which would likely be tightened up after a few nights runs.
Bud and Doug's pitch occasionally gets lost as they deliver the audience hilarious personal anecdotes, and we get an idea of why these two amateur writers have put so much energy into their show in the first place. Beyond the silliness of the world of Schlimmer and the duo's Broadway dreams, there is a sweet and innocent story of friendship. Bud and Doug are instantly recognisable to any theatre nerd who found their 'people' in the world of am-dram, who built friendships in the grimy green rooms of community halls, and who know a party isn't a party until half of the room is singing along to the Lion King soundtrack. Bud and Doug aren't very cool, but a lot of us theatre nerds found theatre when we weren't very cool ourselves. And, being uncool isn't so bad when you've got someone to sing your favourite show tunes with.
For an incredibly silly show, Gutenberg! The Musical manages to squeeze in a lot of heart. You can catch the show at 7.30pm, at the Newtown Community Centre until October 13.
Presented by Red Scare Theatre Company
Book, Lyrics and Music by Anthony King and Scott Brown
Directed by Cassandra Tse
Musical Direction by Michael Stebbings

Book your tickets here before they sell out.