THE REAL ABRAHAM LINCOLN: REVEALED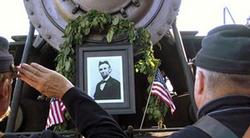 The Real Abraham Lincoln: Revealed tells the captivating story of the life of Abraham Lincoln. NGC follows Lincoln's rise to the presidency and his leadership during the Civil War with additional factoids about the icon who envisioned America united in peace and struggled to abolish slavery.
ABC Officially Unveils 2015-16 Primetime Schedule!
by TV News Desk - May 12, 2015
ABC continues its commitment to great storytelling with the announcement of its 2015-16 slate of programming, including the addition of 10 new series. Paul Lee, president, ABC Entertainment Group, will unveil the network's new lineup to the advertising and media communities this afternoon at Lincoln...
Best-Selling Author, Joe McGinniss, Dies at 71
by BWW News Desk - March 11, 2014
Joe McGinniss, Sr., American author known for his best-selling The Selling of the President 1968 which described the marketing of then-presidential candidate Richard Nixon, has died at the age of 71. He authored eleven works, including his last bookwas The Rogue: Searching for the Real Sarah Palin,...