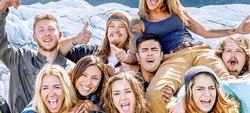 MTV
Latest Articles About Slednecks on MTV

BUCKWILD Producers Return to Appalachia with WEST VIRGINIA WILDER Set to Launch This Summer
by TV News Desk - May 18, 2018
... (
more...
)
MTV's SLEDNECKS to Premiere 10/30
by TV News Desk - October 02, 2014
MTV is heading to Alaska with new series 'Slednecks' premiering on Thursday, October 30 at 10:00 P.M. ET/PT with an extended 90-minute special to kick off the season. The weekly half-hour comedic docu-series follows a close group of adventurous friends living in rural Wasilla, Alaska. The 18-episode... (
more...
)