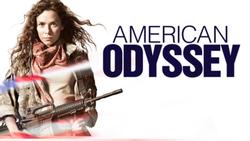 From writer-director Peter Horton ("Grey's Anatomy") and writers Adam Armus and Kay Foster ("The Following") comes "American Odyssey," a complex journey through global politics, corporate espionage and military secrets involving three strangers who only have one thing in common... the truth. In this "Traffic"-like action drama, an international cover-up explodes when the lives of a female Special Forces soldier, a disillusioned corporate lawyerand a political activist from a privileged family unexpectedly collide
After a team of American soldiers battles jihadists in North Africa, they're shocked to learn that they've stumbled upon and killed Al Qaeda's top commander. Sergeant Odelle Ballard (Anna Friel, "Pushing Daisies"), a soldier, mother, wife and the unit's only female member, discovers computer files that prove a major U.S. corporation is funding the jihadists. But before she can tell anyone, her team is attacked and killed. The world is told that the unit was wiped out by enemy militants, but the truth is that Odelle survived and is the only witness to her unit's true assassins: private military contractors - Osela (think "Blackwater").
As Odelle struggles to survive and find her way home, in New York, former U.S. attorney turned corporate litigator Peter Decker (Peter Facinelli, "Nurse Jackie") finds himself embroiled in a merger with the same company that funded the jihadists. As Peter begins to connect the corrupt dots of this company's terrorist involvement, Harrison Walters (Jake Robinson, "The Carrie Diaries"), a political activist and trust fund kid, meets a hacker, Bob Offer (Nate Mooney, "The Riches"), who claims to have unearthed a massive military-industrial-complex cover-up. And Bob is right: he's stumbled onto the same cover-up that Odelle discovered, which will soon become a national headline with lethal implications. The only way they'll ever save their country, their families and themselves is by joining forces and exposing the people behind it.
The series also stars Omar Ghazaoui, Treat Williams ("Everwood"), Elena Kampouris ("Men, Women & Children"), Daniella Pineda, Jim True-Frost ("The Wire"), Sadie Sink and Adewale Akinnuoye-Agbaje ("Lost").
"American Odyssey" is a Universal Television, Fabrik Entertainment and Red Arrow Entertainment production. The series was created by Peter Horton ("Grey's Anatomy"), Adam Armus ("Heroes") and Kay Foster ("The Following"). Mikkel Bondesen ("The Killing), Henrik Bastin ("Bosch"), Kristen Campo ("The Killing") and Simon Maxwell ("Off the Hook") serve as executive producers along with Horton, Armus and Foster.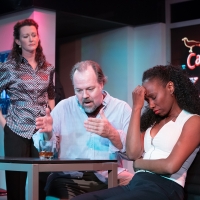 Photo Flash: World Premiere of HUMAN INTEREST STORY at the Fountain Theatre
by BWW News Desk - February 17, 2020
The Fountain Theatre presents the world premiere of a timely new play, written and directed by Stephen Sachs (Arrival & Departure, Citizen: An American Lyric, Bakersfield Mist), about homelessness, celebrity worship and truth in American journalism. Human Interest Story opens at the Fountain on Feb.... (
more...
)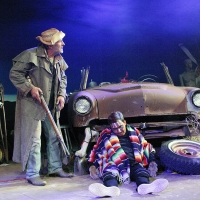 Photo Flash: Odyssey Theatre Presents Sam Shepard's THE UNSEEN HAND
by BWW News Desk - January 20, 2020
What happens when 1880 Western bandits are brought back to life in Azusa, CA by a space alien? Sam Shepard's The Unseen Hand joins Odyssey Theatre Ensemble's 50th Anniversary "Circa '69" Season of significant and adventurous plays that premiered around the time of the company's inception, coupled wi... (
more...
)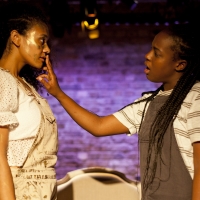 Photo Flash: Arcola Theatre, Atticist and Ellie Keel Productions Present The UK Premiere Of ANNA BELLA EEMA
by BWW News Desk - September 12, 2019
Arcola Theatre, Atticist and Ellie Keel Productions today presents the UK première of Anna Bella Eema by Pulitzer Prize finalist Lisa D'Amour. Jessica Lazar directs Natasha Cottriall, Gabrielle Brooks and Beverley Rudd. The new production opens at Arcola Theatre on 16 September, with previews from 1... (
more...
)