Latest Articles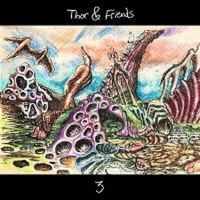 New Installment in Thor Harris Artist In Residence Releases Series is 3rd Thor & Friends Album
by TV News Desk - August 22, 2019
The latest installment of the Thor Harris 2019 Artist in Residence series is available now through Joyful Noise Recordings! This is a brand new Thor & Friends album and the follow-up to 'The Subversive Nature of Kindness' LP from 2017. Simply titled '3', this album features the core line-up of Thor ... (
more...
)

Recording Academy Announces Industry-Wide Initiative To Expand Opportunities For Female Producers and Engineers
by TV News Desk - February 01, 2019
Today, the Recording Academy's Task Force on Diversity and Inclusion announced an unprecedented new initiative that aims to expand opportunities for female music producers and engineers. The Producer & Engineer Inclusion Initiative is the inaugural action of a larger strategy to address gender inequ... (
more...
)

Bonnaroo Announces 2018 Comedy Lineup
by TV News Desk - April 09, 2018
Superfly and A.C. Entertainment are proud to unveil the sidesplitting  2018 Comedy Lineup for this year's Bonnaroo Music and Arts Festival. Set to feature more than 150 diverse musical artists, this year's edition of the world-renowned four-day multi-stage camping festival will take place June 7-10 ... (
more...
)

The Austin Music Awards Announce the Addition of John Hiatt, John Fullbright, Phoebe Hunt, Michael Fracasso and More to Lineup
by TV News Desk - February 09, 2018
The Austin Music Awards (AMAs) announced today more musicians to perform at the 36th Annual Awards to be held Wednesday, February 28 at ACL Live at the Moody Theater. Acclaimed songwriter JOHN FULLBRIGHT and JOHN HIATT, who the Los Angeles Times calls, '...one of rock's most astute singer-songwriter... (
more...
)

KPFK Radio's Arts in Review Preps for Annual Holiday Special
by BWW News Desk - December 22, 2017
KPFK Radio's Arts in Review, Los Angeles's longest-running radio showcase on live theater and cabaret, presents its annual Christmas Day Holiday Drama Special, aired in two parts (10 to 11am & 1pm to 2pm), highlighted by the radio dramatization premieres of All is Calm, All is Bright ( The Story of ... (
more...
)
Adele, Beyonce Among 59th GRAMMY AWARD Nominees; Full List!
by BWW News Desk - December 06, 2016
This morning, The Recording Academy and 2016 GRAMMY Best New Artist, Meghan Trainor, kicked off this year's GRAMMY Awards nominations by revealing nominees in the four General Field categories (Best New Artist, Record Of The Year, Song Of The Year, and Album Of The Year) live on 'CBS This Morning.... (
more...
)