The Rich Lynch Band Releases New Single THE RED ROAD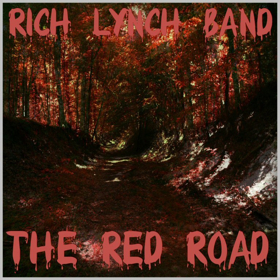 There's a complex array of ideas mixed into the latest song from the Rich Lynch Band called "The Red Road" just released on his NASHVILLE based label.
"There's a mini opera taking place within the four minute and seven second track," recalled the prolific songwriter outlining the thought process behind the creation of his colorful new track. "It's all based on real life and history, too."
"Basically, I was sitting in a hot tub in Nashville," Lynch began revealing how the idea for the 'The Red Road' first started bubbling up. "We were telling some new friends about where we lived in New Jersey, what we loved about it, what we missed and why we ultimately left the Garden State."
Lynch had described his former home as an idyllic community just outside of New York City with plenty of lakes and parks but one that remains marred by a decades long Superfund distinction due to pollution and contamination from a nearby automotive plant.
"That sounds like 'The Red Road' on Netfix to me," Lynch's new friend concluded. Sure enough a quick search revealed that the broadcast show of the same name was loosely inspired by the rocker's previous Passaic County home of Ringwood, New Jersey. An additional documentary film called MANN v. FORD aired in recent years on HBO and outlines the struggle faced by the Ramapough Indians as they battled Ford and the EPA in court for environmental justice, with the rocker saying, "I wanted to add my voice to their plight and put their story to song in the best way possible."
"You've been delivered and unwanted and heavy load," in one chorus directly refers to the countless trucks that carted thousand of tons of paint and sludge to the abandoned iron mines in Ringwood in the late 60's and early 70's - and by proximity - to the homeland of a vulnerable people.
"As if it couldn't get any deeper," Lynch continued - adding more about how the song came together over several months, "the idea of 'Walking the Red Road' refers to a spiritual path and self discovery which itself leads directly to the next thought therein."
"Arise my love, together we chase destiny
And we RISE above, what we can't face, we must flee"
The second verse details the real trip Lynch made with his family to relocate to Nashville, Tennessee.
"For me, the line refers to going after dreams and desires and the 17 hour drive we made on the morning we left New Jersey to get to Music City," Lynch relayed. "And, it alludes to the disillusionment that half a lifetime in one region produced for me as I had grown weary of certain people, places and things. I was ready to make new discoveries."
One thing he recently discovered in the South was the Natchez Trace - the mythical pioneer path that is now home to the Nation's longest national park road that runs 444 miles from Natchez, Mississippi to Nashville, Tennessee.
"It's an actual 'red road' with so many interesting historical facets to it," Lynch relayed about his recent trip to the deeper south that is documented on the cover of the CD single. "It was an ancient Indian road and it was used to transport slaves to and from the Mississippi markets. A portion was part of the Trail Of Tears that resettled American Indians to reservations farther west. I got to see the big river for the first time and we stood where Elvis was born. It was an amazing few days of discovery, life-changing realization and personal growth."
"Now, I would ask readers to reach out and discover my songs," Lynch segued. "I have a core group of fans who have bought everything in my catalogue and they encourage me keep going. If I can find some more supporters like that who will buy my music that alone will allow me to keep going and forge a musical path of my own."
"The Red Road" is the thematic follow-up to the rocker's 2016 "You Can't Push Over a Standing Rock". That song was called 'NDN rock of the highest order' by one reviewer and it was released to support friends in South Dakota who were protesting the black snake pipeline that was being installed near sacred tribal lands.
ABOUT RICH LYNCH:
Rich Lynch is a singer/songwriter who began his professional recording career in 2014 with "I Want to Live in a Dome". He has now released 15 critically acclaimed digital singles to the online marketplace and he is currently hard at work in NASHVILLE on several new tracks that will see the light of day in 2018. More at - www.richlynchband.com
Related Articles View More Music

Stories