Salim Nourallah to Release Third EP SOMEWHERE SOUTH OF SANE September 28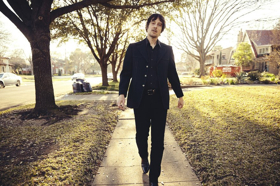 Respected Dallas, TX-based singer/songwriter/producer/musician-of-many-trades Salim Nourallah is set to release a sprawling double-album, Somewhere South of Sane, on September 28, 2018 on Palo Santo Records. In advance of the album release, Nourallah is releasing four pre-album "bundles" that will include tracks from the album as well as previously recorded but unreleased material or acoustic re-imaginings of tracks from past Nourallah albums. Each bundle, (EP) will be accompanied by new online video content.
Bundle three, entitled
East
, is set for release on July 27, 2018. Included on this release is one track that will also appear on
Somewhere South of Sane
- "A Thousand Ways to Miss You" - as well as two bonus tracks from the album sessions called "You're The Light" and "Easy to Hurt." The video accompanying this bundle is a clip for the song "A Thousand Ways to Miss You," and it will premiere the week of
East
's release. "A good portion of my life has been spent simply letting ideas percolate and waiting for the moment when it all comes together in the form of a song," says Nourallah. "Late night and early morning are the best times for this because my brain is in an almost drugged state. The ticker tape of thoughts is either stalled or sputtering and ideas somehow seep in more readily." "A Thousand Ways to Miss You" was born from one of those bleary early mornings. Recalls Nourallah, "The song title had been kicking around in me for a few days. I knew it would be challenging for the words to live up to the title. The feeling I was wanting to capture involved the constant, dull ache of missing. It seemed to always be there in me now, like the low, quiet hum of a refrigerator. No matter how much I busied myself, it was always running in the background. There was, in fact, a postcard in my kitchen, a box of letters by my bed, a book, and a message on my phone that all served as entry point triggers for Monsieur Dull Ache." "You're The Light," on the other hand, was written while Nourallah was on the road, in a "chilly hotel room in Minneapolis." "I'd been writing songs with
Rhett Miller
and he ditched me one afternoon to go write with Gary Louris," Nourallah says. "Probably not a bad move! I'd recently fallen in love, so I had all these nice feelings floating around inside. I couldn't have been in a more drab, depressing environment than where I was when the song came in. The lyrics sort of deal with what I ultimately think love can do for us. Something similar to music or art or many of the good things in life. It takes us away from the ugliness and offers comfort and relief." "Easy to Hurt" was one of the last songs recorded for
Somewhere South of Sane
. "I'm not a big fan of drama in relationships and I tend to avoid fights," Nourallah says. "This song deals with some feelings involved in a misunderstanding I had with my girlfriend. Pretty simple heart-on-the-sleeve sentiments." Already released bundle one,
North
(which came out June 1, 2018), and already announced bundle two,
West
(out June 29, 2018), precede bundle three,
East
,
and the final bundle; details for bundle four will be announced soon. The four EPs give fans a sneak peek into what is in store for them on
Somewhere South of Sane
. The 21 tracks that comprise the four-sided album are what he calls, "the work of a functional crazy person." Nourallah is equal parts songwriter and producer, creating a shifting sonic landscape that could easily be mistaken for the work of multiple artists. This is the sound of someone trying to save his own mind. Nourallah did - in the end - and created nothing short of a musical odyssey. As a solo artist, Nourallah has long mined the terrain between catchy and devastating. After gaining initial acclaim with the Denton, TX-based Nourallah Brothers, he went on to release six solo albums. His debut,
Polaroid
(2004), had
Rolling Stone
calling him "a singer-songwriter who can stop time." 2015's
Skeleton Closet
was cited by
Dusted
as a "masterful balance of the said and the unsaid... like a good novel, full of implications and shadowy contradictions and complexities." As a producer, Nourallah boasts quite an impressive C.V. of production credits (Old 97's, the Damnwells, Rhett Miller, the Deathray Davies). He's also been involved in numerous other projects, including co-founding and running A & R for the Palo Santo music group. Over the years, his work on both sides of the sound booth has won him an armful of
Dallas Observer
music awards. That, and the consistent quality of Salim Nourallah's music, have proven that some musicians actually can continue to stay relevant.
http://salimnourallah.com
https://twitter.com/salimnourallah
https://www.facebook.com/salimnourallah
Related Articles View More Music

Stories