Idyll Green (ex-Hacienda / The Fast Five) Announce Debut EP Due Out Feb 22, Book of Poetry Out Now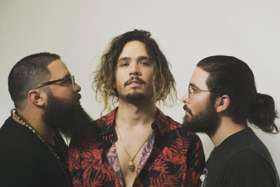 San Antonio-based alt R&B band of brothers, Idyll Green, share the first single from their forthcoming, debut EP, When Love Ends, Be The Water. The track, "Moonlit Magic," comes along with a self-directed video, showcasing the band's talent on both sides of the camera.
You may recognize Rene, Jaime and Abe from their past bands: Hacienda and The Fast Five, where they were covered by Rolling Stone, NPR, MTV, Consequence of Sound, and Paste Magazine, among many other amazing music news sources. You might have also caught them on late light TV, where they were on "The Late Show with David Letterman" and "Late Night with Conan O'Brien." They also played shows and festivals in The US, Canada, Europe and Australia.
"Moonlit Magic" is the very first single from the new project, and is very close to the brother's hearts. It's a love story that captures the tension of unexpectedly finding a connection through music in a surreal South Texas dive bar.
Rene (Idyll Green's songwriter and singer) explains, "For our first song as Idyll Green, my brothers and I want to show people the world that our music lives in, and "Moonlit Magic"is the perfect song for that. It's everything we love about Chicano culture in Texas. Mixing Jaime's Hip Hop beats, Abe's moody Alt-R&B production, a nod to Houston Legend Johnny Nash, fine whiskey, a '57 Chevy and falling in love, "Moonlit Magic" has the kind of creative vibe that permeates late night South Texas. San Antonio has such a diverse history of art and music and it's inspiring to live here and feel that every day. Everything written for this upcoming EP, When Love Ends, Be The Water, is autobiographical and that means finding our identity in the words, music and visuals; we're telling our story our way. Having that freedom was the biggest reason we decided to stay independent as artists.
When it came to bringing our South Texas romance "Moonlit Magic" to life, we had to oversee every detail ourselves, but we didn't do it all alone either. We asked the super-talented Natalie Medina to star as the video's lead, along with me. Natalie's vibrant presence and creative style makes her perfect as the driving force of the story. She also provided key pieces of custom/vintage clothing from her boutique, Grey Moon Vintage. Capturing our direction is our long time visual-collaborator West Vita. West always finds the romance in an image so when we thought of creating the visuals for "Moonlit Magic" he was the first one that came to mind. "Moonlit Magic" is a dreamy-surrealist take of an actual moment in my life. We wanted to capture the truth of the emotion from that night. The feeling when the world disappears and the only thing that matters is a connection with someone else. A vibe that is other-worldly and yet lives here in South Texas.
Describing the single itself, Rene says, "We have these late-night summer river parties where the guys would drive out to the country to meet friends and on one night, I met and lost a good friend and love. The song has this Johnny Nash inspired vibe that's referenced in the lyrics. We wanted it to be fun but still have this magical-strangeness to music. In the outro, you can hear a recording of a night time campfire under the guitars."
Watch video for new single "Moonlit Magic" here:
Photo credit: Rachel Villanueva
Related Articles View More Music

Stories
More Hot Stories For You