Bands of the Acoustic Revolution with Streetlight Manifesto to Headline Radio City Music Hall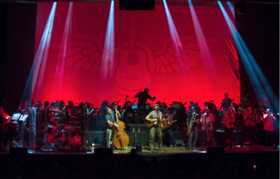 Bandits of The Acoustic Revolution will be headlining Radio City Music Hall in NYC on May 4, Chicago Theater in Chicago, IL on May 11, and The Dolby Theater in Los Angeles on May 18. Tickets for the shows are on sale now and can be found at www.acousticbandits.com
Bandits of The Acoustic Revolution or BOTAR, is a musical collective including influences from punk, classical, and eastern European music, with classically trained musicians performing entirely in an acoustic format. It is composed of current Streetlight Manifesto members, including Tomas Kalnoky, Chris Thatcher, Jim Conti, Karl Lyden, Matt Stewart, Pete Mccullough, Dan Ross, and Michael Brown alongside nearly 50 orchestral musicians from each of the cities the concerts are taking place in.
In addition to NYC, BOTAR will also be performing in Los Angeles at The Dolby Theater and in Chicago at the Chicago Theatre. This year's venues have been upgraded, as 2018's run of shows completely sold out.
"Essentially, I was raised around all kinds of music, with a good chunk of it being classical," Kalnoky explains. "That said, when I got a bit older, I wanted to rebel against the universe like every other kid, so I dedicated myself to punk rock and my interpretation of its ethics etc., but a part of me still wanted to bring something structured and "old world" into my newfound love of high energy rock and roll. . The realities of not having the resources (nor, at the time, the experience) necessary to put together a massive project like this, it was placed on the back burner for almost two decades. A few years ago, I felt like it was time to try my hand at organizing the project and trying to make it a reality. Streetlight's success over the years obviously helped make it even moderately feasible. So, it was always there, in the back of my mind, more of an inevitability than a daydream.
Putting these shows together include months of stress, something to lose all my savings on, and a twofold increase of my already debilitating insomnia. That, and to live out one of my musical fantasies, so it's an even trade"
2019 Bandits of the Acoustic Revolution Orchestra Shows
TICKETS ON SALE NOW
5/4/19 New York City NY / Radio City Music Hall - https://bit.ly/2Fp3dFt
5/11/19 Chicago IL / Chicago Theatre - https://bit.ly/2WcFaz6
5/18/19 Los Angeles CA / Dolby Theater - https://bit.ly/2Yc313u
More about Bandits of The Acoustic Revolution
Born as an unrealistic fantasy in a nondescript suburban basement in 2001, BOTAR was little more than a cult-like, rarely mentioned side project for then-nonstop-touring outfit Streetlight Manifesto. After the release of a 4 song EP that year, complete with handmade packaging and no real tangible plans for a future, BOTAR sat in hiding, gestating for about a decade and a half. In the summer of 2017, seemingly out of nowhere, a series of shows was announced for the following year, with a full orchestra replacing the rag-tag 16 piece band that recorded that EP many years ago. Part rock and roll band, part classical orchestra, BOTAR was reborn on the stages of the Beacon Theater and The Orpheum in NYC and LA in early 2018. Despite the sold out shows and feverish enthusiasm of the BOTAR crowds, the group has remained steadfast in its DIY roots and its adherence to the keep-your-head-down-and-make-music ethos of the punk rock word the men behind the band grew up with. BOTAR is ready for a new set of shows in 2019, in even larger venues with even more surprises up its ridiculously massive sleeves.
Streetlight Manifesto is an iconic ska/punk band from New Brunswick, NJ. The band's debut album Everything Went Numb garnered critical acclaim. The band recently toured the album on its 15th anniversary, with most of the shows selling out.