FANNY ON FIRE by Edith G. Tolchin-A New Comedic Novel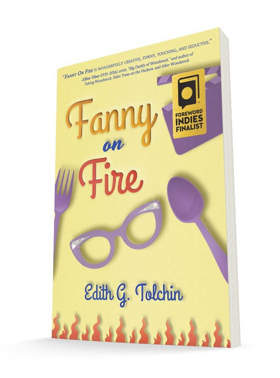 What comes out of an angry, middle-of-the-night video tirade? If you're Fanny Goldman, you get a cooking show featuring Jewish delicacies. Michelkin Publishing is pleased to announce the release of "Fanny on Fire" by Edith G. Tolchin.
Outlier Fanny Goldman contacts the Feed Us Channel by video during a three a.m. insomnia bout to kvetch about a particular lack of diversity in the station's lineup. She inadvertently lands her own cooking show because she slept with the producer almost forty years before...
Throughout her weird and wretched life, multi-married, politically incorrect Fanny learns to cope with adversity by absurdity. Meet all of Fanny's colorful suitors, including the weiner-wiper, the shower-singing galactic troubadour, and Fanny's soul mate, spicy Solly Rabinowitz.
Fanny shares heartbreak, happiness and love of family, friends and strangers with her own, inimitable brand of Bronx humor. And, oy, the secret recipe that brought about chair-twerking for seniors!
Michelkin Publishing is pleased to announce Fanny on Fire has been recognized as a finalist in the 20th annual Foreword INDIES Book of the Year Awards.
As part of its mission to discover, review, and share the best books from university and independent publishers (and authors), independent media company Foreword Magazine, Inc. hosts its annual awards program each year. Finalists represent the best books published in 2017. After more than 2,000 individual titles spread across 65 genres were submitted for consideration, the list of finalists was determined by Foreword's editorial team. Winners will be decided by an expert team of booksellers and librarians-representing Foreword's readership-from across the country.
About the Author: Edith G. Tolchin has been a journalist, reporter, columnist and author for many years. She and her husband, Ken Robinson, love to travel the United States seeking new material for the further outrageous adventures of Fanny Goldman and Solly Rabinowitz. Contact Edie at http://www.fannyonfire.com/ or http://www.edietolchin.com.
About Michelkin Publishing: Michelkin Publishing is a division of Michelkin, LLC, formed in Roswell, New Mexico, in May 2016. Michelkin Publishing focuses on publishing work by first- time authors and established authors who have unique stories to share with the world. The company motto is "Read. Something. Different." Visit: https://www.michelkin.com/books.html.
Fanny on Fire is available now in paperback from Amazon, Barnes & Noble, and other select online retailers and brick-and-mortar bookstores. The digital e-book is available in the Amazon Kindle store and iTunes. To purchase on Amazon, visit: https://www.amazon.com/Fanny-Fire-Edith-G Tolchin/dp/0998067296/ref=sr_1_1?ie=UTF8&qid=1522769255&sr=8-1&keywords=Fanny+on+Fire.
Photo Credit: Courtesy of Michelkin Publishing