Essex Books Presents Shelf Awareness: Whistling in the (Gathering) Dark
"I was once invisible," Simon Fitzmaurice writes in the first pages of his memoir, It's Not Yet Dark. "I moved among you, invisible in my disguise. Now I am difference made manifest. I cannot hide."
Fitzmaurice, an Irish filmmaker, was diagnosed with ALS just as his career was taking off. Married with two small boys and possessed of a fierce love for life and a keen eye to observing it, he was (and is) determined to fight the encroachment of the disease. Written with the help of an eye-gaze computer, Fitzmaurice's slim memoir is the story not only of his struggle with ALS, but of the life he has built and loved.
In brief, often luminous vignettes, Fitzmaurice tells pieces of his story: his education as a filmmaker; how he met and fell in love with his wife, Ruth; the odd pins-and-needles feeling that presaged his diagnosis; and the many agonizing ups and downs since then. He muses on the strange elasticity of time: "We live in fits and starts and jumps, like dreams. And the lives we inhabit are measured in moments, irrespective of time."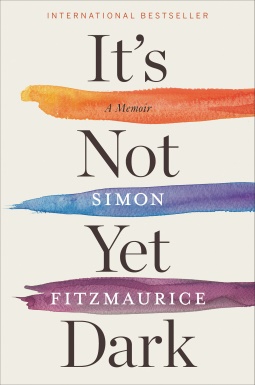 As Fitzmaurice and his family grapple with his disease--and with other changes, including the births of three more children--he becomes determined to capture every moment, every memory. While ALS comes to infuse his life, he refuses to let it dominate entirely. "I'm still alive," he says. "I can let this life crush me.... Or I can bear the weight. And live."
Fitzmaurice has chosen to live: to bear witness to his experience, and to keep making films that show the full range of human experience: "the sadness, loss and love that is this life." Brave and honest, his memoir provides a fierce, sparkling constellation of small lights that gleam against the gathering dark.
Written by Katie Noah Gibson, blogger at Cakes, Tea and Dreams, for Essex Books Presents Shelf Awareness for Readers
Related Articles View More Books

Stories
More Hot Stories For You