Christian Author Releases First Installment in Fantasy Series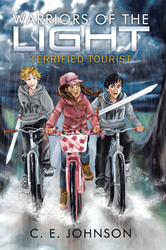 A California-based writer has released the first book in her adventurous Christian fiction series, which puts forth the fantastical story of a tween-age girl who goes to war against demonic forces with the light of God as her greatest weapon. In "Warriors of the Light: Terrified Tourist," author C.
E. Johnson
tackles important preteen and teen issues, such as bullying, and delivers a tale of friendship, courage and faith in the face of true evil.
At the outset of the book, 13-year-old protagonist Karah Klarke is unwittingly whisked away to heaven to attend Spiritual Warfare Bootcamp - a special program in which non-human characters will train the young girl to resist and defeat the influences of Satan. Also battling inner demons after the tragic death of her family, Karah works alongside a posse of angels, guardians and other tween-agers and ultimately must learn to listen to God and turn her life over to Him.
"'Warriors of the Light' is intended to teach tweens and teens how and why they need to allow themselves to lean on God," Johnson said. "I believe God will use this book as an entertaining and creative way to evangelize those not yet saved while also providing young people with the opportunity to foster a relationship with Jesus Christ and overcome the pitfalls of adolescence through His grace and power."
"… Karah's story brings many of God's truth [sic] into a tangible perspective," Saddleback Church Pastor Jay Kranda wrote in a five-star Amazon review of the book. "Fun read for all ages."
With an eclectic cast of characters that include a jewel-studded lizard, a supernatural bike and two 14-year-old boys, "Warriors of the Light" will transport readers to surreal settings, keep them riveted as Karah goes toe-to-toe with the Devil himself and demonstrate to them the peace that can be found in surrendering despair, fear and discouragement to God.
"Warriors of the Light: Terrified Tourist"
By C. E. Johnson
ISBN: 978-1-5127-8093-2 (hardback); 978-1-5127-8092-5 (paperback); 978-1-5127-8091-8 (electronic)
Available at the WestBow Press Online Bookstore, Barnes & Noble and Amazon
About the author
C. E. Johnson is the owner and operator of a Christian daycare and homeschool for pre-school-age children. Johnson holds a bachelor's degree in music concentrated in vocal performance and piano, and she is a zealous and passionate follower of Jesus Christ. She currently resides in San Diego. To learn more, please visit http://www.cejohnsonwarriorsofthelight.com.
Review Copies & Interview Requests:
LAVIDGE - Phoenix
480-648-7557
dgrobmeier(at)lavidge(dot)com
General Inquiries:
LAVIDGE - Phoenix
480-998-2600 x 584
mdriver(at)lavidge(dot)com
Related Articles View More Books

Stories
More Hot Stories For You