Review: THE GEEK'S GUIDE TO UNREQUITED LOVE by Sarvenaz Tash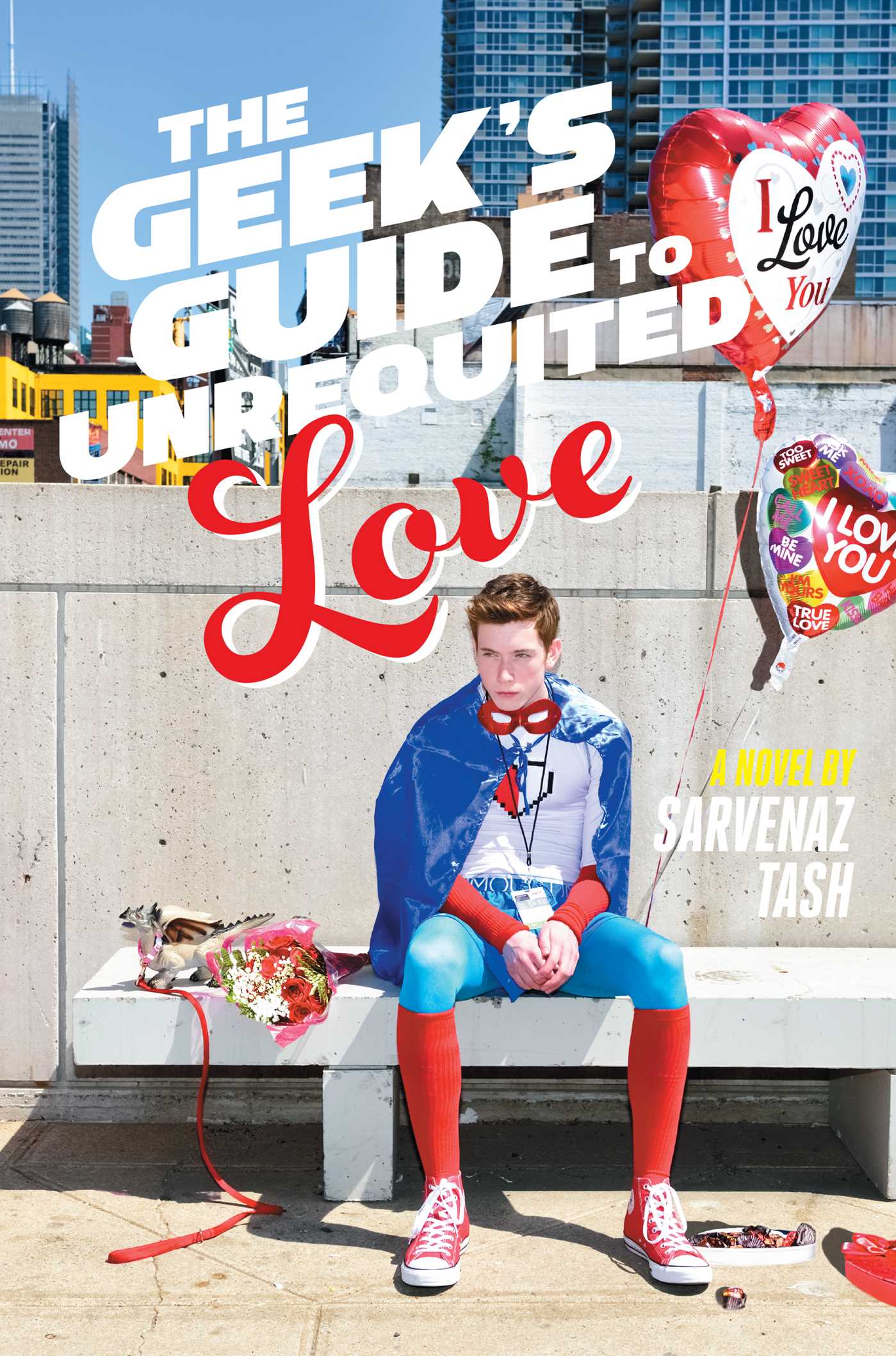 "For once, I see all those characters and I don't really envy them their fantasy worlds. I'm okay with my reality, as messy and imperfect as it may be. I don't really know what comes next, but honestly isn't that the best part of writing a story anyway? "
~THE GEEK'S GUIDE TO UNREQUITED LOVE

Today marks the start of San Diego Comic-Con, one of the most buzzed-about fan events held each year. There will be full-on Cosplay, panels with favorite actors, movie sneak peeks, and so much more. Even stores have gotten in on the action, bringing a little bit of SDCC17 to fans by releasing exclusive items such as Funko Pops today at retailers such as Hot Topic, Barnes and Noble, and GameStop (Check out the list of items if you're a collector!).
I decided to join in this year in my own special way: By reviewing a book that takes place during Comic-Con. Granted, it's New York Comic-Con, not San Diego Comic-Con, which doesn't take place until October, but the spirit of attending a convention is still there. AND the book just came out in paperback last month, so win-win, right?
THE GEEK'S GUIDE TO UNREQUITED LOVE by Sarvenaz Tash is a story about two best friends.
Graham has been pining for his best friend Roxy, but doesn't want to destroy their relationship. It's slowly killing him, however, and he's decided he's finally going to tell her at Comic-Con. He has the perfect weekend prepared, from a John Hughes retrospective to meeting the legendary Robert Zinc, creator of their favorite comic The Chronicles of Althena. But everything that can go wrong DOES go wrong, of course!
The Robert Zinc panel isn't banded properly and even though Graham and Roxy wait hours to get in, they still miss out on meeting their hero. Then, Roxy's friend has the possibly-not-so-brilliant idea to sign everyone up for a Speed-Dating Panel and Roxy meets a fellow artist. Who has a British accent. How can Graham compete with that? Can he still summon up enough strength to tell Roxy the truth, even though nothing is going his way? Or will doing so mean he's about to lose his closest friend?
I really like the friendship between Graham and Roxy. They work on a comic together. He writes, she illustrates. (And as a writer, I love all the little asides and love notes to writing!) They bonded over Harry Potter and The Chronicles of Althena, and have been a pair ever since. It's really hard to be friends with someone for years and start to feel things for them. What if they don't feel the same? What if it destroys your friendship? But what if they do feel the same and you're missing out on something even better? There's a reason so many novels explore friendship that may be something more. What was really cool about this book was that it examined a lot of potentials. It showed Graham and Roxy as friends. It considered what might happen if they become something more. It created the possibility of other relationships. It let them explore their options. I liked that there were a lot of paths to take and you weren't quite sure what the book's final outcome would be. The exploration of their friendship reminds me in some ways of NEVER ALWAYS SOMETIMES by Adi Alsaid, which I loved for that aspect of exploration. Graham and Roxy felt very genuine, and as a reader, you were really rooting for them to find their footing together.
Also, the fact that this book is set at Comic-Con? BRILLIANT. If you've ever been to a Con--or wanted to go to one!--This is exactly how your experience might go. The crazy crowds. Euphoria over getting to do something special. Resounding disappointments as you miss out on what you want to do more. The friends you meet. The memories you make. It's all there. Plus, all the Geeky pop-culture references? Right down to the the chapter titles? SO PERFECT.
This is just a fun, breezy read, especially during Convention season!