BWW Interview: Helen Hoang, author of THE KISS QUOTIENT
Last week, Helen Hoang's debut novel, THE KISS QUOTIENT, released. The online chatter for this title has been favorable since before its release, with huge word-of-mouth as early readers fell in love with the world and the characters and began raving about the book to get it on the radar of more readers. Last week when I attended the Book Expo of America, the annual book conference for booksellers, librarians, reviewers, etc., I heard the title recommended several times. I recommended it a few times myself, having already read it twice--and it wasn't even published yet!
I was fortunate enough to sit down with Helen Hoang and chat with the author of my current-favorite contemporary novel of 2018, and am excited to introduce her and her novel to you today.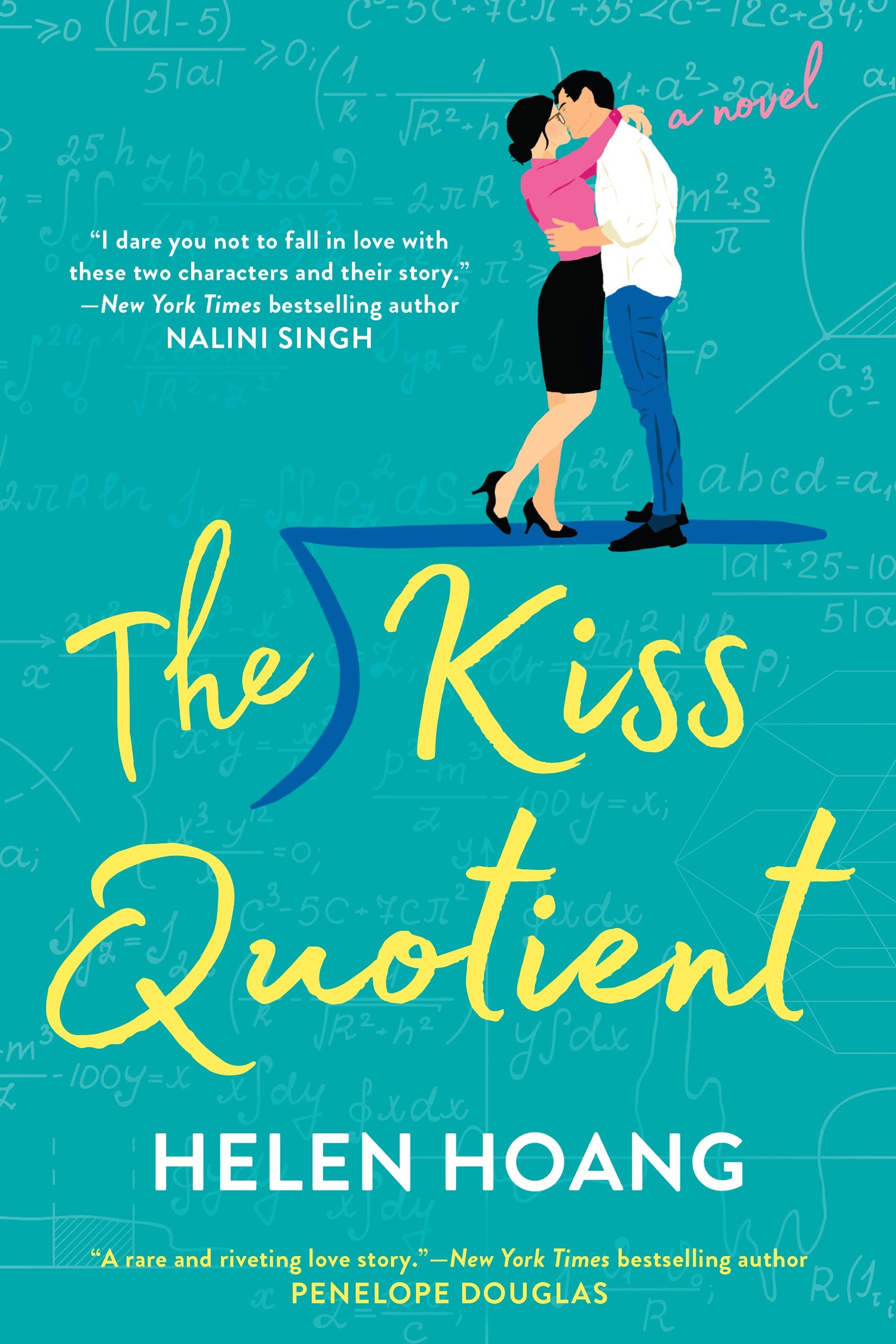 The Kiss Quotient is your debut novel. What has the writing/publishing journey been like so far for you?
Overall, my writing journey has been considerably slow. The Kiss Quotient is my debut novel, but it's not the first book I've ever written. I finished writing my first romance novel about ten years ago, and it was fabulously horrible. Writing didn't come to me naturally, and I'm not ashamed to say I had to struggle through several "practice books" before I wrote this one. Even then, I needed help, which I received from my mentor Brighton Walsh during the Pitch Wars contest.
Pitch Wars was a turning point for me. I didn't "win" during the agent round of the contest by getting the most manuscript requests (I only got one request), but I learned a great deal and made some incredible friends who've stuck by me and offered support during this whirlwind journey toward publication, which has included: signing with my incredible agent Kim Lionetti, going on submission, fielding offers of publication, writing sequels, bad reviews, great reviews, and the promo blitz leading up to release day.
What inspired The Kiss Quotient?
Prior to writing this book, I'd been thinking about a gender-swapped Pretty Woman for quite some time, but I couldn't figure out why a beautiful successful woman would hire a male escort. When my daughter's preschool teacher suggested she was on the spectrum, that sent me on a journey of exploration that resulted in my own diagnosis for autism spectrum disorder and the inspiration for Stella, The Kiss Quotient's autistic heroine.
Do you have a daily writing routine?
On weekdays, yes. After I get my kids to school, I write from around 8:30AM to 2:30PM, with a short break for lunch if I remember, otherwise I wolf down something as I'm racing out of the house. (I am perpetually late to school pickup because I loathe being early-that's lost writing time.) Then, once my little ones are in bed, I write again, usually from 8:30PM to 10:30PM.
You were diagnosed on the Autism Spectrum as an adult. What advice would you have for others who are seeing themselves in a new light after identifying with Stella and about to embark on the same journey?
I can't think of anything more fulfilling than Stella guiding other women toward this kind of self-realization. Knowledge is power, and the better we understand ourselves the stronger we are. There are quite a few books about autism in women, but I found Aspergirls by Rudy Simone informative without being dry. Connecting with other women on spectrum has been a priceless experience for me. I'd advise others to look into the Autistic Women's Association Facebook page:
https://www.facebook.com/autisticwomensassociation
Finally, for those who decide to pursue an official diagnosis, I recommend researching your insurance options and finding a therapist with experience with adult autism.
What are five adjectives you'd use to describe The Kiss Quotient?
Unconventional, unexpected, inclusive, quirky, and bedroomy. Those words can also make up my mission statement as a writer. ?
What was your favorite scene to write? What was the hardest?
I loved this entire book. It was so personal and close to my heart, but if I had to pick one scene, I'd have to say I'm particularly proud of the scene near the beginning where Michael tells Stella her idea is crazy and she stands up for herself. That's what we have to do in life, forget what other people think and forge our own paths with determination.
The hardest scene was that first dinner at Michael's mom's house. I had to rewrite it more than a dozen times in order to make it important to the plot but also illustrate how someone can fail spectacularly in a social situation despite their best efforts and intentions.
Can you tell us a little bit about what you're working on now?
The second book in the series that began with The Kiss Quotient is called The Bride Test. It's about Michael's cousin Khai and the mail order bride his mom gets him.
What are some of your favorite novels?
I don't have favorite novels so much as favorite authors. Here are some of the romance writers who have impacted my writing the most: Jayne Ann Krentz, Christine Feehan, Nalini Singh, Elizabeth Lowell, Susan Elizabeth Phillips, Kresley Cole, Eloisa James, Julia Quinn, and Lisa Kleypas.
We're a bunch of theatre-lovers here at BroadwayWorld, and we need to know: What are some of your favorite musicals?
Growing up, my favorite musicals were The Sound of Music and My Fair Lady for the romantic stories and unforgettable music. More recently, I loved Moulin Rouge. That's some prime Ewan McGregor right there, and who knew he could sing?!
ABOUT HELEN HOANG:
Helen Hoang is that shy person who never talks. Until she does. And the worst things fly out of her mouth. She read her first romance novel in eighth grade and has been addicted ever since.
In 2016, she was diagnosed with Autism Spectrum Disorder in line with what was previously known as Asperger's Syndrome. Her journey inspired THE KISS QUOTIENT, which comes out in June 2018 with Berkley.
She currently lives in San Diego, California with her husband, two kids, and pet fish.
Helen is represented by Kim Lionetti of BookEnds Literary Agency.
ABOUT THE KISS QUOTIENT:
A heartwarming and refreshing debut novel that proves one thing: there's not enough data in the world to predict what will make your heart tick.
Stella Lane thinks math is the only thing that unites the universe. She comes up with algorithms to predict customer purchases-a job that has given her more money than she knows what to do with, and way less experience in the dating department than the average thirty-year-old.
It doesn't help that Stella has Asperger's and French kissing reminds her of a shark getting its teeth cleaned by pilot fish. Her conclusion: she needs lots of practice-with a professional. Which is why she hires escort Michael Phan. The Vietnamese and Swedish stunner can't afford to turn down Stella's offer, and agrees to help her check off all the boxes on her lesson plan-from foreplay to more-than-missionary position...
As Michael and Stella's no-nonsense partnership takes them out of the bedroom and into a fulltime practice relationship, being together starts making a strange kind of sense. And the pattern that emerges will convince Stella that love is the best kind of logic...
PRAISE FOR THE KISS QUOTIENT:
"The Kiss Quotient had me under a spell the moment I met the hero. I was excited, in love, and couldn't wait to get back to this book every time life forced me to put it down. A rare and riveting love story."-Penelope Douglas, New York Times bestselling author
"I devoured The Kiss Quotient. It's one of the best books I've read in a very long time. It has everything-it's funny, sad, poignant and impossible to put down."-Christine Feehan, #1 New York Times bestselling author
"Original and sexy and sensitive."-Roxane Gay, New York Times bestselling author
"The Kiss Quotient is unexpected, unconventional and unputdownable. I loved it. Hoang's writing has a sharp, quirky, emotional edge that will resonate with anyone who has ever tried to navigate the complicated world of modern relationships. Opening this book is like setting a match to a handful of fireworks - lots of sparkle, heat and energy."-Jayne Ann Krentz, New York Times bestselling author
"In just under 24 hours I devoured The Kiss Quotient by Helen Hoang and it was AWESOME. Adorable, sexy, smart. Exactly the book I wanted to read!"-Christina Lauren, New York Times bestselling author
"An unexpectedly sweet erotic romance that left me with a huge smile on my face. I dare you not to fall in love with these two characters and their story. Helen Hoang's debut is quite simply delightful!"-Nalini Singh, New York Times bestselling author
"Hoang knocks it out of the park with this stellar debut about an autistic woman who takes a methodical approach to learning about sex and accidentally gets a lesson in love...Hoang gives [Stella] tremendous depth as a character, never reducing her to a walking diagnosis. The diverse cast and exceptional writing take this romance to the next level, and readers who see themselves in Stella will be ecstatic."-Publisher's Weekly (starred)
"A compulsively readable erotic romance that is equal parts sugar and spice. Highly recommended."-Library Journal (starred)
"The balance of humor, kindness, and honesty in The Kiss Quotient combined with the gentleness in Hoang's style of storytelling charmed and connected with me in a way no other book has done in a long time."-Book Riot
"The Kiss Quotient rings with authenticity."-RT (top pick)
THE KISS QUOTIENT was published by Berkley Romance / Penguin Books on June 5, 2018.
Related Articles View More Books

Stories