Author and Philanthropist Marnie Schneider Expands Football Freddie...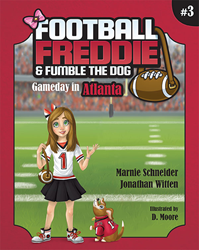 Football Freddie and Fumble the Dog: Gameday in Atlanta is now available for pre-order sales. Written by Marnie Schneider and her son, Jonathan Witten, this book is the third in a series expanding to every NFL city.
Football Freddie and Fumble the Dog: Gameday in Atlanta takes readers on a tour of the Peach State's historic sites, iconic landmarks, and culinary delights, culminating in an exciting Atlanta Falcons football game. The author's life has been driven by football and philanthropy. Marnie is the granddaughter of Leonard Tose, former Philadelphia Eagles owner, and founder of Ronald McDonald House Charities. Through these stories she shares a part of her own childhood experience as some of her fondest memories are of exploring NFL cities when traveling with Tose and his team, and her mother, Susan T. Spencer – the first woman in NFL history to be the vice president, legal counsel, and acting general manager of the Philadelphia Eagles. Marnie shares, "These stories are not only my love letters to the fans and towns I experienced while growing up, they are my way to pay it forward to the many great football communities across the nation."
A portion of proceeds of Gameday in Atlanta book sales will be donated to Ronald McDonald House Charities Atlanta. Marnie empathizes with parents, understanding the challenges faced when caring for a child with a serious illness. Her son, Jonathan, was diagnosed with Neuroblastoma Cancer at a young age, and was unable to walk or talk until age 5. He went on to play varsity football in high school and is now a college freshman. "The opportunity to co-author this book as a tribute to my great grandfather's NFL legacy, and being able to support the Ronald McDonald House which he founded is something I'm very proud of," says Jonathan.
Marnie hopes that through the magic of each book in the series, children will embrace the history of these great cities that host NFL teams. "Possibilities and exploration is what childhood is all about. I want these books to touch children's hearts and help them connect with these great cities."
Football Freddie and Fumble the Dog: Gameday in Atlanta is available for pre-order at Mascot Books, and is due to ship in November. For more information, please visit footballfreddie.com
About the Author
Marnie Schneider is the founder of the Keep On Playing Foundation, which gives underprivileged children the opportunity to learn confidence, leadership, and the importance of teamwork through sports. Football Freddie and Fumble the Dog: Gameday in Atlanta is her third children's book in a series that includes Gameday in Philadephia and Gameday in the Carolinas. She lives with her three kids—Jonathan, 18, Goldie, 15, and Leo, 14—three rescue dogs, and one handsome pony named Billy in Mooresville, NC.
Related Articles View More Books

Stories
More Hot Stories For You