Student Blogger: Emily Brooks
MOST POPULAR ARTICLES
LAST 365 DAYS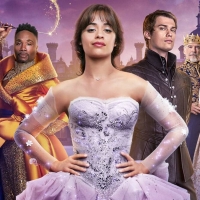 Student Blog: What Makes a Jukebox Musical ?Work??
Posted: Sep. 10, 2021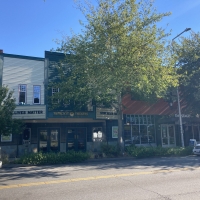 Student Blog: Another Kind of Coming Home ? The Return of Live Theatre in Seattle
Posted: Jul. 28, 2021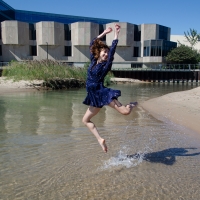 Student Blog: Look What Happened to...Emily!
Posted: Sep. 24, 2021


Student Blog: From Waa-Zoom to the Waa-Movie, a new-work tradition takes on two pandemic years
Posted: Jun. 24, 2021


Student Blog: Look What Happened to...Emily!

September 24, 2021

Four years ago, I was belting Jerry Herman's "Look What Happened to Mabel" in college auditions. This week, I kicked off my senior year in Northwestern University's musical theatre program. Unsurprisingly, it was a week full of reflections on change, and that song is feeling perhaps more applicable today than it was the last time I sang it.
---
Student Blog: What Makes a Jukebox Musical "Work"?

September 10, 2021

As I watched the townspeople of Cinderella sing Queen's "Somebody to Love" to celebrate the changing of the guard, I was forced me to think about what it is that makes some jukebox musicals work, while others (like, perhaps, Cinderella), perhaps…don't quite.
---
Student Blog: Trusting Your Journey – An Open Letter to High School Seniors

August 25, 2021

Looking back four years later, I can say with confidence that the application/audition process for college theatre programs is probably the most difficult thing I have ever done. As I embark on my senior year in Northwestern University's musical theatre program, I'm reflecting on what I wish I knew four years ago.
---
Student Blog: In the Studio with Dance Lab New York

August 12, 2021

Several years ago, Dance Lab New York pioneered its Broadway Choreography Intensive – a unique intensive for early-career choreographers to train specifically in theatrical choreography. As longtime fan of DLNY, I was thrilled to be accepted into the intensive myself, and I'm excited to take you into the studio with me.
---
Student Blog: Another Kind of Coming Home – The Return of Live Theatre in Seattle

July 28, 2021

Alongside all the other strange experiences of the last year and a half, repeatedly coming home to a Seattle without live theatre was one of the strangest. But as we see a light at the end of the pandemic tunnel, especially in the heavily vaccinated Seattle community, in-person theatre has slowly begun to make its return, and experiencing it in a variety of capacities has been a highlight of my visit home.
---
Student Blog: Reimagining Rehearsal Room Mindsets and Reclaiming my Voice

July 12, 2021

Recognizing the massive crossover, overlap, and connections between the dance and theatre worlds, I'm reflecting on the way the emotional demands of ballet have shaped my own journey, the way those demands can manifest in a theatre setting, and the work we can do to prioritize healthier theatrical experiences as live theatre returns.
---
Student Blog: From Waa-Zoom to the Waa-Movie, a new-work tradition takes on two pandemic years

June 24, 2021

The Waa-Mu Show has been called 'the greatest college show in America' by the Associated Press. It's one of the largest Northwestern Theatre projects of the year, during which over a hundred students work to create and produce a brand new musical from the ground up under the mentorship of professionals.
---
Student Blog: Discovering Devised Theatre

June 2, 2021

'Devised theatre" and "devising" long felt like buzzwords for something that seemed fun and exciting but that I didn't quite understand. But when cast in a long-form devised process myself, I'd fall deeply in love with the practice, and which would come to inform my process on a variety of other projects.
---
Student Blog: Beyond Dance Breaks and Dream Ballets

June 1, 2021

When we think of choreography for the theatre, we imagine big dance breaks in classic musicals –and yet one of my first major choreographic opportunities was an expressionist, non-musical play. The process would introduce me to the variety of ways movement can show up in theatre (and film) beyond my narrow preconception of theatre choreography.
---
Student Blog: Northwestern's Dolphin Show Still Has Magic to Do

May 19, 2021

Soon after planning for this year's Dolphin Show began in late winter 2020, the team faced a question: how on earth were they to produce a show that holds the record for being "the biggest student-produced musical in the country" in the midst of a global pandemic?
---
Student Blog: Regional Theatre Spotlight on Education at Seattle's 5th Avenue Theatre

April 26, 2021

When I moved to Seattle in middle school, I never would have guessed that one of the city's leading professional theatres would become an artistic home. In today's blog post, I'll be highlighting The 5th Avenue Theatre, a regional theatre that not only produces inspiring productions but has shaped the artistic journeys of myself and many other young people.
---
Student Blog: Finding the Perfect Song

April 10, 2021

Whether choosing material for the next season of Next on Stage, an audition, or performance, finding the right song can feel as difficult as mastering the song itself. But choosing the right song – finding one that you really love to sing and can personally connect with – can make all the difference.
---
Student Blog: What Does Your Favorite Sondheim Musical Say About You?

March 26, 2021

None of Sondheim's innovative works is just like another – so which one in particular you gravitate towards can say a lot. So in good, lighthearted fun, in celebration of a genius's birthday, I bring you a very unscientific analysis of what your favorite Sondheim musical says about you!
---
Student Blog: A Day in the Life of a Northwestern University Music Theatre student – Covid Edition

March 12, 2021

I'm lucky enough to be studying theatre in a program that, even in normal times, is wonderfully unique. And while a global pandemic has of course brought its challenges, it's made for an experience that is all the more innovative, varied, and surprising. To give you a glimpse, I'll be taking you through my day as a Junior at Northwestern University, where I'm pursuing a B.A. in Theatre, along with a Music Theatre Certificate, and a World Literature minor.
---
Student Blog: Storytelling, from Page to Stage (For All the Theatre Kids Who Love Books)

March 8, 2021

I've loved theatre since I was very young. And I've loved literature for even longer. For a long time, I thought of these as two fairly unrelated important facts about me. But I've recently come more and more to the realization that at the core of these is the same passion: a deep love for stories and storytelling. 
---
BWW Blog: Come From Away, Coming to the Screen

February 19, 2021

It was recently announced that Come From Away would be filmed live this spring, for release in September. The show, which tells the story of the transformative welcome the tiny town of Gander, Newfoundland offered the passengers of the thirty-eight airplanes grounded there on 9/11, is one of my absolute favorites
---
BWW Blog: Beyond Zoom Plays

February 5, 2021

This Covid winter quarter at Northwestern, I'm lucky enough to be engaging with theatre in a variety of ways. Beyond my continued largely-virtual study of musical theatre, I'm choreographing a play with music, performing in a play, and recently performed in a musical theatre cabaret.
---
BWW Blog: Falling in Love with Teaching Theatre -- Over Zoom

January 18, 2021

It was 2020 -- the year of zoom teaching – that showed me that such work would be a part of my career not just to make ends meet, but to fulfill a deep love for the practice of theatre teaching itself. 
---
BWW Blog: The Virtual Theatre Co. – Four Months In

December 21, 2020

Last summer, a group of college-age theatre students decided to start an online theatre education company from the ground up. Since then, we've connected with aspiring and professional theatremakers around the world. I catch up with our founder Alyssa Jiwani to reflect on TVTC's incredible journey.
---
BWW Blog: The Ghost of Christmas (Musicals) Past

December 8, 2020

I was recently reminded that this time eight years ago I was opening one of my favorite holiday experiences: Elf: The Musical at The 5th Avenue Theatre.
---