George Weinhouse
MOST POPULAR ARTICLES
LAST 365 DAYS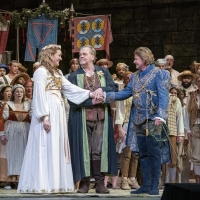 BWW Review: DIE MEISTERSINGER VON NÜRNBERG at the Metropolitan Opera
Posted: Nov. 1, 2021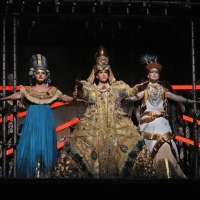 BWW Review: AKHNATEN at the Met Opera
Posted: May. 26, 2022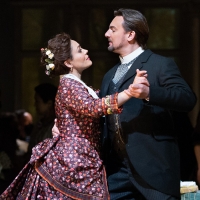 BWW Review: EUGENE ONEGIN at the Metropolitan Opera
Posted: Mar. 29, 2022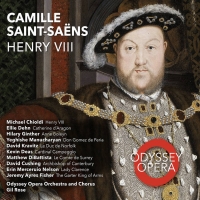 BWW Review: Odyssey Records Recording of HENRY VIII by Saint-Saens
Posted: May. 20, 2022


BWW Review: AKHNATEN at the Met Opera

May 26, 2022

One of the greatest successes of recent Met seasons is Philip Glass's AKHNATEN, first seen in 2019.I saw it three times that year and fell under its spell each time.It is being revived this season.
---
BWW Review: Odyssey Records Recording of HENRY VIII by Saint-Saens

May 20, 2022

A new recording of Saint-Saens's opera HENRY VIII, by Odyssey Opera, has come my way. It is a complete version of the work which is dated 1883. Odyssey Opera is a company dedicated to the performance of operas that are out of the mainstream but are deemed worthy of recognition. 
---
BWW Review: ST. MATTHEW PASSION at Carnegie Hall

May 17, 2022

Bernard Labadie led a transcendent performance of Bach's ST.MATTHEW PASSION at Carnegie Hall.
---
BWW Review: EUGENE ONEGIN at the Metropolitan Opera

March 29, 2022

The 2013 production of Tchaikovsky's Pushkin-inspired opera EUGENE ONEGIN has triumphantly returned to the Met. I attended the final dress rehearsal and can attest to the fact that the story of Tatyana's infatuation with, and later rejection of, the eponymous 'hero' is vocally in superb hands. Both singers and orchestra were splendid.
---
BWW Review: DIE MEISTERSINGER VON NÜRNBERG at the Metropolitan Opera

November 1, 2021

For the first time in almost seven years, the Metropolitan Opera has revived Wagner's DIE MEISTERSINGER VON NURNBERG.  Considered by many to be Wagner's masterpiece, today's matinee performance gave credence to that opinion.  The production is that of Otto Schenk with scenery by Gunther Schneider-Siemssen, and costumes by Rolf Langenfass.
---
BWW Review: Vivaldi's Tamerlano on Naïve's Vivaldi Edition

November 11, 2020

On October 2, Naïve Classiques will release Vivaldi's opera Il Tamerlano (Il Bajazet), the 65th release in the label's Vivaldi Edition. The series is devoted to newly rediscovered works of Vivaldi housed at the Biblioteca Nazionale in Turin.
---
BWW Review: Berlioz's DAMNATION DE FAUST - Erato

February 20, 2020

A gorgeous new recoding of Berlioz's DAMNATION DE FAUST, on the Erato label, has come my way and it is well-worth investigating.  The work has entered the public consciousness with the recent revival by the Metropolitan Opera in late January and early February.   
---
BWW Review: COSI FAN TUTTE at the Met Opera

February 17, 2020

Two years ago, when I first saw photos of the projected new COSI FAN TUTTE,which was a production that originated at English National Opera and was slated to come to the Met, I was circumspect. I had grown up on three previous incarnations of COSI, the first dating from the 1950's a very traditional production which starred Richard Tucker and Eleanor Steber, the subsequent one dating from the 1980's, which had featured Kiri TeKanawa, and the last from 1996, which starred Carol Vaness and Suzanne Mentzer as the sisters Fiordiligi and Dorabella. All were very much 'period' pieces which made no effort to update or change the locale from the original setting of eighteenth century Naples.
---
BWW Review: ORCHESTRA OF ST LUKE'S at Carnegie Hall Feb 6

February 10, 2020

Bernard Labadie led the Orchestra of St Luke's in a well-curated program of magnificent Baroque music Thursday night.  The evening also served to expose New Yorkers to the rich contralto voice of Marie-Nicole Lemieux, a singer who has been garnering praise and awards for the last twenty years.
---
BWW Review: BERLIOZ's DAMNATION OF FAUST Returns To The Met

January 28, 2020

Saturday afternoon saw the return of Berlioz's DAMNATION OF FAUST to the Met, not seen there since 2009. Because of logistical considerations it was mounted in concert form on the stage rather than in Robert Lepage's previous staging. The concert style proved to be an extremely effective format for what Berlioz called a 'legende dramatique', a work that did not neatly fit into either the opera or oratorio category.
---
BWW Review: COSI FAN TUTTE Meets GREASE At The Juilliard School

November 25, 2019

Of numerous operaphiles I have encountered, there is a fair amount of partisanship when it comes  to COSI FAN TUTTE by Mozart.  People either love it or dislike it.  I believe the plot is partially to blame; an aging bachelor challenges two younger friends to test their fiancees' devotion and supposedly steadfast natures. They young men disguise themselves and woo each other's prospective mates.
---
BWW Review: TURANDOT At The Metropolitan Opera

October 7, 2019

Birgit Nilsson, one of the greatest Turandots of our time, was fond of saying that Wagner made her famous but TURANDOT made her rich. Why was this so? Simply because very few sopranos can toss out the high notes, cut through the thick orchestration and sing over the huge chorus, which are the minimum requirements to approach this role. Those who can are amply rewarded.
---
BWW Review: THE HUNGER at Merkin Concert Hall Sept 19t

September 20, 2019

An interesting work was presented Thursday night at Merkin Concert Hall by the modern music group ALARM WILL SOUND.  
---
BWW Review: IVAN FISCHER AND THE BUDAPEST FESTIVAL ORCHESTRA at The Mostly Mozart Festival

August 5, 2019

One of the joys of attending a concert a where some of the artists are unfamiliar, is discovering new talent.  Such occurred in a very big way Sunday evening at one of the concluding concerts of this year's Mostly Mozart Festival at David Geffen Hall. The distinguished  Budapest Festival Orchestra under the baton of the accomplished maestro Ivan Fischer played host to a wonderful soprano hitherto unknown to me-Jeanine De Bique.
---
BWW Review: THE BLACK CLOWN at Mostly Mozart Festival

July 25, 2019

THE BLACK CLOWN, as envisioned by Langston Hughes, is a metaphor for the Afro-American as a figure of entertainment in a white world.  It is also a series of verses by Hughes.  In this performance piece devised by Davone Tines and  Michael Schachter, the clown is examined though the lens of history and given life in a series of impressive vignettes, employing song, acting, and dance.  An eclectic mix of music is heard, mainly soul, gospel, Black choral, and spiritual.   Various verses of the poem, which is lengthy, are brought to life by the extremely talented performers; some examples follow:
---
BWW Feature: New York City Opera Brings Music To Bryant Park

May 21, 2019

When I was a child, my father took me to a series of outdoor concerts at a park near our home.  One of the programs featured excerpts from Bizet's opera CARMEN. This was one of my first exposures to opera and since then I have become a major devotee.  I have since joined the Patron Program at the Metropolitan Opera and give backstage tours of that building.  
---