Click Here to Visit the College Center

Blogs are the opinions of the authors and do not necessarily reflect the opinions of BroadwayWorld. BroadwayWorld believes in providing a platform for open and constructive conversation.

Student Blog: Break Up With The Self Tape
Perfection is unreachable because everyone has a different version of it.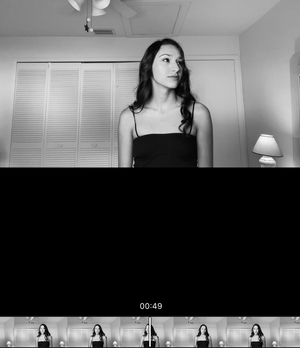 Okay I'm gonna jump right in. STOP watching your already submitted self-tape auditions over and over again until you have pointed out every single thing that you think went wrong with it. You did the best you could in the moment you were given. Or the 3-5 hours/days of trying to get it "right"...cause same. It's good to learn from ourselves and see how we can grow. It's important to point things out and think on how something could be delivered differently or what it would be like to sing the note straight toned instead of with vibrato. Yet, there is a line between that and self-destruction. Half of the things you're thinking went wrong may not even cross the minds of the intended viewers. Hide the little jerk in your Google Drive and never look back. Delete the video from your device and then clear out your recently deleted album. After these three steps, you are ready to move on. One time I watched one of my self tapes so many times that I realized my eyeliner was uneven, one wing was longer than the other, typical...this is how we know it has gone too far. I decided we needed to breakup. It needed to be over. This self-tape was of me a week ago in my bedroom, standing against a blank wall singing a show tune with my ring light at its maximum brightness. I can't change it, it already happened. What good would it do by watching it like that, obsessing over it? Is it good enough? Did I make a weird face, how weird is too weird? Will they notice my uneven eyeliner? Did I say "and" instead of "or!?" (that one gets me all the time, just lying awake at night thinking about the tiniest details like all the other anxious humans).
It's easy to fall into this pattern; it's harder to break out of it. Especially when most of these auditions are self tapes and they likely will be for a while. It's not the same as walking in the room, singing your cut, and the audition being over. You can stop and start again as many times as you need to. I try to stop at the 3 times mark but often remain unsuccessful. As we get back into the swing of things, opportunities are arising which also has us feeling the pressure. More pressure than before, I feel like so many people are experiencing this. We go from a year without Broadway with auditions being at a standstill and now we're here. Now we're slowly coming back and it's almost like it's been a year without Broadway. Funny huh? So you're not alone if this is you, if you're feeling the pressure. It's definitely me. But the biggest thing is that you don't have to be perfect. What is perfection anyway? Perfection is unreachable because everyone has a different version of it. Be gentle with yourself and your past self in those auditions that you already sent in. What's yours will find you.