Review Roundup: SUMMER: THE DONNA SUMMER MUSICAL Opens at La Jolla Playhouse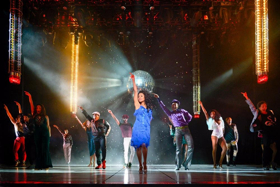 La Jolla Playhouse's world premiere of SUMMER: The Donna Summer Musical, featuring songs by Donna Summer, Giorgio Moroder and others; book by Robert Cary, Colman Domingo and Playhouse Director Emeritus Des McAnuff (Jersey Boys); with direction by Des McAnuff;choreography by Sergio Trujillo (Memphis); and musical direction by Ron Melrose, is running through December 24.
SUMMER: The Donna Summer Musical charts the incomparable life of Donna Summer, the undisputed Queen of Disco, from her modest Boston childhood to international stardom.Told through the lens of her final concert, this vibrant, world-premiere musical presents the complexities and conflicts Summer faced in her meteoric rise - and descent. Featuring three actresses in the title role and a score with more than 20 of Summer's classic hits including "Love to Love You, Baby," "Bad Girls" and "Hot Stuff," this electric experience is a moving tribute to the voice of a generation.
Let's see what the critics had to say!
---
Deborah Wilker, The Hollywood Reporter: In writer-director Des McAnuff's Summer: The Donna Summer Musical...it's her mistreatment that's hammered home. Men abuse, managers steal, cancer comes calling, but worst of all, her art is derided. This retelling of Summer's life...not only examines an ebullient era in music but aims to give the trailblazing songstress...her rightful place in pop culture...but this show...moves almost too fast...Despite its missteps, there is still so much to like about The Donna Summer Musical, particularly the three women portraying the title character in different phases of her life. Broadway veteran LaChanze (a Tony winner in 2006 for The Color Purple) is a marvel as the assured, rafters-raising "Diva Donna"; Ariana DeBose (an original Hamilton ensemble member, more recently of A Bronx Tale: The Musical) is both nervy and vulnerable as anguished midlife "Disco Donna"; and young Storm Lever, a real find, is a scene-stealer as "Duckling Donna." Moments when the three sing together produce all the requisite chills.
Charles McNulty, LA Times: When I first saw the poster for "Summer" a few months ago, I exclaimed, "I need that!" I've discovered, however, that I don't need this flimsy bio musical, and neither do you. In a musical form not famous for literary finesse, "Summer" lowers the bar. The book by Colman Domingo, Robert Cary and McAnuff is like a file in which all the bad things that ever happened to Summer are recorded along with the good. The lack of playwriting imagination is startling. If the program didn't state otherwise, I'd be sure the writing was outsourced to Wikipedia...LaChanze comes closest to re-creating Summer's vocal magic, but not even she can duplicate the combination of clarity, power and sensuality that made the "Queen of Disco" label seem inadequate for this blazing talent...McAnuff, partnering again with "Jersey Boys" teammates choreographer Sergio Trujillo and music supervisor Rob Melrose, tries to cover up the deficiencies with maximum dazzle.
James Herbert, San Diego Union Tribune: That's of a piece with the larger issue of how the whole disco movement and the other artists involved in it are rarely touched upon in the show. "Summer" delves into plenty of its subject's difficult personal struggles (although its treatment of her rift with the gay community comes off as an afterthought and a bit of a gloss), but is less adept at showing why she and her music mattered so much to the wider world.
---
Photo Credit: Kevin Berne