Click Here for More Articles on Paradise Square
Review Roundup: Pre-Broadway Run of PARADISE SQUARE Opens in Chicago
Paradise Square stars Joaquina Kalukango, Chilina Kennedy, John Dossett and more.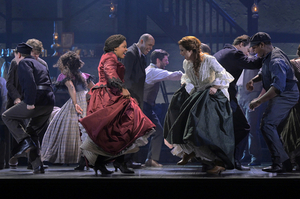 Paradise Square began its pre-Broadway engagement on November 2, at Chicago's James M. Nederlander Theatre (24 West Randolph Street). The production plays five weeks only through December 5, 2021.
The first new musical announced for Broadway since the industry-wide shut down, Paradise Square begins previews February 22, 2022 at the Barrymore Theatre (243 West 47th Street), where it opens March 20, 2022.
Paradise Square stars Joaquina Kalukango (Tony Award nominee for Slave Play, Netflix's "One Night in Miami"), Chilina Kennedy (over 1,200 performances in Beautiful: The Carole King Musical on Broadway; International tour of The Band's Visit), Tony Award nominee John Dossett (Broadway's Pippin, Newsies, Gypsy, Ragtime), Sidney Dupont (Broadway's Beautiful: The Carole King Musical; National tours ofMemphis, A Chorus Line), A.J Shively (Broadway's La Cage aux Folles, Bright Star), Matt Bogart (Broadway's Smokey Joe's Café, Jersey Boys), Nathaniel Stampley (Broadway's The Gershwins' Porgy and Bess, The Color Purple), Gabrielle McClinton (Broadway's Pippin, Chicago), Jacob Fishel (Broadway's Fiddler on the Roof) and Kevin Dennis (Canadian productions of Young Frankenstein, Assassins).
See what the critics are saying...
---
Rachel Weinberg, BroadwayWorld: PARADISE SQUARE takes on a timely and original concept with stunning choreography and immensely talented and engaging performers. The second act brings it all together, but the show's first act needs refinement so the execution can meet the fascinating concept.
Alan Bresloff, Around the Town Chicago: The ensemble is strong in both dance and song, making each character feel real. Watching these stories evolve we get the sense that this is a history lesson and one that needs to be heard. As a country we still have a long way to go. Here was a community that had no racial divides, living together, marrying each other and becoming family. I was impressed by the story, the cast and the overall experience of seeing a show that I think will be around for many years.
Chris Jones, Chicago Tribune: The potential of the entire enterprise, directed by Moisés Kaufman, excitingly choreographed by Bill T. Jones and with an exceptionally promising score from the gifted, youthful Jason Howland, shines through in this Chicago tryout.
Brian Hieggelke, Newcity Stage: If you're a fan of the kind of big dumb musicals that too often make bank on Broadway, this is not your show. It's smart, nuanced and jammed with ideas about race, gender, class, immigration, the neglect of veterans, and just about everything else that ails America.
Emily McClanathan, Theatrely: Despite its need for trimming, Paradise Square achieves some truly moving moments when it homes in on the personal relationships between characters. While it addresses a wide range of timely issues, to varying degrees of success, its most effective theme is simple: the love found in the community of Five Points and the way its people take care of each other. Therein lies the heart of the show.
Catey Sullivan, Chicago Sun Times: In all, it's a rich, relevant world inside an outlier bar in the eye of a maelstrom, star turns by Kalukango and DuPont at its center. It's also a production that deserves an audience that will cheer for it, loudly.
Steven Oxman, Variety: The songs by Howland, often taking off from a base of a Stephen Foster original, are filled with rich harmonies and elegant crescendos, and the lyrics from Nathan Tysen and Masi Asare are a bit less rich but generally functional. The problem is that the songs don't tend to propel the action, even if they do attempt to let us into the character's inner lives.
Irene Hsiao, Chicago Reader: It would all be a bit pedantic if the performances weren't so spectacular and the reenactments of historic tragedies so painfully contemporary. And yet the singing is blockbuster, the dancing is dazzling, and the reckoning that anyone sitting through this fable must undergo is as sobering as it ought to be. Kalukango is a forceful presence with a powerhouse voice as Nelly, and the rapport with Kennedy as Annie, who can blitz right from a belt to a head voice, is on point, all supported by an ensemble that sometimes splits into factions but ultimately coalesces into a community.
Hedy Weiss, WTTW: What really blows this show out of the park is its knockout dancing, and the brilliant choreography by Bill T. Jones that in many ways is more potent than any spoken dialogue as it sets the phenomenal rhythms and moves of both Irish step dancing and African juba into a brilliant competition that reveals the genius of both "languages."
Barbara Vitello, Daily Herald: Also earning kudos is Jones' expressive choreography, which incorporates Irish and hammerstep choreography by Garrett Coleman and Jason Oremus. Pairing Black American juba (consisting of stomping, slapping and patting) with Irish step dancing, Jones establishes a conversation between the two folk styles. That conversation is made apparent in the impromptu dance competitions (easily the production's most exhilarating numbers), which reflect the integration of the two styles that will become tap.
Paul Lockwood, Northwest Herald: Kalukango is clearly the star here - she can project to the last Nederlander Theatre balcony row when she's singing, and there are few performers I've seen who can bring an audience to their feet before the end of the show. Kalukango did it with the Act II showstopper, "Let It Burn," powerfully delivering an emotional message at a climactic moment in the story. Mark my words: Kalukango will get another Tony nomination in 2022 for this performance, and will be a prime contender for the actual award.
Eloise Marie Valadez, NWI Times: While strong choreography and powerhouse musical numbers are engaging, the production remains a bit too long and some of the characters need more fleshing out, namely the character of famed American composer Stephen Foster, who weaves in and out of his somewhat confusing role in the show. Segments of some Foster songs are blended nicely into the score of "Paradise Square." (History states that Foster spent some time in Five Points.)
Andy Argyrakis, Chicago Concert Reviews: Given its historical context and based on the audience's reception, at least as far as opening night at the James M. Nederlander Theatre was concerned, its poised to be "Hamilton" huge thanks to a dynamite cast, magnetic soundtrack, tremendous chorography, and perhaps most importantly, so many lessons to be learned it will likely take days to fully digest.
Ed Tracy, Conversations With Ed Tracy: The company of over fifty actors and musicians perform twenty musical numbers-music by Jason Howland with lyrics by Nathan Tysen and Masi Asare-on a massive, multi-level Allen Moyer designed urban set that evokes a gritty, mid-19th century landscape and incorporates gorgeous Toni-Leslie James costumes. The orchestral arrangements would benefit greatly with the addition of a box accordion for a larger and more varied interpretation in the Irish step-dancing numbers enhancing the strong fusion of all of the dance numbers. Bill T. Jones choreography is exhilarating.
Dean Richards, WGNTV: "A highlight of the show is actress Joaquina Kalukango, recently nominated for a Tony Award for Slave Play, whose passion but mostly her stunning voice will send shivers down your spine. Paradise Square is in Chicago for only another week before it heads to New York. I'm recommending this powerful show at the Nederlander Theatre, only until December 5th."
Lisa Trifone, Third Coast Review: With a plot spread so thin there's hardly anything to it, the songs aren't much better (or more memorable). Several of Foster's familiar themes appear ("Camptown Races," "Oh, Susannah," and others catch the ear), but the show is probably smart not to dwell on them for too long. Only one song stands out as a particularly impressive moment in the show, and that's in large part to Kalukango's powerhouse delivery; "Let it Burn" is Nelly's angry anthem against all the toil and trouble her neighborhood has faced since the curtain rose.