Click Here for More Articles on Hamilton
Review Roundup: HAMILTON Takes The West End; Updating LIVE!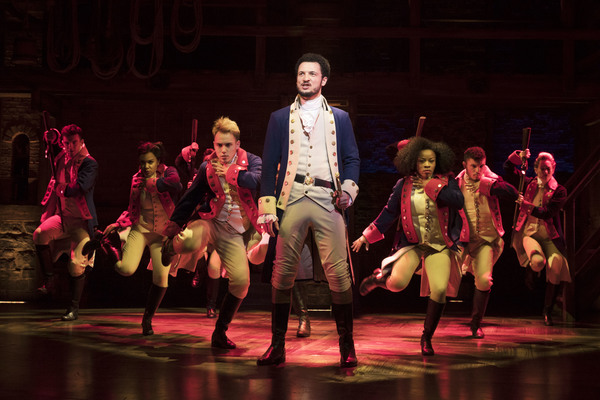 HAMILTON opens tonight, 21 December 2017, on the West End.
The West End cast comprises Christine Allado (Peggy Schuyler/Maria Reynolds), Rachelle Ann Go (Eliza Hamilton), Tarinn Callender (Hercules Mulligan/James Madison), Michael Jibson (King George), Rachel John (Angelica Schuyler), Jason Pennycooke (Marquis de Lafayette/Thomas Jefferson), Cleve September (John Laurens/Philip Hamilton), Giles Terera (Aaron Burr), Obioma Ugoala (George Washington) and Jamael Westman (Alexander Hamilton). At certain performances, the role of Alexander Hamilton will be played by Ash Hunter.
HAMILTON is the story of America's Founding Father Alexander Hamilton, an immigrant from the West Indies who became George Washington's right-hand man during the Revolutionary War and helped shape the very foundations of the America we know today. The score blends hip-hop, jazz, blues, rap, R&B and Broadway - the story of America then, as told by America now.
What did the critics have to say?
---
Matt Trueman, Variety: What changes there are stem from the casting. In Jamael Westman, London has itself a fine Hamilton to fill Miranda's sizeable shoes. At 6'4", he looms above the rest of the cast and cuts quite the Mr. Darcy-style dash. That, in itself, tilts the whole show on its axis. Westman's Hamilton wears his smarts like a designer suit. He's not so much "young, scrappy and hungry" as smooth, smug and entitled. His eyebrows are almost permanently cocked, as if checking himself out in the mirror, and his bamboozling outburst against Samuel Seabury in "Farmer Refuted" feels more like vain showboating than revolutionary fervor.
Marianka Swain, BroadwayWorld: And - what joy - it's not just about the guys, as Miranda gives plenty of space to the politically aware Schuyler sisters. Rachelle Ann Go lends gorgeously rich voice to Hamilton's long-suffering wife Eliza, who somehow finds the dignity and power denied to women, and Christine Allado is excellent as gawky Peggy and sultry Maria Reynolds.
Dominic Cavendish, The Telegraph: In the course of over two and half hours, we're spun through the professional travails and private torments (drawn from the 2004 Ron Chernow biography) of a fascinating and under-sung Founding Father as he races from impoverished Caribbean origins to the heart of George Washington's inaugural presidency, taking in heroism in the War of Independence, scholastic endeavour in the drafting of the Constitution, and a whole heap of politicking that culminated in his death in a duel at the hands of his rival Aaron Burr, Salieri as it were to his Mozart.
Demetrios Matheou, The Hollywood Reporter: The droll "You'll Be Back" could almost have been plucked from a Beatles or Britpop B-side, which is appropriate given that it voices King George's reluctant acceptance that his colony has escaped him, for now. It's another great marriage of dramatic idea and musical style, having the figurehead of colonial oppression appear as comic relief. With Michael Jibson playing the king as a gnomish, creepily malign, barking toff whose servant-playthings aren't doing as they're told, the king will register very well to an audience with both a tradition of pantomime and a love-hate relationship with its Royals.
Paul Taylor, The Independent: If I sometimes wanted the piece to go further (why not an African-American woman as George Washington?), this is doubtless just a tribute to the show's instigative powers of suggestion. Towards the end, though, for my taste, it starts to tackle its serious developments with a po-faced solemnity that is faintly risible. The death in a duel of Hamilton's son; the fall-out from the sex scandal (Rachelle Ann Go overacts the role of his wife, Eliza); the preoccupation with the eyes of history and with legacy - these are weighty subjects, true, but the show begins to feel as if it's a little in awe of itself in the way it deals with them. I fell to musing what revivals of Hamilton might be like in years to come when it is not such an institution and directors have more latitude.
Quentin Letts, The Daily Mail: Apart from Mr Westman the star of the show is Michael Jibson as a pleasingly puddingish, catty George III. The English king stamps his royal hoof on the floor, saying he is feeling blue at the loss of his colony - and he is immediately swathed in blue light. This George is cartooned more effectively than Washington, or the irritatingly silly Lafayette and Jefferson (Jason Pennycooke plays both). Giles Terera is almost too engaging as Aaron Burr, Hamilton's friend and later foe.
Andrzej Lukowsksi, Time Out: If there were worries a Brit cast might struggle, they're unfounded. Relative newcomer Jamael Westman is a revelation in the title role: he can rap like a machine gun, sing like a dream, and being both young and prodigiously tall he perfectly channels Hamilton's gaucheness, as the socially inept but relentlessly driven immigrant sets about trying to liberate and reform America with feather-ruffling vigour. Pitched against him is silky smooth Giles Terera as Hamilton's mentor and nemesis Aaron Burr, a smart, inscrutable career politician increasingly dismayed by the success of Hamilton's unconventional methods. There's a touch of Mozart-Salieri to their relationship. But one of the strengths of 'Hamilton' is that it's a rare musical that acknowledges real life is more complicated than heroes and villains: we see that Hamilton is a bit of a dick; we know Burr was hardly evil.
Adam Bloodworth, Metro: RADA graduate Jamael Westman, who plays the title role, oozes confidence in his first major break. His Hamilton is cheekily confident, at his best when he breaks the fourth wall to wink and smirk at the audience with all the passion and charisma you'd expect of a revolutionary.
Mickey Smith, Mirror.co.uk: Newcomer Jamael Westman makes his West End debut as Hamilton. If stepping into a role originally played by Miranda himself was nerve racking, he shows none of it on stage - portraying Hamilton's cocksure genius with confidence. Rachelle Ann Go - playing Hamilton's long suffering wife Eliza - has the audience in floods of tears with heartbreaking showstopper 'Burn'. But Rachel John, as Eliza's witty and wise sister Angelica almost steals the show with a blistering tear through 'Satisfied.' Christine Allado sizzles in the dual role of Peggy Schuyler and Hamilton's sexy mistress Maria Reynolds.
Sarah Hemming, Financial Times: Leading the fray in Thomas Kail's pulsating production is Jamael Westman, superb as Hamilton. Not long out of drama school - which chimes with his "young, scrappy and hungry" character - he has a depth and presence that belie his lack of experience. He can spit bars with the best of them, but he also suggests Hamilton's haunted, driven nature. Obioma Ugoala makes a towering Washington, Jason Pennycooke an archly stylish and manipulative Jefferson and Giles Terera is mesmerising as Salieri-like narrator Aaron Burr. Meanwhile Michael Jibson's deadpan King George gets an ironic, affectionate cheer every time he tiptoes into the action to make half-baked threats.
Tim Bano, The Stage: Hamilton is a touchstone. It's zeitgeist, youthquake, Momentum, it's woke, it's post-musical. From masculinity, power struggles and the small things on earth, it metastasises into a crying epic about legacy, principle, nations, all the incredible mongrel people within those nations, and how all those people - every single one - can change the world. Even the bastard, orphan, son of a whore, immigrant Alexander Hamilton.
Related Articles