REVIEW ROUNDUP: What Are Critics Saying About SCHMIGADOON?
The musical comedy series stars globally on Apple TV+ on July 16th.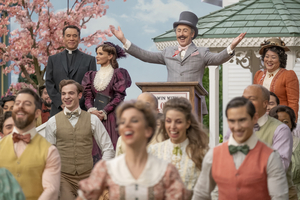 Ever wish your life was a musical? Later this month, live the dream with Apple TV+'s new series, Schmigadoon!- a parody of iconic Golden Age musicals. Schmigadoon! stars Cecily Strong and Keegan-Michael Key as a couple on a backpacking trip designed to reinvigorate their relationship who discover a magical town living in a 1940s musical.
The series stars Cecily Strong, Keegan-Michael Key, Alan Cumming, Kristin Chenoweth, Aaron Tveit, Dove Cameron, Ariana DeBose, Jane Krakowski and more! It premieres globally on Apple TV+ on July 16th.
We've compiled a list of what all the critics are saying about this brand new musical series; check back throughout the day for more!
The reviews are in...
---
Dave Nemetz, TVLine: "It's a very affectionate, very specific parody of Golden Age musicals, and theater nerds will undoubtedly adore it... but others might be put off by all the excessive cheer. (The exclamation point in the title is there for a reason.) After watching all six episodes, though, I can say that it fully won me over: The cast is top-to-bottom fantastic, the enthusiasm is infectious, and the sharp jabs it takes at the genre's wheezy old clichés give it a distinctly meta edge."
Karen Han, Slate: "From the candy-colored costumes, to the twee sets, to the incredibly catchy songs, it's the closest screen equivalent to an all-out, old-school musical in recent memory, even as-like Daniel Fish's Tony-winning 2019 revival of Oklahoma itself, which exposed the seething underbelly of Rodgers & Hammerstein's debut-it doesn't try to hide how contrived and problematic those mid-century artifacts can be. In other words, even if it's a love letter, that doesn't mean it's afraid to uncap its poison pen."
Daniel D'Addario, Variety: "What they're watching and eventually taking part in, granted, is a painstaking reconstruction of the world of great theater - a merger, perhaps, of the showmanlike impulses of executive producer Lorne Michaels and the visual gifts of director Barry Sonnenfeld. It's an admirable thing to have pulled off and, in a world where live theater is only glimmering back into view after more than a year off, a lovely one in many ways. But what's missing from Schmigadoon, and from "Schmigadoon!," is real idiosyncracy."
Tilly Pearce, Entertainment Daily: "Schmigadoon! brings the Golden Age of movie musicals into a 21st-century world and never once loses its heart. It's clear that the team behind the show has a true love for the films they're sending up. As a result, Schmigadoon achieves a seeming rare feat in modern-day parody. It makes you love the actual story while acknowledging it's crafted out of satire."
Erin Strecker, Mashable: But then...you're sitting there, watching Kristin Chenoweth as a puritanical church lady in full moral panic or Jane Krakowski channeling her inner spurned Baroness, and suddenly, well, depth doesn't matter all that much. Sometimes, it's just a delight to watch a goofy show. So much great television is depressing, or heavy, or requires the explanation "the humor comes from how dark it is!!" If Schmigadoon! doesn't ever rise to something bigger, that's OK. It's still a great place to visit.
Daniel Fienberg, The Hollywood Reporter: At its best, the new Apple TV+ comedy Schmigadoon! felt like sitting in the backseat on a long car ride with my grandmother, sharing excitement for musicals of the '40s, '50s and '60s. More frequently, however, Schmigadoon! felt like a two-hour musical parody originally intended for Off-Off-Off Broadway performances in front of an enthusiastically drunk crowd of former theater kids, perplexingly expanded to three hours without sufficient commentary to justify the running time.
Linda Holmes, NPR: It's not that a show like Schmigadoon! needs to make some grander point, but it aches for more of a point of view, perhaps less about musicals and more about its own characters. Even in a romantic comedy, which is essentially what the Strong-Key relationship is here, you need a little more of a dramatic spine to the relationship than most of these six episodes can deliver. Given that it is based on Broadway musicals, you know these people will find their way back to each other; the question is how. And here, the answer to that question could have used a little more of the specificity that went into writing the songs.
Meara Isenberg, CNET: It's just about as long in its entirety as this summer's In the Heights, but a little less real and rough around the edges. It should be more like 2016's La La Land, another relationship tale, but Schmigadoon is grounded so little in reality it's hard to compare the two. In the end, it's is a comedic fairy tale, where things never get too rough, and morals and messages abound.
Lucy Mangan, The Guardian: You do start to long for the wit of any My Crazy Ex-Girlfriend number, or any three minutes from the Buffy episode Once More, With Feeling, or even the increasingly clever and extensive musical interludes that Unbreakable Kimmy Schmidt enjoyed as Jeff Richmond was given more of his druthers every season. Schmigadoon! passes the time harmlessly enough but overall, it is a one-note show and even that is too often flat. Must hit that exclamation mark harder next time.
Margaret Lyons, The New York Times: "Schmigadoon!" has its moments of good honest fun, but it is more inclined toward ironic and satirical fun - it's in on its own joke and routinely mocks its own corniness. (There's even a song called "Corn Puddin'," which, like all the other songs on the show, is pretty darn good.) The vibe works, particularly the jabs at classic musicals' rigid sexism. The show's credited writers, Bowen Yang, Julie Klausner, Allison Silverman and Kate Gersten, are best known for their work in sketch comedy and sitcoms, so unsurprisingly the punch lines are clever and often acidic. But it does sometimes feel as if "Schmigadoon!" had only one real joke: Musicals, especially those of the '40s and '50s, are similar to one another, and cheesy.