Industry Interview: Wolf of Broadway- Meet Tony-Winning Producer, Orin Wolf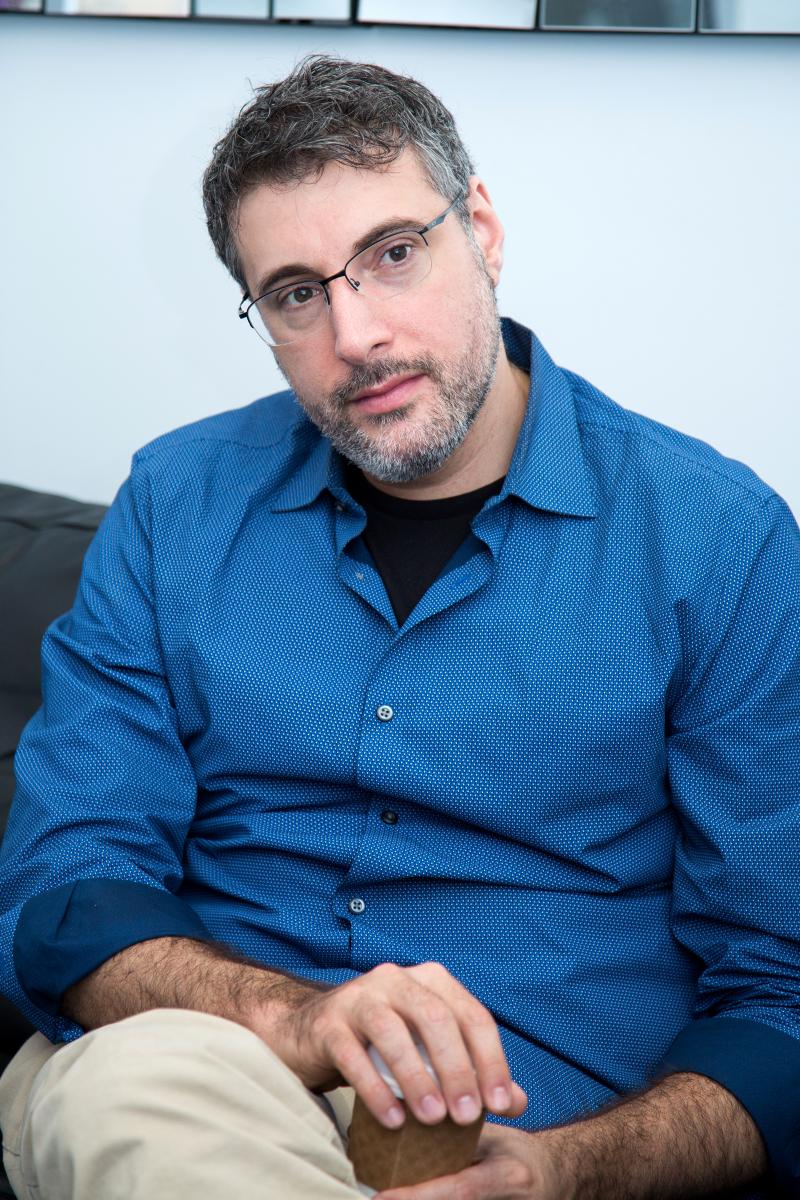 Just over a month ago, Orin Wolf was celebrating a whooping ten Tony wins for his little musical that could- The Band's Visit. As the big winner at the 72nd Annual Tony Awards on June 10, the new show not only swept the ceremony, but it found a place in history with some of Broadway's most awarded musicals- a producer's dream.
Before The Band's Visit, Wolf produced an extensive list of shows, including: Fiddler on the Roof (Tony Nominated), Beautiful - The Carole King Musical (Tony Nominated), Orphans (Tony Nominated), Once (Broadway Tony Award Winner, London and National Tour), That Championship Season, A View From the Bridge (Tony Nominated). He co-founded OBB/Off Broadway Booking. He was the inaugural recipient of the T-Fellowship for Creative Producing at Columbia University and is now the Director. He is currently the President of NETworks Theatrical Presentations.
Below, he chats with BroadwayWorld about the journey of the hit show, as well as how he found his place in Broadway to begin with.
---
Did I read correctly that your first producing experience was keg parties?
Yes, I was a student at the Hartt School, which was a brand new conservatory started by Malcolm Morrison and Alan Rust, who had previously started the North Carolina School of the Arts. They came to Hartford, Connecticut and at the time, the Hartt School was already a very well-respected music school, but they really wanted to create an acting program... not only for musical theater, but for plays as well, which was the side of the program that I was interested in. I was studying a lot of classics, a lot of Shakespeare, a lot of French and Russian and English plays, modern and histories.
I've got two stories about the keg parties... You grow up in this industry, you're a kid, you do theater as a kid, you get interested in acting or whatever. My experience, and I imagine I'm not alone, was that my passion for the theater was real, it was a part of my upbringing. I loved being around it and acting was your only in-road as a kid. That's just what you know, and it's what you can do in school.
As I got more serious about it, and I got older and I got into college, I quickly learned that acting wasn't my passion, but I still loved the theater. I was tall, so I'd get cast a lot and I never thought I was much of an actor, but I was doing a play... a new play about Boris Pasternak who wrote Doctor Zhivago. It was this courtroom drama about how he was taken to task for all his political affiliations. I was playing the lead, and it was in a small little black box theater, and it was a very hot summer day. I didn't think I was very good in the show and I was going to have my friends and family staring at me for 3 hours to watch this play and the air conditioning system blew.
I had a little bit of a panic attack and I started going to all my friends' apartments all around Hartford and collecting floor fans. I got into the theater, and I'm on my hands and knees and I set up floor fans up and down every aisle of the theater, just spinning and moving. I'm sure it was loud and horrible, but it was very important to me that people were going to suffer as little as possible, if they were going to come and watch this.
The director came in and really lost it on me. He said, "You're the lead in this play! The rest of the cast is downstairs warming up and you're up here ... you're not focused, and you're about to go onstage. If you want to worry about things like this, you should just be a producer." I realized - "That's a good idea."
For me, it was that moment where somebody said, "Oh, you can do something else. You care about the theater, you want to be around it and you don't want to be downstairs warming up. You can go be a producer!" It was like this immediate sort of permission to say, "Oh, I don't have to be an actor. I can be in the theater and do something else."
Are you still carrying floor fans?
Now it's all about central AC!
So, that was the first inspiration, how did that then lead into the keg parties?
I do remember immediately just diving into that idea, and reading books, and starting to really learn about what producers do, and what is their role. I had some great teachers at the Hartt School that really supported that idea. The very next show we were scheduled to do at the school, we lost funding for. I was in the second class that was in this program and there were only eight kids in my class. It was a tiny little school, so I asked "Will you let me produce something in place of this slot and I'll raise the money for it?" They said, "Yeah" ... so - keg parties.
They gave me the theater. I ended up writing to this lighting company in New York City and told them what we were doing, that we'd lost our show, and would they let me borrow some lighting equipment and I'd bill them on the poster. They said, "Yes," and I got some lights, and then I had to raise money so that we could build costumes and things. We threw keg parties and raised whatever it was - a couple thousand bucks and I produced an evening of one-act plays, one of which I also directed.
I'll never forget it, because at one point it was 2:00 in the morning and I had my entire class in the theater on ladders, hanging lights, building this show. I think it was maybe one of the proudest moments I've had in my life. Wow, we had this impulse. We all came together and here we are putting lights up on the grid. It was so thrilling. Then we had the satisfaction of actual audiences coming in and watching these one-acts, which may have been terrible. I have no idea. But, to feel like I had played a role in actually taking something that didn't exist and making it exist was something that I knew I wanted more of.
I think what makes great actors, great actors, is that acting is their full form of expression. They take a role, they embody it, and they perform it. That wasn't the satisfaction that I was looking for. The satisfaction that I was looking for, was to say "I have this impulse, this idea, and here we are six months later, and there's a hundred people sitting in a room and watching it." That feeling was addictive. It drove me, and still does.
Have you done any directing since then?
No, no. I love it though. I don't direct, I don't write, I don't act. I think it's just because I admire the people that do it so much. I have such admiration for writers, for playwrights, and for composers. Then directors... I mean, I can talk about THE BAND'S VISIT and that team and getting to see David Cromer do what he does. I think I'm way too in love with being near it to actually be in it. I think I would miss not being near it. Not to mention, I probably wouldn't be very good at it. Being around good direction is just one of the most exciting things to see happen. If I could sit in a playwright's bedroom and watch them type, I'm sure I'd find that equally as exciting, but that's a little bit more of a private experience.
It may be a little creepy.
It may be a little creepy.
It depends on the playwright.
That's true. Some playwrights are a little bit more public than others. I think I just admire them too much to want to do what they do. It's the same way that I admire great acting and great actors. I love watching what they do, without ever feeling the impulse to have to do it myself. Really, the closer I am to them and the more exposure I have to them, the more I'm actually driven to want to produce. It's just like creating an environment where there's fans circulating really hot air. I guess that's kind of a metaphor for what I want to do with great artists. I want them all to have floor fans, I want them to be comfortable. I want to create an environment where they can do their best work. That's my passion. I feel as clear about it today as I did when I was a sophomore in college and the director yelled at me.
Are directors still yelling at you?
Of course! That director was a guy named Michael Montel and his wife was Ginger Montel, who worked for Manny Azenberg. The funny thing is that Michael and I stayed fairly close after that. He got me my first job working in commercial theatre. When I got out of school, he introduced me to his wife who worked in Manny's office and he got me a job being the Assistant to the General Manager. I came in, right out of school in 2001, right before September 11th. I got to work on all these great plays - some Neil Simon plays, the initial workshops of Movin Out. I was blessed.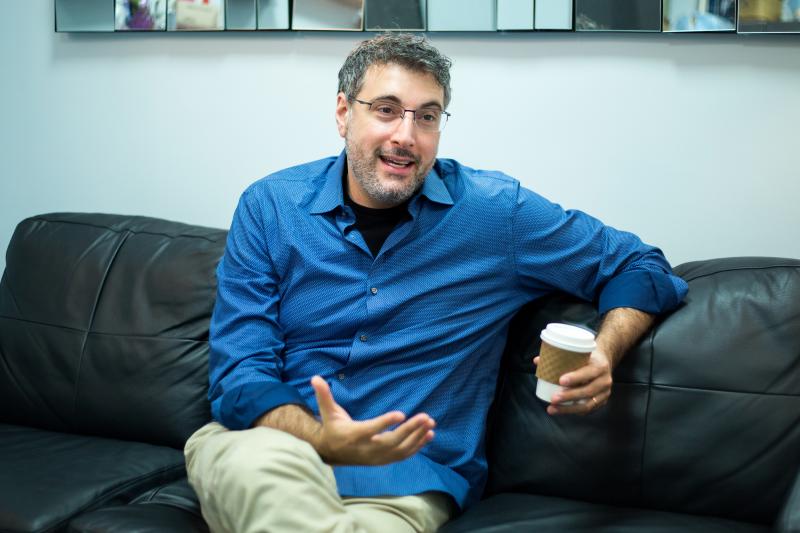 How did that journey then take you Off-Broadway?
It was a long journey. I think I spent about five or six years working for that office and a series of other producers. I worked for Randall Wreghitt, who's no longer with us, but he was a great producer of plays and musicals. I was his assistant and then I helped him start a marketing company. Then I went and worked for a guy named Eric Krebs in the John Houseman Theater. Eric was the first guy to give me health insurance. I was still making $500 a week under the table, because that's what we made in the theater business... everyone was off the books.
Eric allowed me to do his marketing. I then started doing company management, and I was actually the Assistant Company Manager on a show that Bill Maher did on Broadway called Victory Begins at Home in response to September 11th. I became close with Bill and his producer, and then they actually ended up taking me over to HBO.
Did going to work for HBO mean that you dropped out of the theatre world?
Yes, I worked at HBO for the Aspen Comedy Festival for one year and that was the only year in my professional career that I didn't work in the theater. During that year, I realized that it wasn't my thing, at all. I was the assistant to the Executive Producer of the festival and a sort of a low ring talent scout for standup comedians. I was going out to standup comedy clubs several nights a week. The festival no longer exists, but it was an extraordinary thing back then. That's when I decided to raise money and to start my own booking agency called Off Broadway Booking. It was from HBO that I came back in. I really wanted to be in the touring business and started this company.
What was it that attracted you to the touring business?
I looked at the careers of people like Jeffrey Seller, and while it's a name that now has a different connation, I also looked at what Miramax was doing in film. I think that what I was understanding at a young age, was that distribution is a big part of how to operate this as a business. You can produce the greatest play you want, but if you don't have the ability to either license it, or tour it, or find a way to extend its lifecycle...
And you started with touring Off-Broadway shows which hadn't really been done at such a scale. What was the Off-Broadway world like back then, because we're always hearing about how the economic model is broken...
I had been exposed to a lot of Off-Broadway with people like Eric, and you're right that it's always been a difficult medium for commercial producers. The margins are tight, and what Broadway has done so successfully is to create this road presence, where Broadway as a brand, actually has weight. Off-Broadway never had that.
The investors on Off-Broadway shows were being a little starved, because there wasn't the upside. At the same time, I had started going and taking trips to different cities by just going and buying one-way plane tickets. I'd pick a city on the map; I'd rent a car, and I would drive and visit all the old opera houses and old vaudeville houses all over the country. I visited hundreds of theaters, over the course of three or four years, as I was starting this booking company.
What I realized is that a lot of these theaters were built to be roadhouses for live shows, Broadway shows, comedy, and music acts. They all got sized out as Broadway had gotten larger and larger. Now these little 1100 seat theatres existed all over the country. These gorgeous old historic venues in these little blue-collar towns. They didn't have any theater, because they couldn't afford it, Broadway was too expensive. Basically, they were either all defunct or they had become local rental houses for community theaters and music and dance which was cheaper to produce.
I had this impulse that there was a need for Off-Broadway investors to find a touring revenue stream, and if we were able figure out how to commercialize Off-Broadway and extend it to reach to the touring world, that we could be onto something. I think we were somewhat successful. I ran the company for eight years, had five employees, all who had health insurance (which I was very proud of). We made money, I think, six of the eight years.
The business was actually kind of working, and we had created these Off-Broadway tours, both one-person shows and small musicals. I think it reached its max and we grew it to about the size it could grow to, with the needs of the market place. Then I took this job helping run NETworks, this larger Broadway touring Production Company.
While I was doing that touring work, I was also doing my independent producing. The first show I ever produced was an off-Broadway play that my roommate had written. It was a little thing called Blood in the Sink, that played Urban Stages. It was the first thing I ever raised money for in New York and produced on my own.
After that, around the time I had seen Def Poetry Jam on Broadway, I became really into Hip Hop theater and spoken word poetry. I actually commissioned a few spoken word artists, while I was in New York, to write poems. Then I brought those poems to a writer, Ben Snyder, and we created this play called History of the Word. Rajendra Ramoon Maharaj co-conceived it with me and directed it and I produced it with some partners. We ended up at the Crossroads Theater Company in New Brunswick, New Jersey. It was the first African-American theater company to win a Tony Award. The year after they won the Tony, they went bankrupt. I don't know why, I think there might have been financial issues, but we were the first show that they reopened the theater with.
This show, that I conceived and produced from the ground up, got these great notices from Variety. But, I was too young and I didn't know what to do with it. It got love from audiences and critics, and I didn't know what else to do. It ended up having a little touring life, but I didn't have the experience or the bandwidth to take it further.
Right after that, I fell in love with a South African play by Ian Bruce called Groundswell. I optioned it, and actually used the play to help me apply for and get the very first T. Fellowship for creative producing. A program that Hal Prince and a group of other amazing producers created to help nurture young creative producers. Through that program and through the mentors that I really started to cultivate, we produced it with Scott Elliott directing at The New Group.
It got a great New York Times review, and we had some impulse to take it further, but I actually ended up licensing it to about six or seven regional theaters and the play was very well-received. At that point I started getting more serious about raising money and finding investors. I wanted to begin putting money into Broadway shows.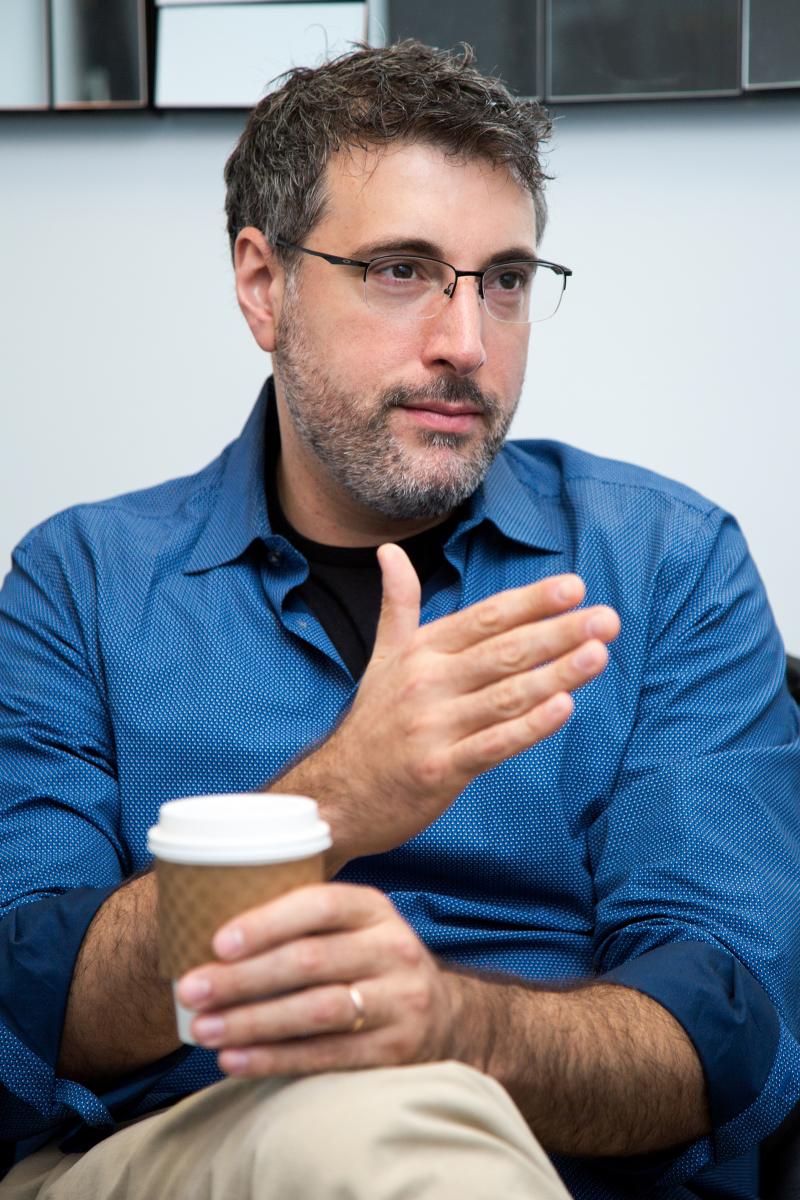 Which was the first?
I started as a co-producer and the first show that I ever put money into was A View From the Bridge, that Gregory Mosher directed. Gregory Mosher was one of my mentors at the T. Fellowship. My relationship to that show was the director, and Gregory and I are still very close.
A View From the Bridge made money. I ended up going and getting hooked up with Fred Zollo and Bob Cole, who produced That Championship Season (that Gregory Mosher also directed), so I went with him. I went and raised money for that and it broke even. Eventually, they got me involved with Once which I had a big financial stake in, then Beautiful.
I started to create an investor pool of people that were making money with me. I was actually finding good shows that they could invest in, so that got more investors interested. All the while, I was also doing my own thing. I think, people were always expecting me to step into more of a leadership role, eventually. Or at least in my mind they were expecting that...maybe nobody was paying attention!
It feels like there's a common theme with all these shows, and that you were taking projects for the people as much as the projects themselves.
That's a very astute observation, totally, yeah. When it comes to co-producing, it's like high stakes gambling... You're raising money for a show that you really have no control over. You're just betting on the horse. Yeah, you can bet on Hugh Jackman any day of the week, but if it's not Hugh, then who else can you bet on? You've got to bet on the director; you've got to bet on the producers, the general management team. A lot of the decisions I was making about where and how I was raising money, had to do with the people that I was investing in.
I think the same is true when people invest with me. I think my investors, whether I'm in charge of the show or not, they're investing through me, because they think that I'm providing some filter.
Have you had things you turned down that you said, "I love you and you, but I don't think this is the show for me..."?
Oh yeah, as soon as I got pinned as somebody who is able to raise money - all of a sudden, you're on everybody's list, because everybody's looking for money. It's never in a way that was flattering. It's not like, "Oh, we really want you to be a co-producer because of what you bring." It's like, "Oh, here's this project, do you want to take a position? Yes or no?"
Speaking of picking projects, when did you first encounter THE BAND'S VISIT?
I was in a movie theatre with my wife, who's Israeli, on the Upper West Side seeing the film. This was in 2007, before it was officially distributed in the US. As soon as the credits were rolling, I said to my wife, "I want to stage this. This is a stage show. The storytelling, all of the theatricality of this should be on stage."
I chased that aggressively. But, because of all the other things that I had been doing in my life, in raising money and running my business, all of a sudden, I started to have the ability to actually do it. It's like with The History of the Word I got these great reviews, but I didn't know what to do with it. I didn't have the machinery to understand what you do next. With The Band's Visit it was more of an opportune time for me, where I had a creative impulse, and I had the tools to take it to the next step. Really, the tipping point of me going from being a fairly successful co-producer, to then stepping into a leadership role, happened with The Band's Visit.
How did you put together the creative team?
It was a long process, because, ultimately, I was developing it for years as a sort of a play with music. I wasn't sure it was ever going to be a musical.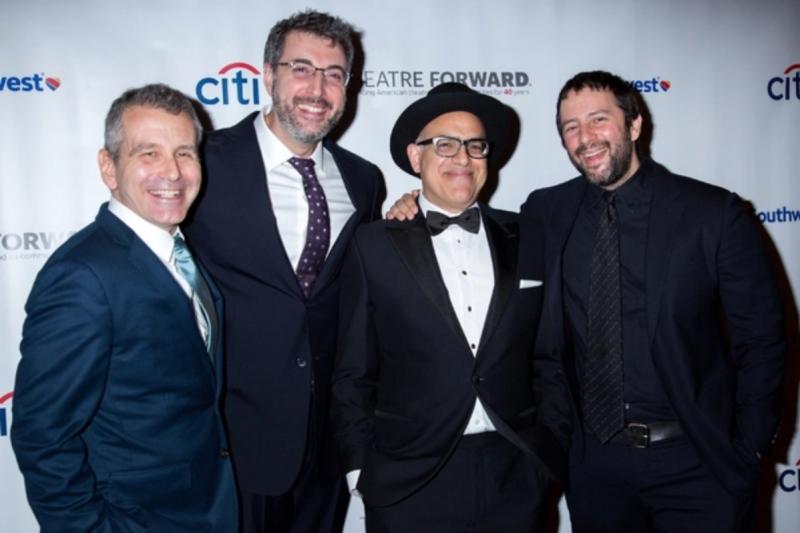 I've heard that Hal Prince was instrumental in helping you make that decision?
Hal Prince was one of my mentors and friends from his program. He knew that I was working on this and he went and saw the film. After about a year of it, he came to me and said, "I've been watching you play with this thing. I'm in love with this, I'm in love with this idea. Would you let me work on it with you?" I said, "Yes" to that. I mean, how could you not?
Hal came in and he really wanted me to put a stake in the ground and to decide what it was. He'd go "Now, just say it's a musical, because you've been dancing around that." I think, with Hal, he'd just had that experience, he knew that. My dancing around whether it was a musical or a play was never because I had an opinion one way or the other. It was because it wasn't what was interesting to me. What was interesting to me, was doing it right. It didn't matter whether it was a play or a musical, to me that was semantics. I wasn't thinking about money either, I was thinking about, 'I got to protect the story of this film. I've got to put this onstage in a way that's compelling. That's what I need to focus on. It'll become a play, or it'll become a musical through the course of just some organic process.'
Hal was able to germinate that and to make it sprout into something that was more rooted in one form. He was right, because as soon as he encouraged me to do that and that's the decision we made, we started looking at composers and bookwriters. I had already gone through a process with several playwrights and writers, who had taken stabs at this that I had said 'no' to. But when Hal got in, we were able to eventually find Itamar Moses and David Yazbek. That was to a large extent because of Hal, because of his influence on me.
Again, it was just great clarity with that process. Yazbek came in, and the task at hand with these composers was that we asked them to watch the film. We didn't give him anything in writing, and we didn't say what moment to musicalize.
Some of the other composers picked more linear, traditional moments to musicalize. David Yazbek came in and wrote "Answer Me", which is the song at the very end of the show. This kid, this man of faith is standing in front of this inanimate object waiting for it to ring. Then finally, in the eleventh hour by himself at night, he has to sing. It's almost this beautiful act of faith. The fact that David chose to musicalize it - not only did the song blow us all away, we thought it was beautiful, but what was even more important to me was his choice to musicalize that moment. To me that meant he was the right writer, because he found something poetic about the moment that he chose to musicalize.
Itamar had a very same sort of impulse and he understood what it was that I saw in the film. When he and David got together, they were chasing the same thing that I was chasing. That's why I think those relationships stayed very strong.
Was Hal going to direct it at one point?
Hal was. He was really involved in developing this with me and Hal does everything: he's a director, he's a producer; he's a theater maker. It wasn't like he was sitting there staging it, but certainly that was the impulse. I think, ultimately, it ended up that PRINCE OF BROADWAY was coming in the same season. Hal had said, "Look, I think it's going to be hard for me. I can't do both things, so I'm going to step off."
It was okay, because he did so much, right. He helped us create this thing and put this team together with me. By the time we turned to David Cromer, it was just as easy - it was as clear for me to pick Cromer as it was to pick Yazbek or to pick the film itself. As soon as I had seen OUR TOWN, I understood Cromer's tone, I understood how he directs, the kind of things that interest him.
I'll never forget, I was eating dinner with David early on, before we had hired him. I said, "So, what is it about the story that makes you want to do this? What is it? What's your 'in' to this story?" He's not Israeli or Middle Eastern in any way, and he wasn't really known as a musical theater guy. Anyway, his answer to me was brief. He had had a personal experience that he had just gone through, where he felt like he really understood the process of grieving. As you may remember in the show, the leader of the Band, Tewfiq, expresses at the end of the show that he had just lost his son to suicide and his wife. David felt that if we could earn that level of grief, then the whole show can be built around that.
There's a sadness to it, but not a sadness that lacks hope. It's sort of an optimistic sadness. These are very broken sad people, but they all have hope. They're all hoping for what comes next - they're hoping, they're waiting, right? Waiting for something new to happen. Waiting for love to happen. Waiting. The act of waiting is actually a very optimistic and hopeful word. You're waiting, because you still think there's something there to wait for.
So, just like that he answered the question, Cromer, that was his answer to me. It was like, well, of course, you should join this show. That's what you want...a director to latch onto something profound and try to lead the effort in an inspired way.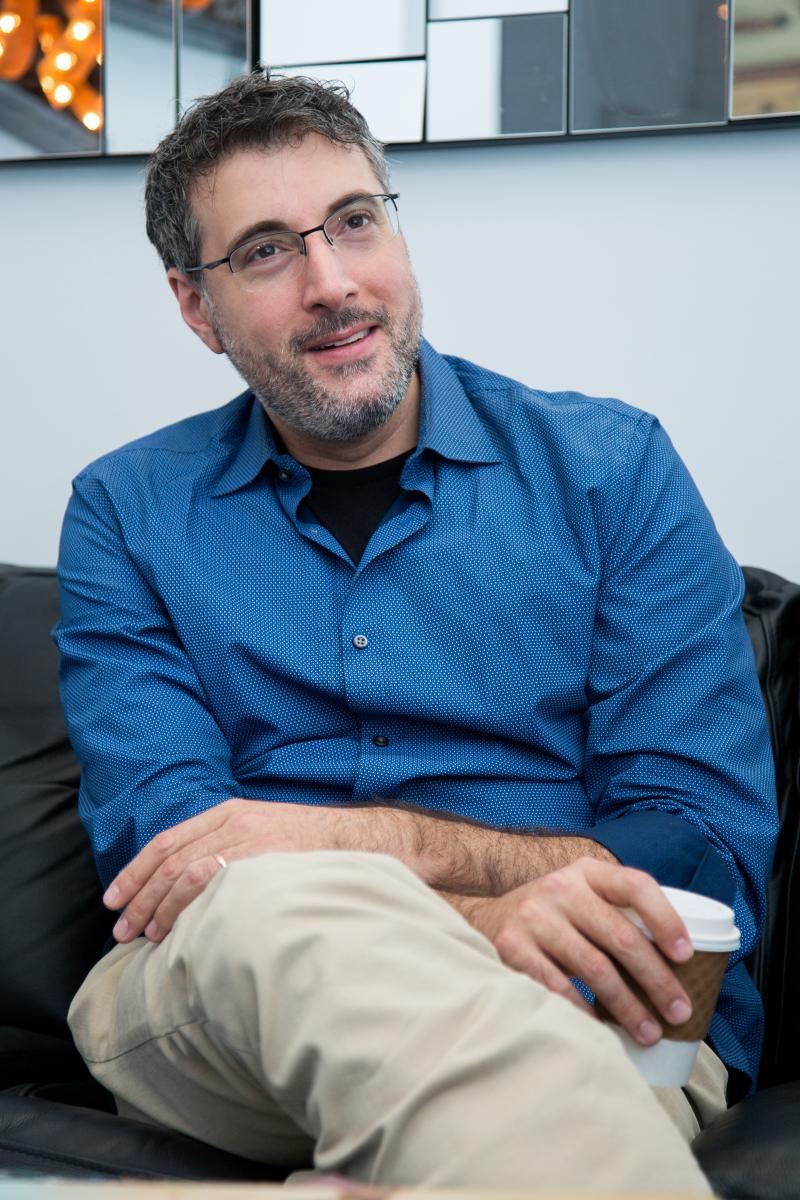 Was Broadway in mind from day one, or did that come about after the early raves at the Atlantic Theater Company?
Broadway was always the plan, because I'm a commercial theater person. I'm not in the non-profit world; I make a living doing this. I don't come from money, I don't have any sort of large bank accounts that I'm sitting on. I need to make a living, which is why I started the booking agency and why I got involved in touring, because I need to pay my bills. Anything that I'm producing, I'm hopeful that I'll find a way for it to have a commercial life.
All that means to me is that I can build this show for a dollar amount that can get more than offset by the amount of people willing to pay to come see it. I mean, that's all it needs to do, if I can just sell enough tickets to make more than I'm spending.
That's actually a very simple formula, hopefully.
That's all it really means to me, as the meaning of commercial theater. I don't have any great sort of theories on what it is or isn't. It's just can I make a show that's appealing enough to a large enough number of people where I can offset the costs? I never produced THE BAND'S VISIT, because I thought I was making WICKED. This wasn't a brand, this isn't HARRY POTTER or MEAN GIRLS. I wasn't producing something that I felt had a built-in audience. I just had to make it great. Somebody once asked me early on in this process, "Did you always think THE BAND'S VISIT could be commercial?" I said, "I didn't know, but the idea of a world where it is - excited me. I want to live in a world where something like this can be commercial. That warms me. That warms my heart to think about that."
I love that answer and think that's a great impulse
That's all I need, and that's enough for me to take a risk. But, it was a struggle. For the first five years I worked on the show, I paid for it out of my own pocket, writing checks. No one was chasing after me, and no one was throwing money at it. Even up until the Atlantic production, it was tough to raise the money.
I fortunately had two wonderful partners with John Hart and John Styles. We opened at the Atlantic and got these reviews that were just extraordinary. Then, on the heels of HAMILTON, DEAR EVAN HANSEN, and this hype that Broadway has right now, then it was like money was just being thrown at us. It was crazy. I think I probably could have capitalized this show four times, and I had to say no to a lot of people because we ran out of shares to give out.
I was trying to get as many people involved as I could, because I knew that's what we needed. I called it a shtetl, because it really does take a village. My only requirement for co-producers was that I wanted them to be passionate about it. If you're calling me and you've never even seen it, you just read the review and you think it's a good bet, that's okay, but I don't need you to be a co-producer. If you're going to put your name on it, I want to know that you've seen it, and this is actually appealing to you.
---
What has the Tony bump been like?
It's been incredible. First, there was a bump from the reviews, where people get excited about the show. Even after that, you still have a large group of people who don't immediately understand what it is. We live in a world, where the President talks to us on Twitter every day. That's the world we live in, right? We live in a world where people can't really read more than 80 characters without getting distracted.
Try running a content-based website...
Yeah, I'm sure, I'm sure. I think it's really hard, unless you're a sound bite show, unless you are a brand, it's really hard to break through. It's not even like our show is a DEAR EVAN HANSEN thing, where it's appealing to these young people who have a loud voice on social media. There is sort of a ferociousness to a show like that. This show has got a little bit more of a mature audience and the experience is a quieter one. The word of mouth at our show hasn't had that sort of fever pitch like, "Oh, everybody's talking about it..."
But, the critics and the theater community really wanted to embrace it. It's been a challenging show to launch. I had to find a way to carry this thing for an entire season, because we opened in November. It was a year of just trying to advertise this show, but how do you advertise THE BAND'S VISIT ?
Even with those reviews, it's really tough to do. We couldn't get national television, because that support wasn't there. Actually, our first TV appearance was when the nominations came out and we were on the Today Show and they announced our Tony nominations on air. We had been running for seven months, and that was the first time we were ever on national television. Our ticket sales went whoosh as a result of the Tony nominations and the amplification from being on national TV. We were doing 40 - 50 percent more than we had through the whole year, because of that one thing.
How did you pick what mediums and formats would reach those most likely to buy tickets?
Three months after we opened, we looked at what we had been spending, which I thought was a lot of money every week, advertising for this little theatre. But, then we did a non-buyer survey of people that live in the New York area that go to see theater and you quickly realize 70 percent of them never even knew you were there.
I would go to theater restaurants, two blocks away from our show and they'd say, "What are you working on?" I'd say, THE BAND'S VISIT. They'd say, "What's that?" It's incredible how hard it is to penetrate. I think it's because we live in a world of Trump on Twitter.
We see that with our own data, where sometimes you have to 'hit people over the head' with something so many more times than we used to in order to really catch their attention
I should have talked to you! You knew that, but to me that was a shocker and I was shocked by how hard it was. Then all these shows open, SPONGEBOB, MEAN GIRLS and FROZEN and this season of big brand revivals too like MY FAIR LADY and CAROUSEL.
We were just basically living in this world where the critics really loved us and were telling people to come see it. Then the nominations came out and all of a sudden you have this pulse of life. The nominations are something that's definitive that the industry puts on your show that's truly an advertising mechanism. And, then you get to the Tony Awards themselves. The sales from that has just been extraordinary, because first of all, we're now being seen. Now it's multiplied by 100 percent, the amount of people that actually know we exist.
That always helps... sometimes as much as the wins themselves.
Yeah, just for people to understand. It's not like it's an easy title - THE BAND'S VISIT. I don't know what a better title would be, you've got to brand it.
Then to have the recognition at the Tonys themselves, with the sort of historic wins. Are you aware of the stats?
Certainly!
It's crazy. I've been in this industry a long time and I'm thinking, 'Okay, we're in this world where THE PRODUCERS has won all these, then HAMILTON has won all of these. Then there are these three shows that have all won 10 awards it's us, BILLY ELLIOT and the original production of HELLO, DOLLY!
All those shows are bigger Broadway musicals. They are what Broadway is. Then there's our show, which really doesn't fit into that.
You mean that it didn't fit into that, because now it certainly does...
Now, it does, right? Now, all of a sudden. That's like the dream. As a producer, you do something that you think is outside the box, and then all of a sudden it becomes inside the box, which is what you hope. Then, it feels like more people will see it, because it's part of Broadway.
How has that fit into future marketing for the show?
It's extraordinary that this little show - a third of our show's not even in English, and we don't even use subtitles. We're introducing musical formulas that are so foreign to mainstream America. We're using these Middle Eastern instruments and this music. To have this recognition of 10 wins, NOW we have a sound bite. Ultimately, that's why I'm so grateful for things like the Tony Awards which shine a light on shows like this, that really can benefit from it.
Our sound bite was me talking for 30 minutes about why this show's amazing, which is not conducive to good word of mouth. What's conducive to good word of mouth is, "Oh no, it's the show where the animals come down the aisle," or "The helicopter comes on stage." You know what I mean?
You've gotta get a gimmick?
Right. Or, "I was balling from start to finish" or "I was laughing from start to finish." Those kinds of things are sound bites. Now our sound bite is: "This is one of the most Tony Award winning shows in history, and you should see it, and you should accept it for what it is because of that."
So what's next for the show, you've got tour plans and is London a possibility was well?
We're talking about London. The UK has a very different relationship with the Middle East than the Americans do. It's a different dynamic, so the politics are a little different. I think there's a great and very substantial Arabic and Israeli community in London with talent and artists so it could work there.
I think finding a company there and doing it there is appealing to me, but there has to be a reason why. We think it will work and make money? Or do we think it will lead to other things? I don't know. We're trying international touring. I'm very far along with planning the US tour, which will be substantial. Obviously, now because of the wins, but even before the wins, I've been very involved with the presenting community, so they've known me my whole career. A lot of these presenters have watched me grow up, and a lot of them are investors and partners in the show. It was also a unique season for us, because there's some mega-family musicals that will be touring and then you've got our show too that really rounds out the season.
It certainly does, and we look forward to watching it all along the way!
Photo Credit: Jennifer Broski