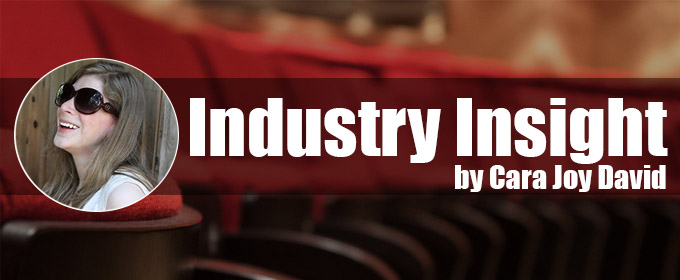 Industry Insight - by Cara Joy David
Industry Editor Exclusive: TheaterWorksUSA's Summer Vacation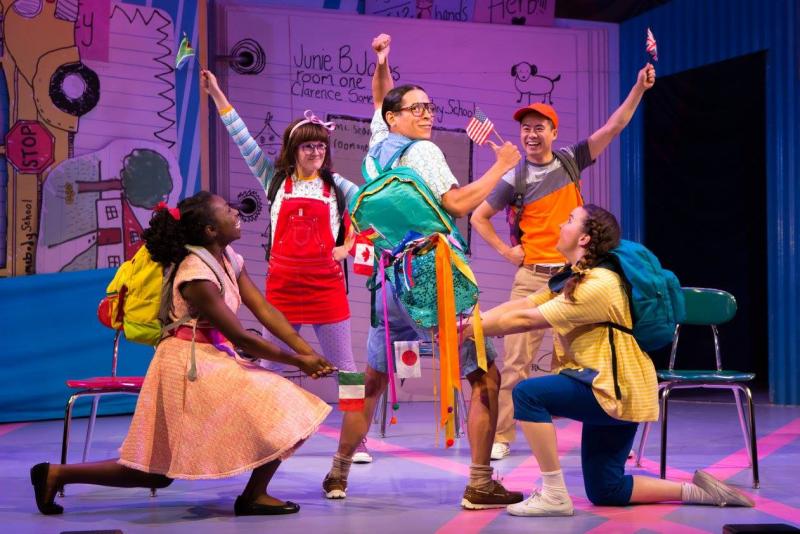 If you have kids, or just a love of children's theater, you may have noticed that TheaterWorksUSA--and, yes, after a rebranding, that is how to write it--is not presenting its free summer theater in New York this year. The program has happened almost every year since 1989, but not this one.
"I joined the company last summer, right before summer theater began," said TheaterWorksUSA Managing Director Michael Harrington. "With new leadership come new thoughts, new ideas, new priorities. The board decided that it was better for us to take a year off to take time to strategize about how we can best serve New York other than this one event."
Since its founding in 1961, TheaterWorksUSA has reached more than 96.5 million people in 49 states and Canada. Its shows tour everywhere. But in New York, before summer theater and continuing after that program was launched, there used to be publicly available shows happening during the year. When I was a little child, my mother took me. Her friends took their kids. That has happened less in recent decades. This year the company will be back during the fall, winter and spring seasons as part of the BMCC Tribeca Performing Arts Center's 2018-19 Family Theater Season. TheaterWorksUSA will have four of its shows playing at the venue, three for one day engagements and one (PETE THE CAT, last year's summer theater offering) for two days. Of course, they are not free. $450 will get you two reserved seats per production, post-performance meet and greets with the cast, a TWUSA gift bag, future invitations and behind-the-scene access to other special events. $1000 will get you all this with four premium tickets, instead of two regular seats.
Harrington said there are also other NYC plans in the works for the company, though he would not divulge details regarding them. But this doesn't truly make up for the absence of summer theater, which the company seems to understand. Harrington explained that TheaterWorksUSA has dates reserved at the Lucille Lortel Theater for summer 2019. He said this year was difficult for a variety of reasons. First, the company's New York rehearsal studios (which they also rent out for revenue) were under renovation. Second, the company was focused on a rebranding. Third, the TheaterWorks staff was concentrating their energy on getting THE LIGHTENING THIEF launched on a commercial tour. The show offered the company a unique opportunity. In 2014, it began as many TheaterWorksUSA shows have begun--as a free summer theater offering in New York. Like others of its ilk, it was approximately 60 minutes long, one act and designed to fit in a cargo van. This template allows TheaterWorksUSA to tour these shows easily and cheaply, stopping for one or two days in cities. But after "a lot of very positive feedback," it was transformed to a 90-minute show with an intermission. It came back to the Lortel in spring 2017 and will launch a commercial tour at the Ford Center for the Performing Arts in Chicago in January. There will be royalties involved, which should help TheaterWorksUSA.
---
For, while Harrington did not list financial necessity as the reason there was no free summer theater this year, and hedged when pushed on the matter, it's not cheap to offer free theater to 15,000 people. While, like Shakespeare in the Park, people could become a TheaterWorksUSA donor and get tickets without having to wait in line, that didn't account for a lot of cash flow. Most of the money for summer theater was received from corporations and foundations. This year TheaterWorksUSA just could not find a corporate sponsor. The show was set: it was to be ROSIE REVERE, ENGINEER & FRIENDS with a book by Lauren Gunderson, music by Brian Lowdermilk and lyrics by Kait Kerrigan (featured in the video below). That show will now hit the road without a NYC launch. And, while Harrington said they were hoping to do a show next summer at the Lortel, he would not commit to it being free.
---
Those contacted hope it does indeed come back, preferably at no cost. Marcy Heisler--who, with her writing partner Zina Goldrich wrote two JUNIE B. JONES shows for non-profit--said of free summer theater: "It's like the Empire State Building and the Statue of Liberty - a NYC Institution!"
Kerrigan--who, with her writing partner Lowdermilk, previously wrote HENRY AND MUDGE, a winter NYC TheaterWorksUSA show--has a two-and-a-half year old daughter who she hopes can attend in the future. "Theater teaches empathy," she said. "Children are uniquely capable of changing, of becoming more empathetic, of being molded by their experiences with theater. Access is everything. Giving inner city kids free access to that is essential in a moment like now. Letting kids see people who look like them singing and dancing and connecting to each other changes the way they interact with each other... Free theater changes the conversations between teachers and children, between parents and children, between the kids themselves. TheaterWorks, with their policies of hiring young, fresh writers with new perspectives to create strong, clear narratives should be something that the major donors to New York City theater should be clamoring to support."
Meanwhile, TheaterWorksUSA is continuing to tour 10-12 shows a year. If you want one of the shows in your town--it can go anywhere from a gymnasium to a theater proper--you can request it on the TheaterWorksUSA website. It's really an amazing service for communities throughout North America. Heisler said she is "always struck by the professionalism of the kids on tour. It's no easy feat to do what they do, but a family is created on tour, and I think that family aspect carries over into the warmth of the performances."
Heisler is one of those to work first for TheaterWorks early on in her career. If you don't know anything about TheaterWorksUSA, you should know that its pieces are often created by songwriters on the rise. Each consulted for this piece had great things to say about TheaterWorks.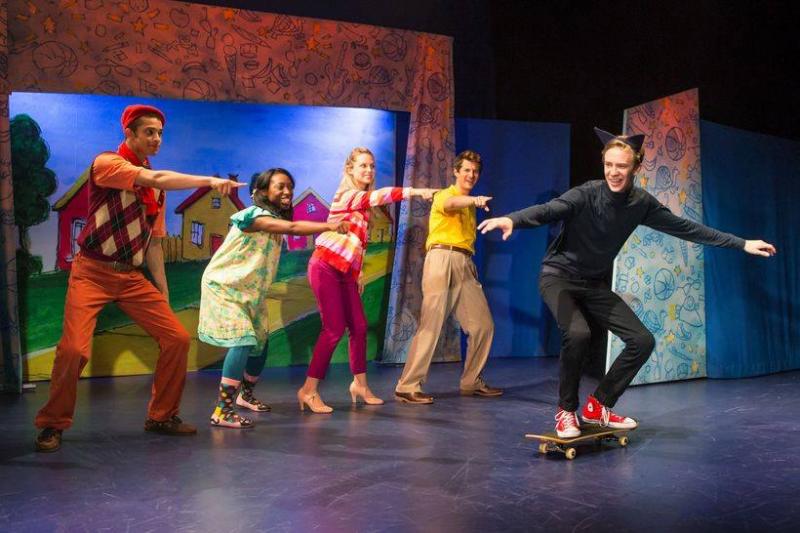 "[W]hat's really amazing is that they bring theater made by singular, edgy, artists who wouldn't normally be associated with 'theater for a young audience,'" Joe Iconis stated. Iconis, currently represented off-Broadway by BE MORE CHILL, wrote THE PLANT THAT ATE DIRTY SOCKS for the company and later provided the libretto and songs for its WE THE PEOPLE: AMERICA ROCKS!. "They let PLANT THAT ATE DIRTY SOCKS be weird and challenging and full of the off-beat personality that permeates all my work. I was able to approach the show as I would any new musical, without worrying about what would 'play' for an audience of 4 - 12 year olds. I loved the feedback I'd get after TheaterWorks previews. Children are honest and brutal creatures."
Kerrigan echoed this sentiment: "TheaterWorks gave me my very first paid gig as a writer and it was also the most valuable experience I've ever had in learning how to read an audience. Children aren't polite the way adult audiences are. They tell you exactly what they think--what they like and what they don't. They will literally put their coat on if you end the narrative before the show is over."
In keeping with that, Harrington said one thing the company is working on is making sure it "produces exceptional theater." "Every now and then an organization like TheaterWorks needs to take a moment to breath," he stated, reminding me of the FringeNYC statements about its year off. As part of this year, TheaterWorks has not only been thinking about how to have a more consistent presence in New York, but further ways to expand via digital and audio streaming platforms. The company has also been thinking through how to update its old works. For example, the company has had a version of CHARLOTTE'S WEB touring for three decades. This year in Tribeca a wholly new version will be unveiled, with a new director and designer, Andrew Rasmussen, and new songs.
As Kerrigan put it: "The kind of work that TheaterWorks does should have a permanent home in New York City, bringing access not just to kids across the country but for free to the kids in New York City every summer--and in my opinion--all year round." Now if the money just materializes.
Related Articles
Industry Classifieds