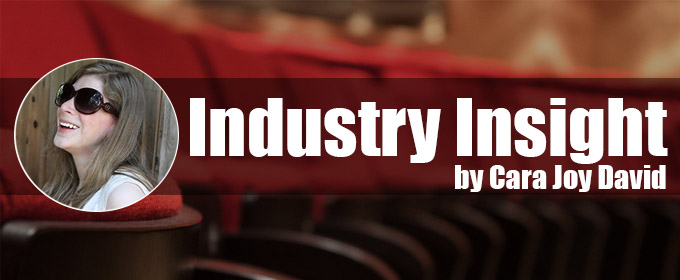 Industry Insight - by Cara Joy David
Industry Editor Exclusive: A Paperless Broadway- Technology in the Rehearsal Room
Theater folks are not necessarily the first to embrace change or technology. So it's not surprising when you walk into a rehearsal room and see creatives sitting with giant binders of paper. But certain companies are trying to change that.
About a decade ago, director/choreographer Jeff Whiting, who has served as an associate choreographer/director for Susan Stroman, was working on a theme park show for Disney in Asia. Each time he spoke, someone had to translate his words to the cast waiting to be told where to move. According to Whiting: "I thought: 'Wouldn't it be great if I could just project this on the wall?' I knew if I could show people where they were moving--if I could project that--it would save so much time."
And so Stage Write was born. The software, which was originally released in 2012 as an iPad App, tracks movement and traffic patterns of actors, props and scenery. It used to be that choreographers and directors sketched out the stage and the blocking. Some used PowerPoint or Excel, but it was mostly pen and paper. Each movement was a new page and even the things that weren't moving had to be drawn anew on that new page. With Stage Write, a click of the button takes you to a new chart, where you can quickly move just the actor/prop/set piece that is moving.
"Everything is done in scale, so it's much more accurate than pen and paper," said Whiting. "I've never come across anyone who used it who wanted to go back to pen and paper."
Because of her connection to Whiting, Susan Stroman (who, in addition to working with Whiting on specific stage projects, is also one of his partners in the soon-to-open rehearsal space, Open Jar Studios) was one of the first people to use the software. "The maintenance of my various productions is very important," she emailed. "Stage Write is now used by my assistants and stage managers to preserve the original artistic intention of the movement, blocking and overall creative plan. Many times I have referred to it at a moments notice and have been inspired to produce more alternative creative ideas."
Stage Write recently launched a web system, so it is now available to more than just iPad users. HAMILTON and BOOK OF MORMON are among the shows that use it, and it enables people teaching the movement for the many productions of those shows to use the same "bible," accessed from anywhere.
---
The term "bible" is a term you hear a lot in the theater. Very few mean they live by the tenants of a religious bible. It is that everyone on the creative side has their own "bible"--the giant binder where all their stuff is housed. The costume designer has his/her bible, the choreographer has his/her bible, etcetera. Stage Write is the movement/blocking bible in digital form. There is the software Lightwright which can serve as the lighting designer/electrician bible. And there are other smaller softwares out there; each helps the creative both create and record his/her ideas.
And there is a special drop box for work product created from all of these other softwares (or from paper and pen if you want to scan in your old school creations): ProductionPro. ProductionPro, which is used by about 20% of Broadway shows, is a notebook for the entire production. It can accept PDFs of anything and store the information contained in a way useful to entertainment professionals. For example, upload a script and ProductionPro finds the acts, the scenes, the settings, the characters and puts them all in a user friendly format. One click and you can find out everything about Scene 6.
---
ProductionPro Founder and CEO Alexander Libby said pre-production the software helps the creatives in real time show changes that are being made in the rehearsal room or because of discussions or meetings. A costume designer working in California can see that folks in New York have decided to change the setting of a scene. Then, once the show is open, ProductionPro houses everything from every version of a script to all the costume designs. A year ago ProductionPro partnered with MTI and so the software hosts the materials for every MTI show. It is now easy to produce one-for $199 per production you get the digital script and score (if you have a license) and an interactive scene breakdown.
"We released a version with the ability to make annotations," Libby explained. "It works amazingly well with Apple Pencil. A lot of people liked to make notes on their script. Now they can do that digitally."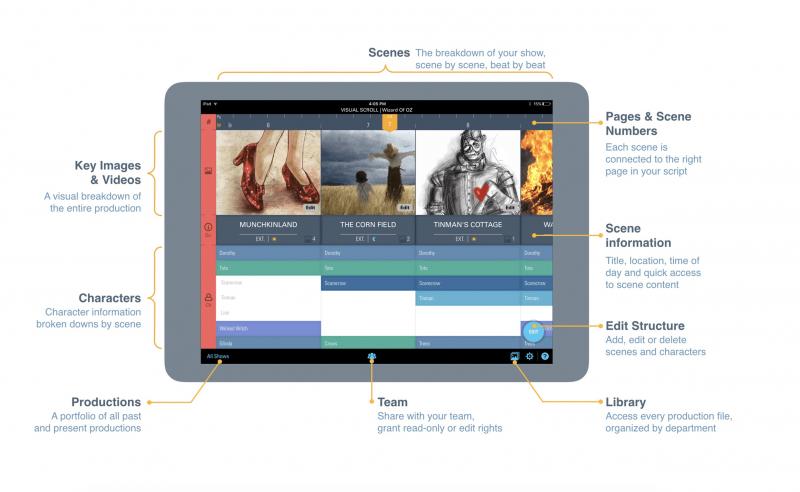 None of this is groundbreaking technology. It all seems fairly standard in 2018. But there just isn't that much of it for the theater. There aren't many options out there. It is a niche market that doesn't attract a ton of developers. Libby and Whiting each say they have been to trade shows and post on social media, but their products are mostly marketed through word of mouth. ProductionPro can get up there cost-wise: the most expensive price is $2500 per month, which offers a crazy level of security that only studios require. Most productions spend $500 per month, which includes 200 GB of storage. The most expensive Stage Write plan is a relatively cheap $99 per year.
All of these softwares not only can make lives easier, they can also limit a show's carbon footprint. As most people in the theater are smart enough to know that climate change is real, that's a good thing. There will always be those who love their real paper (and I do), but each step toward less waste is a positive.
"We're on the road to getting rid of paper on Broadway," Libby stated. "It may take a while, but it will happen. And I think we're the company to get it there."
Related Articles
Industry Classifieds