HAIRSPRAY LIVE! Wins Three Emmy Awards; Derek McLane Wins 2nd Emmy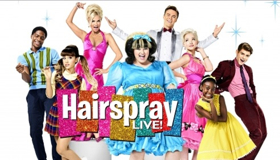 It was announced at tonight's CREATIVE EMMY AWARDS that NBC's HAIRSPRAY LIVE! was the winner of Best Variety/Nonfiction Special Production Design (Derek McLane), Best Multi-Camera Hairstying and Best Movie/Limited Series Technical Direction.
This marks set and production designer Derek McLane's second Emmy Award and his third consecutive year with dual nominations in the category for "Production Design for a Variety Nonfiction, Event or Award Special." This year, he was also nominated for the Oscars. In 2016, he was nominated for the Oscars and THE WIZ LIVE!; and in 2015 for the Oscars and PETER PAN LIVE!
HAIRSPRAY LIVE was the recipient of seven Emmy nominations.
Outstanding Special Class Program.
Outstanding Production Design For A Variety, Nonfiction, Event Or Award Special- Derek McLane, Production Designer, Joe Celli, Art Director, Jason Howard, Set Director.
Outstanding Costumes for Variety, Nonfiction or Reality Programming - Mary Vogt, Costume Designer, Carolyn Dessert-Lauterio, Costume Supervisor
Outstanding Hairstyling for a Multi-Camera Series or Special - Miia Kovero, Hair Designer, Terry Baliel, Head Hairstylists and Hairstylists Roxane Griffin, Lawrence Davis, Jill Crosby and Joy Zapata.
Outstanding Lighting Design for a Variety Special - Allen Branton, Lighting Designer, Kirk J. Miller, Moving Light Programmer and Lighting Directors Felix Peralta, Kevin Lawson and Darren Langer.
Outstanding Makeup for a Multi-Camera Series Or Special - Melanie Hughes-Weaver, Makeup Supervisor, Judy Yonemoto, Head Makeup Artist and Makeup Artists Jilly Cady, Julie Socash, Shutchai Tym Buacharern and Angela Moos.
Outstanding Technical Direction, Camerawork, Video Control for a Limited Series, Movie or Special - Charles Ciup, Technical Director, Billy Steinberg and Chris HIll, Video Control, and Cameramen Bert Atkinson, Randy gomez, Nathanial Havholm, Ron Lehman, Bettina Levesque, Dave Levisohn, Tore Livia, Mike Malone, Adam Margolis, Rob Palmer, Brian Reason, Damien Tuffereau and Andrew Waruszewski.
Based on the Tony Award-winning Broadway musical, HAIRSPRAY LIVE! starred Harvey Fierstein, Jennifer Hudson, Ariana Grande, Kristin Chenoweth, Martin Short, Derek Hough, Dove Cameron, Garrett Clayton, Shahadi Wright Joseph, Ephraim Sykes, exciting newcomer Maddie Baillio and special guest stars Billy Eichner, Sean Hayes, Andrea Martin and Rosie O'Donnell. The show brought back the creative talents of "The Wiz Live!" director Kenny Leon (Tony winner, "A Raisin in the Sun") and script adaptor Harvey Fierstein (four-time Tony winner, "Torch Song Trilogy," "Hairspray," and "La Cage aux Folles"). "Hairspray Live!" also enlisted the original Broadway adaptation's choreographer Jerry Mitchell ("Kinky Boots," "On Your Feet"), original songwriters Marc Shaiman and Scott Wittman ("Smash" and Broadway's "Charlie and the Chocolate Factory"), two-time Emmy Award-winning live television director Alex Rudzinski, award-winning costume designer Mary Vogt ("Kong: Skull Island," "Men in Back"), music director Lon Hoyt ("On Your Feet," "Hairspray" on Broadway and feature film) and award-winning production designer Derek McLane (Academy Awards, "Beautiful").
Related Articles