Exclusive: Catching up with the Original Phantom, Michael Crawford as THE PHANTOM OF THE OPERA Turns 30 on Broadway
What Has Michael Crawford Been Up To?
On January 26, 2018, THE PHANTOM OF THE OPERA celebrates its 30th Anniversary on Broadway, a feat achieved by no other Broadway show in the Great White Way's history. The stellar flagship production, with its original Harold Prince staging, enters its fourth decade, having played to more than 18 million people at the Majestic Theatre and has grossed an astounding $1.1 billion dollars on Broadway alone (the kind of income usually seen only by blockbuster films).
To celebrate this remarkable milestone, we scheduled a chat with Michael Crawford, from his home in New Zealand to talk about this anniversary. As many know, along with a long career creating numerous roles on stage, in films and on television, I can proudly say that the star also inspired the creation of this very web site. After I saw the production of Phantom, myself, in 1994, my father said "If you thought that was great, you need to hear the Original Cast Recording..." And the rest, as they say, is "BroadwayWorld history."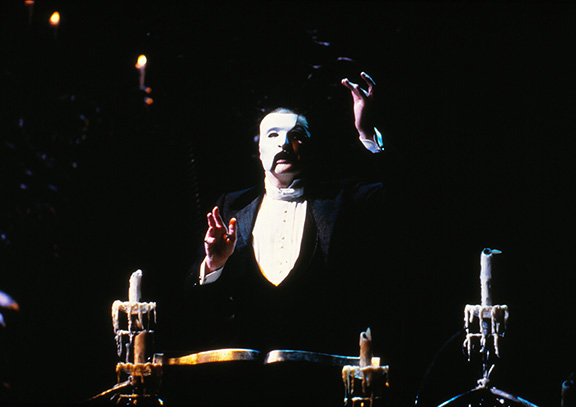 Creating the role of the Phantom, Michael was awarded the Olivier, Tony, Drama Desk, Outer Critics' Circle, Drama League and Drama Critics' Circle awards. In recognition of his career achievements, Michael was made an Officer of the British Empire by Queen Elizabeth II, and in recognition of his services to charity was made a Commander of The British Empire in the New Year Honours of 2014.
Other historic stage appearances include musicals such as BILLY, BARNUM, THE WOMAN IN WHITE, THE WIZARD OF OZ, EFX in Las Vegas, THE GO-BETWEEN and DANCE OF THE VAMPIRES. His film appearances known to audiences range from HELLO, DOLLY! to A FUNNY THING HAPPENED ON THE WAY TO THE FORUM, among them (and unwittingly in Pixar's WALL-E). He has appeared in many films in his native UK as well as hit television series and is still one of the most sought-after male concert performers, the world over. The star has multiple gold and platinum albums to his credit, a best-selling autobiography and a lifelong commitment and passion for children's charities (including the UK's Sick Children's Trust for which he has been President since 1987).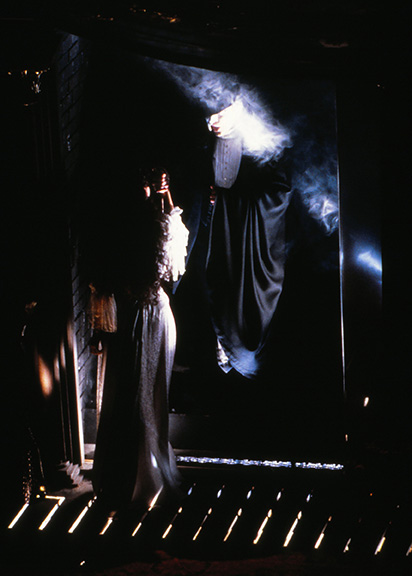 As PHANTOM approaches its 30th birthday on Broadway, does it feel like it was 30 or 32 years ago?
No, not really. I mean, it's such an enormous event in your life. I still remember the rehearsal period in New York and the previews and the reaction and the wonderful success we had. It still feels very, very close, because it was such an impactful event on my life. I think it will always stay with me that way.
What was the experience like of doing the show on Broadway compared to London?
I hadn't played on Broadway since something like 1967 (Peter Shaffer's BLACK COMEDY / WHITE LIES opposite Lynn Redgrave, Donald Madden and Geraldine Page), so it was a long time since I'd been there. It was very exciting to take it there and to have the opportunity to take it there. It happens a little more now that we get to see American actors in shows in London on the West End stage, and vice versa that people want to see English actors on Broadway imported with their original casts.
Back to Phantom, the excitement was enormous, I mean, Sarah (Brightman), Steve (Barton) and I were looking forward to it greatly. It was interesting to do the rehearsals all over again. We knew what we were doing, supposedly (laughs), where we were going, what moves we were going to make...
There wasn't as much pressure on us, but we were still making new relationships with everybody else on stage and exploring how people were going to play the parts. That was great for us, because we had worked together and worked really, really well together in London, so it was good that we had that.
I wasn't just working with Sarah though, because you had new Christines like Patti Cohenour (a scheduled alternate) that would do one show a week and you got to work with.
They brought my makeup girl, Tiffany, over from London so that I was able to have a consistency there. And, that all made life a lot easier.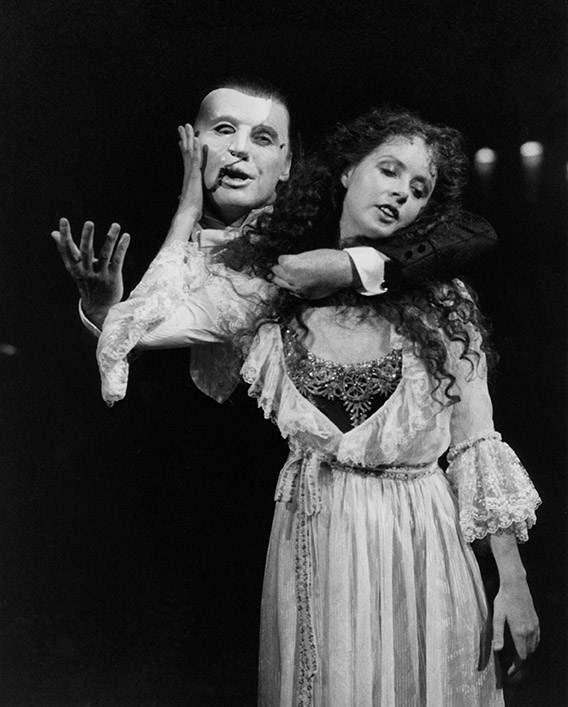 And did working with that new cast help you adjust to living in New York?
They were really great fun and people were picking things up easily. As we got closer, it was December and I spent Christmas in my new apartment that I had taken, so I was in there alone burning a chicken on Christmas Day. I remember that quite clearly!
Then we had our previews...we had some big, big charity previews, which were quite thrilling. I remember one was hosted by Fergie, the Duchess of York at the time, and they weren't stiff, which was great. Usually charity performances are quite hard audiences to please and we did get really good reactions. So, that was giving us a good feel from the American audience.
When it got to the straightforward previews, they were extraordinary. The reaction was even bigger than in London. American audiences are openly more enthusiastic, I think, than London audiences anyway. The British always had a reputation of being fairly reserved.
Then we had our Opening Night, which, obviously, is like any other Opening Night - terrifying. Then we waited for the reviews to come out. We went to The Beacon for our opening night celebrations and slowly they were coming in, and they were all rather enthusiastic.
We felt good that there was a big advance and that's always encouraging, because we've all been in shows with no advance. That's not a good feeling but all part of our journeys!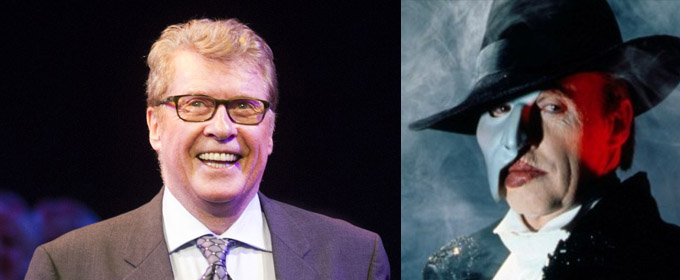 What was the year itself like in New York?
I had a splendid year there on Broadway, a great cast. It was always exciting. I would always walk home afterwards. I always felt like New York was a walking place, and even after the show, I'd rarely take a taxi, I'd walk.
One night, Lauren Bacall came and she said, "You can't possibly walk home. You're supposed to be the star of this show, you should be in a car, you should be in a car!" I said, "All right, I'll get a - can I drop you somewhere? I'll get a cab?" She said, "All right." I got a taxi and dropped her off. It was a very peculiar feeling to be in the back of a taxi with Lauren Bacall!
So many well-known people came and official people, government people, Presidents. You would always go to Orso or Joe Allen's, the places where we'd love to go out afterwards, because it was quite a close company. We had our parties and our get togethers. Once you start the show, the Phantom rarely meets anyone. We didn't have warm-ups at that time. Now it's a very popular thing to have a company warm-up and it's very good, because it keeps the whole cast close. You get a chance to gossip and talk and have fun before the pressure of the show starts. The dancers would have a warm-up, of course, but I wasn't considered a dancer! I wasn't allowed in their warm-ups.
As the Phantom, the only time I really interacted with a lot of the cast was walking off from the curtain call and in the shadows, backstage, as I was mysteriously walking around covered by black cloak with people bumping into each other.
Did you like to know when there were celebrities there? Or did you prefer not to know until after the show?
I always preferred not to know, but, of course, you always heard. Bruce Willis and Demi Moore were still married at that point and they came. That was exciting for me, I loved that. Billy Joel and Christie Brinkley, so many wonderful people. You're sure to forget a hundred, I remember names of a few.
Hopefully some whose marriages lasted?
[Laughter] Oh, that's awful isn't it? Yes, I'm sure there were.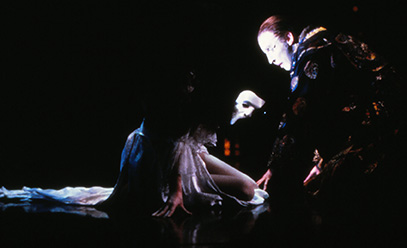 What was it like once the show was up and running, as you approached Tony and Awards season?
As I said, it was a sensational year, really, absolutely sensational. It was very celebratory the whole time. You met at award ceremonies and it was always stressful to make speeches. I remember getting up at the Tonys and saying, "I've got to be run over by a truck any day now because I've had so many good things happen that I must be going to be run over by a truck." I hadn't thought what to say before I got up there and it just came to me, I suppose.
But then I forgot to thank people and I know I forgot to thank Sarah as my partner up there. I felt bad about that because you all need each other on the stage, the team is so, so important. I'm a great believer in that, but I tried to remember thanking everyone else and I think I got everybody else in.
Was it stressful on Tony night to have to perform in costume and make up and then rush back to your seat afterwards?
Yes, it is for any artist. I would imagine any artist. There's the build-up to nomination and you just hope that you and your team can get as many nominations as possible. Once you find out you have been nominated, it's thrilling for about an hour, and then you start saying, "Oh my god, I wonder if we'll win? I wonder if we'll win?" From there on, you're in agony about it and then you're invited to sing on the shows, live! So, we had to get the makeup on, and go through the whole costume, and then get if off before our category came up. It was quite a highly pressurized evening.
And then thinking you've just done eight shows that week. It's always very tough, like doing the cast recording when you just open and people immediately want the recording... if you're lucky. If you're not, there is no cast recording. If you're fortunate enough to be nominated; if you're fortunate to have all these good things happen, the pressure then becomes even greater. It's a massive build-up. But in the end, we did do really well at the Tonys.
Then it was back to normal and they would seem quite restful weeks, the weeks after the Tonys. It was almost a holiday doing eight shows a week. You haven't got as many interviews, and you haven't got as many obligations - it's just the show, which is big enough.
I feel like the British musicals and Phantom were one of the first shows to have a massive fan following and people coming to see the show over and over again. What was that experience like?
Yes, I think it has sort of grown through the years now where each show has its own following and can be enormous. As Phantom, the show has its followers and each new Phantom had their followers and there's a collection who just adore it.
That's wonderful for the theatre and for the individuals too. It's lovely to have people enjoy your work. I don't think there are any minuses in that, unless it goes to extremes. In some cases, it used to when people would follow you, but I suppose walking home isn't a good idea! I stopped after about six months, I think.
You did the show for over three years between London, New York and then Los Angeles. After that you've continued to sing much of the material over the past few decades. How do you keep it fresh for yourself?
I never get tired of singing Phantom because it was one of the favorite things of my life, 'Music of the Night', I adored singing. My hardest point was always when I worked on it for three months before I started. When I say, "Worked on it," I mean hours of a day, every day. The hardest point for me was: "Close your eyes, let your spirits start to soar"... to sing that one note, was very difficult for my voice. It'd be interesting to see how the other Phantoms - what their most difficult point in it is, where it sits in their voices. Because it's not only a voice, it's emotion, it's what is created by Andrew as a composer, and what lyrics are given to you by the lyricist...
Charles Hart, and Richard Stilgoe, contributed to the lyrics. If they happened to choose the wrong consonant or the wrong vowel for your voice on a difficult note, they would work with you. I was fortunate enough to be there at the beginning, and Charles Hart would change a couple of words for me, and it made it an easier note to sing.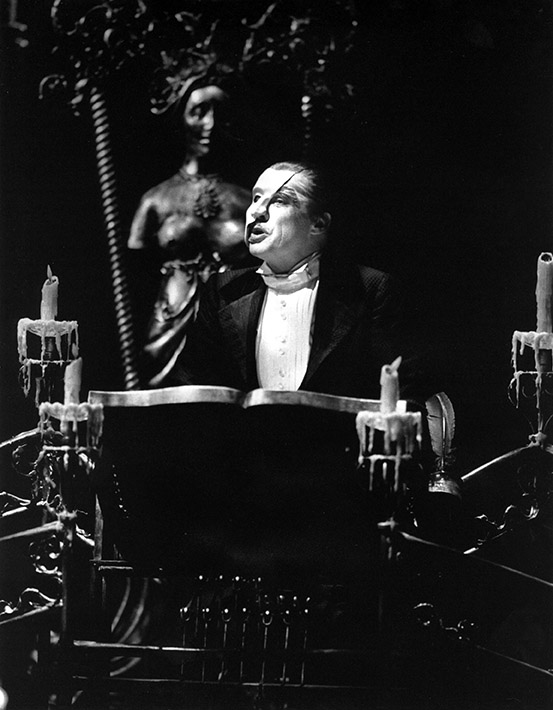 Are you still singing?
Yes. I haven't sung a lot now for the last year and a half, so I'm again practicing every day, I don't know what for, but I still practice and still enjoy singing. I'm managing "Music of the Night" pretty much now, and at the moment, still in the original key. I don't know how long that will last! I'll be 76 on Friday, so I can't actually, it's the first time I've said that, it's the first time I've spoken the number aloud "76". Oh my gosh!
I'll be very fortunate if I can still sing, I think after saying that. I never found it difficult, because if you practice enough and you keep the voice in trim, you should be able to. If you've been taught well, then your technique should carry you well into later years. But if you stop, because I have stopped when things weren't quite right with me, I couldn't sing. Now, I'm fighting back again. It's never a hardship mentally.
You mentioned your age, what goes into the decision-making process these days when you get offered new roles, or you think about what, if anything, you want to do next performing-wise?
There aren't many things that would draw me back to eight shows a week at this point. Just a year and a half ago, I did a musical show called - it wasn't a full on musical, it was a play with music and I found it quite beautiful from the book by L. P. Hartley called THE GO-BETWEEN, which was a movie with Julie Christie and Michael Redgrave and Alan Bates. It lent itself to music, and Richard Taylor... He, for me, wrote this most beautiful score - it blended with the story and was so simpatico with the story adapted by David Wood. I just adored it.
It was a wonderful production, that we've hoped would come here too..
It was beautifully constructed, and I just adored doing that. I'm not sure whether it was West End material. We did it in a very small space, the Apollo. I would loved to have done that Off-Broadway, but after the show had finished up, I wasn't too well for a little while. Whether or not I could do it now, whether or not they'd be interested, I'm not sure. It should be done by someone, anyway, because it is beautiful, and he's got a lot more in him - Richard Taylor. I do hope that he has the success that I truly hope he deserves. I truly believe he deserves.
I didn't question it. I heard the score once, I said, "Yes! I want to do this. Yes! I want to do this." I was like a kid again.
Most recently, you were on British television this past Christmas, mentoring on ALL STAR MUSICALS...
Yes, I did a television show recently where I was just mentoring people who wanted to sing and who were respected personalities in England. I helped them and a choreographer helped them, Bill Deamer, who has just finished FOLLIES at the National (which I also loved). He and I worked to get them ready. They'd never sung, but wanted to sing and they did have decent voices.
It was called ALL STAR MUSICALS and that was great fun. I had a lot of fun. A lot of people helped me as I came through the business. Memorably, people like Gene Kelly, when I did HELLO, DOLLY! the movie. He was an enormous help to me and inspiration, and taught me discipline, for which I'm forever grateful to him, a dear, dear man.
If you can pass things on to other people that could be of use (a lot of them would be no use to people [laughing]), but if I can be of any use whatsoever, I do enjoy that. I don't think I'd want to direct, because that involves all of the other stuff. The director has to do the other stuff as well. I like the artistic side of working with actors, the creative side in that way.
Like a Master Class situation?
No. I don't think I have that in me. I don't consider myself a Master. I'm learning all the time as we all are. I'd feel a little arrogance to teach a Master Class. I just work with people, that's what I want to do. Certain people can do that, they're not arrogant, one doesn't have to be - it just sounds...I still feel like a pupil, and I don't really feel I'm ready for a Master Class, anyway.
I think with many of them, the basic format that performers sing for you, and then you try to give them guidance to help make their performances better...
It's about what to do. The lyrics, I think people sometimes underestimate the match between the lyric and the music, and what the possibilities are. We've had some insulting articles in papers recently in The Guardian, where the writer said that he abhors musicals and can't wait to see LES MISERABLES in its original form. I think he was maybe trying to be funny, but I wasn't amused by it. I think people very hardly would find it that amusing - if he's serious.
It's an extremely important thing that you live the part, you live that lyric. In any part of a clever musical - it's part of the story-telling. There's no join, unless again Gene Kelly said that there was to be no join, when you finish speaking that song comes out as though an extension, a line. There's just a line to it, in a way that a dancer has a line from moving from the first moment you're going to move. You don't subtly start a tap dance unless that's what the story asks for. But, it goes as a natural entrance into it. It's so challenging to go from part of a piece to another, if there's a lyrical line, which is so challenging in a musical. The smartness of the composer, the lyricist, the designer, the director, and of course, in the end, the actors. It's an enormous combination of people that make that team and make something work.
You think of a brilliant musical like WEST SIDE STORY, CAROUSEL, OKLAHOMA...put it in the wrong hands and it can be a mess. It can be a mess without those people working as one. When it does work as one, as FOLLIES was in London, I thought it was magical. I just thought it was magical. Everyone in it; everyone attached to it.
This leads well into my next question: As we see more schools perform the piece and other productions of Phantom, what would you tell somebody now that's preparing to play the title role?
Rehearse. Practice, practice, practice.
That's good advice for anything! Word has it that we won't see you in New York for this special 30th Anniversary. That stated, you have participated in past special events, reuniting with original company members and the creative team? What was that like?
There was a celebration in London for our 30th Anniversary there, while I was doing THE GO-BETWEEN. I finished the show and went to London after the evening's performance at Her Majesty's and most of the original cast were there. It was lovely to see them all. I was on vocal silence, because I had just finished an performance, I wasn't able to say much to them. But I enjoyed smiling with them and listening to their stories. It was a great feeling. A great feeling.
So many years, people have changed, people have grown. Some of us have grown old! It's very difficult to describe because it's never happened to me before. This is unique, it's a unique experience to have had this wonderful thing happen years ago.
Another show cast that I keep up with is BARNUM, which had a enormous success in London, and that company also still meets up. We always say, "We've got to get together this year..." and do this and do that. That was ... 35 years ago, and we still know each other and get on well because that was an amazing team of people who were also captured in the live performance for the DVD, which you can still find out there.
(Back to Phantom), meeting up with everybody again, you do reminisce, you talk about stories like with Charles Hart, words he changed, and how important it was, and how significant it was that he would change the words to make a phrase easier, and hopefully, for every singer that sang it after me, make it easier for them.
Do you remember what any of those changes were?
I think one of them was to do with The Music of the Night "in long to be", I don't know what it was before though or "start to soar". Because they changed that. When I did the single, the line was different, it's a different line of what I sang with Barbra too. (Michael recorded 'The Music of the Night with Barbra Streisand for her Back to Broadway album). When I did it with Susan Boyle, that was also the other lyric.
They were all lyrics that had been approved by Andrew and Charles years ago. So that the single version was certainly a different lyric, when we did the video for it, I think, it was even a different lyric. It was odd, really, because it was different to the show, but it must've been to their liking at the time, I suppose. It was enormous for me to have one letter changed. It was an enormous decision. I was lucky it was a good day.
It must also feel great that they never made another cast recording, so that people are still discovering it these days with the original.
I think it is a beautiful version, Sarah sang beautifully, and the Company was well-produced. Now, God knows, how many millions we've sold now. I don't think there are many film or show scores or things that have beaten it.
Do you ever go down the YouTube rabbit hole and look at old performance clips or the bootlegs and other strange things that are out there on the Internet?
Yes, I found the other day on YouTube, a video that started in the Final Lair to the end of the show. It was - oh my gosh, it was so - it was extraordinary to watch. Because you just remembered, all the memories of doing it came back, not what the performance was, it was - I remember that move, I remember, yes, how I felt sitting in that position, and trying to make sure that the cloth didn't hit the mike and scratch it, so it would interfere with the sound quality. It was quite complicated when you first put that cloak on for Past the Point of No Return, towards the end.
Yes, I so wish that a video recording of the whole thing would have been made. Surely, that's my greatest regret is that we never got that. We were never able to have a recording of the entire show done.
Except at the New York Public Library for the Performing Arts where it's been captured.
Yes. I've got to try and be a Professor or something before I can see it.
I don't think that'll be necessary, Professor... I'm sure that they'll roll out the red carpet for you!
Now then to close this 30th Anniversary chat, is there anything you'd like to pass on to those that will be there celebrating?
I wish everyone a great celebration, and here's to the next 30 years!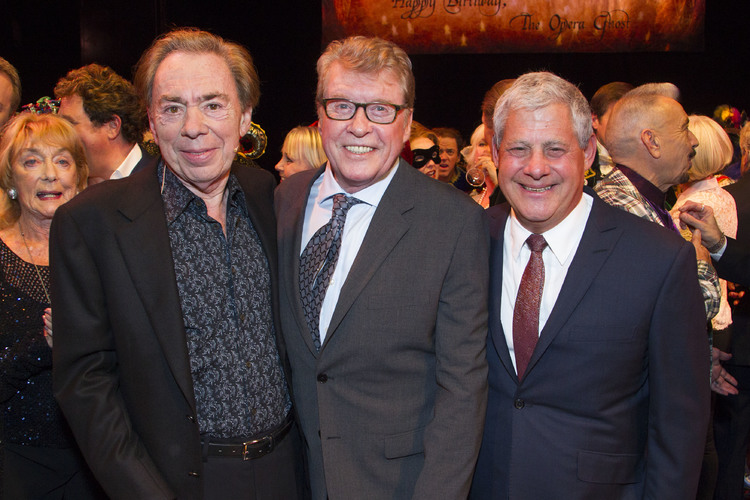 The original Phantom in the productions of The Phantom of The Opera in London, on Broadway and in Los Angeles, Michael Crawford's other stage credits in London and on Broadway include Count Fosco in The Woman in White; Billy; Flowers for Algernon; Black Comedy; Dance of the Vampires; Barnum; The Wizard in Andrew Lloyd Webber's production of The Wizard of Oz. He most recently starred as Leo Colston in The Go Between at the Apollo Theatre, London.
As the Phantom in The Phantom of the Opera, Michael was awarded the Olivier, Tony, Drama Desk, Outer Critics' Circle, Drama League and Drama Critics' Circle awards; 1981 Olivier Award for Best Actor in a Musical for Barnum. In recognition of his career achievements, Michael was made an Officer of the British Empire by Queen Elizabeth II, and in recognition of his services to charity was made a Commander of The British Empire in the New Year Honours of 2014.
His films include Hello, Dolly! starring Barbra Streisand, directed by Gene Kelly; A Funny Thing Happened on the Way to the Forum; The Knack; The Jokers; How I Won the Warco-starring John Lennon; The Games; Hello and Goodbye; Alices Adventures in Wonderland; Condorman.
His television work includes Some Mothers Do 'Ave 'Em; Not so Much a Programme, More a Way of Life; Play for Today; Chalk and Cheese. After 40 years Michael returned as Frank Spencer in a special one-off sketch of "Some Mothers Do 'Ave 'Em" for Sport Relief 2016, helping to raise over £56 million on the night.
The Phantom of the Opera photos by Clive Barda, courtesy The Phantom of the Opera
Top Image, Sick Children's Trust