Interview: Andrew Drost and Michael Minarik Talk Institute for American Musical Theatre - the School Taking a Practical Approach to an Arts Education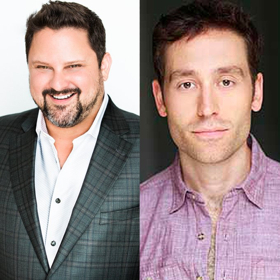 There's a new school in town and it's revolutionizing the way musical theatre students receive an education. Andrew Drost and Michael Minarik are the masterminds behind the Institute for American Musical Theatre, a school that is all about getting students out onto stages working under the lights of Broadway theatres.
IAMT is a two year post secondary professional program that combines some familiar elements of a typical Musical Theatre degree such as acting and dance classes, history classes, and a faculty packed with skilled teachers, but the Institute puts a new focus on learning to foster a more productive environment. It's as much about training as it is about networking and establishing oneself within the industry before graduation. Dance classes are taught in the style of modern choreographers like Andy Blankenbuehler, history classes highlight the origin of characters from an actor's perspective, and most importantly, the faculty isn't just skilled in teaching, they're actual Broadway professionals (most of whom are currently in shows themselves).
Andrew and Michael took some time to introduce their school to us at BroadwayWorld, read below to find out just what they're cooking up.
How did this school come about?
A: I have been a voice teacher for the past decade and I see so many students coming out of college programs without ever really having learned how to sing, not really learning how to dance, not really learning how to act, and not really knowing anyone in the professional industry to help them or even how to begin. So they would come to my voice studio by word of mouth and they would do well and eventually they would book work. So the thought came to me, why don't I start my own program? In 2017 when I was voted favorite voice teacher in NYC I thought it was a great opportunity to get this program started.
I felt like a lot of the curriculum being taught in universities isn't current so I wanted to create a very contemporary curriculum that works with the demands of today's MT. There's a fantastic interview with Chita Rivera who was saying that 30 years ago there were dancers who danced and singers who sang. But nowadays you have to be able to do all three equally well in order to be hirable; it saves producers money to hire kids who are already triple threats.
You look at shows like Hello, Dolly! and there are moments when the ensemble is all dancing together and you realize in that moment that every single person on that stage is a professional level dancer. And several of them are also my voice students and they sing and dance. Currently I have 33 students singing and dancing on Broadway or on national tours and through the institute we already have a good amount of students who are booking work because of A. the training that we're giving them and B. the connections that we have.
What methods do you use to expose your students to the real life industry and its professionals?
A: One of the things that was high on my list of priorities was having a faculty full of people who are Broadway professionals and industry insiders. So we have Broadway producers, choreographers, dance captains, people who have been in many, many shows teaching the students. We believe that musical theatre is really an apprenticeship-based art form where you must learn from people who are masters of their craft and whereas that sounds very obvious like of course you want to learn from people who are doing it, that's not the case. You can go through the faculty list of many university programs you'll find, in many cases, that zero teachers have done an actual Broadway show.
M: We believe that the kids should be able to ask the teachers questions about how they got to where they are, what it took to get there, and what it's like. I think that's kind of an anomaly in this world of an educational society. I think a lot of people teach, do a little work, then go back and get their masters or PhD's. For myself, I started at Busch gardens, got to do a couple Broadway shows, then was an associate producer on a Broadway show, so when these kids ask Andrew or myself what the difference is, we can actually tell them. What is it like? Who are the casting directors? We can say you want to get to know the offices of Telsey, Carnahan, and Tara Rubin? Why don't we bring people from their offices into the school so they can meet you?
A: And bringing in casting directors, who again, are colleagues and friends of ours, it means the kids can meet them in a classroom, stress-free setting. More importantly, the casting director can can get to know the students and say "Oh, I really like so and so, they have such a great attitude, they're so talented and easy to work with"; so then when they see them in the real world in an audition they'll remember and think "I know that I can work with this person because I've already worked with them at IAMT."
M: We're really excited because we've worked so hard in this business for many years and to be able to bring together all of the people we've worked with, to work with the kids, to give them that kind of access and networking ability and also for them to share all of their professional experience. It is amazing, and we are committed to giving our kids as much direct access as possible.
How do you solicit your faculty?
A: Generally, they're colleagues of ours that we've worked with. I have been in the industry for 28 years and I have met a lot of people. Now we're getting resumes probably every week from performers who are saying 'I'm a dance captain of a show and I spoke with to one of your other faculty members and I would love to come teach at your school'; and if we need a sub or if there's a class that opens up, we try people out and see how they fit in with the students and our ideals.
One of our favorite teachers at IAMT is Ricky Hinds. Ricky is the associate choreographer on Come From Away. He is always so excited to work with the kids and, keep in mind, this is a very busy individual, but whenever he's in town he sends me his availability and comes in to work with the kids. He is a dynamic teacher and he is going to be a major Broadway choreographer! The kids absolutely love him, as do we. For them to have the opportunity to work with someone who is so deeply a part of the industry is phenomenal! This is someone who is able to recommend the students for gigs or even hire them himself.
M: We had Keven Quillon, who is now in My Fair Lady, come in and teach a combo from Bandstand and because he was IN Bandstand, he could say, with authority, this is how Andy Blankenbuehler likes the energy in the room, which is very, very important for these kids to know when they go in for Hamilton or any Andy Blankenbuehler show.
We have had Clay Thomson who was in the original cast of Newsies and in Matilda and Wicked, and he's saying here's how these movements should be if you ever want to audition for Wicked.
On staff we have Jenny DiNoia who is one of my favorites because she went from essentially a dancer to a swing to being Elphaba all over the world, so she can tell students how to rise in the ranks with hard work and determination.
A: In terms of guests, we have Derek Klena coming in from Anastasia, later in the year I think Jeremy Jordan will be joining us, we just have so many wonderful colleagues, many of whom happen to be big stars, who are so eager to share with our kids their experiences in their careers.
M: We just had Laura Osnes come in and do a couple of masterclasses and Q&As and there was a maelstrom of excitement, the kids were calling their parents and saying "I just got to work with Laura Osnes!" And she wants to come back. She loved it so much she wants to come back. Then when Corey Cott came in and Megan McGinnis came in they said this is how hard I had to work to get here and it's so great that the kids can know that this didn't just come to them, these people worked their tails off to get where they are. And the students are personally connecting with them knowing that this is possible because they can talk to these stars and see that they are real human beings.
We're just trying to bring every connection that we have to work with to teach these kids on every aspect of the career. And to be honest it's so joyful, these kids are wonderfully grateful and they work so hard and they feel blessed that they're in the inaugural class and they get to meet all of these people. It's like going to film school and having Tom Cruise or Angelina Jolie coming in and doing talkbacks. That's essentially what these kids are getting.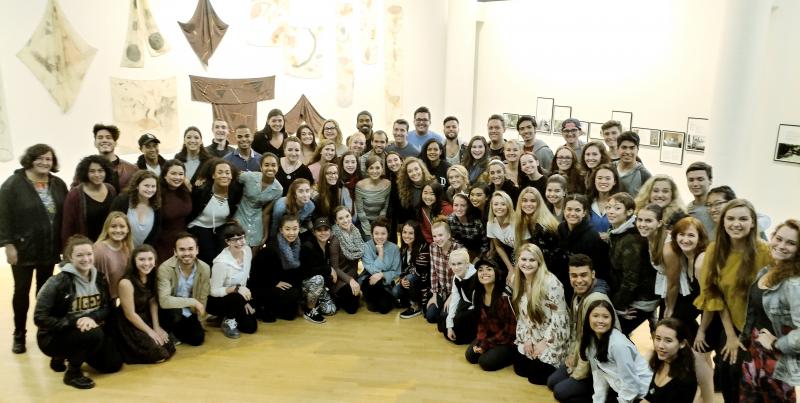 Is your program entirely musical theatre, or do you offer other aspects of education?
M: Andrew, of course, is really smart and realized that dancers need to learn how to take care of their bodies, everyone does. So he brought in fitness classes to the school, meditation, mindfulness, classes from Jane Jourdan who runs Fit for Broadway and my wife Marisa Merliss who teaches a thing called MELT. Jane Jourdan's mindfulness class is very important for these kids to learn how to sit and chill out in a world where they're in an audition room with 800 other people screaming yelling, getting their dance shoes on, like how do I just chill out and do what I need to do?
A: It's a way for the kids to find a way to stay centered in this crazy business.
M: We also have musical theatre history classes to explain where this all came from. To understand now is to understand the past so they sit there and talk about the characters from Show Boat and Hello, Dolly! and Carousel and say how did we get to where we are? So we still have classes where the kids take quizzes and tests and say who are these characters and what is their dramaturgy and what is the philosophy of how they came to be. Then we have an on-camera class we're going to start doing because we know that film and TV have become massive in this city. I was actually a business and public relations major so I'm going to teach the kids about their 401k and pension funds and survival jobs. I had a survival job as a real estate agent whenever I wasn't on Broadway.
A: The curriculum was designed to give only what you need to be successful. We have no filler classes.
How does your school compare in terms of tuition?
A: One of the biggest issues that I find is that kids graduate with such an insurmountable amount of debt from school at average around $140,000-$250,000. I've met students who have all of this debt and they move to the city and say "now what?" They have to get a job where they're working 40 hours a week just to make their student loan payments and their rent, just to survive, and so they stop training. They literally cannot afford to take a $200 voice lesson, $22 dance classes, which are things that should be every week. We started this school to make it very affordable for people, who we think will become successful in this industry, to train. So most of our students graduate with no debt. None. They can just focus on moving forward, not thinking how do I manifest the money to pay for the next 20 years of this loan.
M: We also offer payment plans through the school. You don't have to go through the bank to get a loan, you can do it directly through the school. There's no bank, there's no interest rate, you come to us and say here's what I can pay and then we can say here's a payment plan. Here's what you bring to the school so here's what we can offer you to make it work. We of course have people paying in full while some people are on a full scholarship or semi-scholarship and some on payment plans. We have a bunch of different offers.
A: I've seen so many people with degrees quit the business because they actually can't continue their training. And so after our kids graduate, we'll be offering many classes each week at a really really discounted rate. Much less than what they would pay at popular locations around the city so that our kids are constantly getting the latest information, constantly staying on top of their game and working with people in the industry who are doing it so that they, themselves, can be successful for the next 20 years in the industry.
Why do you think a theatre education is important?
M: The reason why I think it's important is there are so many people trying to get into this business right now. We've talked to many casting directors that say a lot of kids don't even know how to audition. They know how to sing, they know how to act, they know how to dance maybe, but they don't understand the technique of auditioning. A lot of people think it's an American Idol type thing, I'm just going to try out for this. I think the difference an education gives is the professionalism. If they come out of our school, they will know how to do their audition book, how to stand in the room, how to take notes from a director. They'll know how to warm up and take care of their bodies, how to learn their lines and come prepared and ready to look at a scene or script, all of those things will set them apart. They'll know what to expect.
I do think that people come out of high school thinking "okay I'm ready to go audition" when really, you need to know at a Broadway show there aren't any warm ups, you warm up by yourself, get there a half an hour earlier than your call time is. Or here's how to talk to a stage manager, who do you talk to if you're having trouble with someone in the cast? I really think that the difference is, with so many people vying for this industry now, this information that we give is vital and will put them at a different level.
I recently sat in on an audition for a show and I was amazed at how many people just didn't know the basic technique of simply auditioning. Someone would ask do you have anything else to sing and the guy would look through his book for two minutes and the casting director would say you know what, don't worry about it, thank you so much, and she said I can't believe they don't know how to do this. I think that if two people show up with the same amount of talent, or even a little bit less, and our student says here's my book, table of contents, knows how to talk to a casting director, how to keep the relationship going with networking and all of that stuff, I think those kids will be more successful. And that is why I think this program and schooling is vitally important. Because there are so many doing it, we need to give them an edge to get ahead.
A: The musical theatre degree is not what's going to get you hired. At the end of the day it's the training and the connections. Can you do it or not and who do you know? And that was really why I wanted to start this school, to give kids that. To give them the absolute best training and the absolute best real world connections.
Find out more about IAMT at https://www.iamusicaltheatre.com/.