Click Here to Visit the College Center

Blogs are the opinions of the authors and do not necessarily reflect the opinions of BroadwayWorld. BroadwayWorld believes in providing a platform for open and constructive conversation.

BWW Blog: Artist Feature - Ian Dorian
Ian Dorian, co-creator and artist for Law of Resistance, is no stranger to storytelling.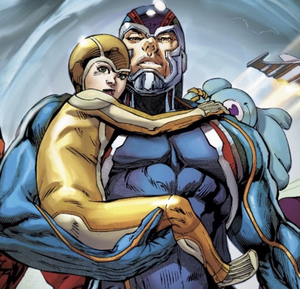 Ian Dorian, co-creator and artist for Law of Resistance, is no stranger to storytelling.
As a young child, he became fascinated with dramatic storytelling through images of stained glass windows and sculptures while passing by churches while walking with his mother. He was and still is inspired by their common extraordinary elements: "rising up" or "suffering". He remembers the very day that he first read a comic book: during his first haircut on Broad Street in Elizabeth, New Jersey. "To keep me preoccupied, they handed me an issue of The Avengers, with cover art by Jack Kirby. It reminded me of the extraordinary and fantastic events depicted in church windows, and I was just blown away. I loved seeing these characters in a very dramatic emotion or situation, and loving the stories just came naturally after that."
At eight years old, he was invited to attend the School for the Gifted and Talented (now referred to as a magnet program) in Elizabeth, New Jersey in the fine arts program. He studied performing arts (theatre, ballet, opera), languages, sciences, various types of drawing, sculpture, and painting. "I didn't see a difference between opera and the images that I was so fascinated by: sculptures, paintings, and comics. They were all big; larger than life, in-depth and dealt with the human condition. They challenge us to ask ourselves the hard questions."
Ian started his first professional work at the age of twelve, being hired as a character designer and comic book artist for an independent publication. By 21, he was working in studios with Marvel Comics artists. Since then, he has taught other artists as a professor at The Maryland Institute College of Art, Parsons, University of the Arts and the Kubert school. His notable clients include 20th Century Fox, Marvel Productions, Valiant Entertainment, Fox Media, and Capital One. He currently has several books he's working on, currently writing and illustrating a new series for PKMM Entertainment, publisher of his recent graphic novel Law of Resistance.
Law of Resistance follows this story: "A king is betrayed by his own army. His dying world is on the brink of destruction when King Aidon and his family flee to Earth. Aided by advanced survival suits, the royal family must overcome all the dangers Earth throws at them, while the king struggles with the question of whether to save his home planet at the expense of Earth. With their home planet bereft of resources, it is believed that invading Earth and appropriating its natural resources could save their people and their planet. But who deserves to live? Will a King bearing the responsibility to protect his people disregard his birthright for the survival of his own wife and children?" The super-powered suits that the royal family acquire react to the thoughts and emotions of the wearer. These suits become a powerful metaphor for the power of the mind and believing in our own abilities to succeed, which had me not able to put it down and read the graphic novel in one sitting! You can get your copy here.
Perhaps my favorite story that Ian shared with me during our wonderful conversation was about his interview to the The Kubert School of Cartoon and Graphic Art. He had to cancel his first interview due to extraordinary circumstances. The rescheduled interview happened to fall in the middle of an unexpected snowstorm. "I couldn't cancel on Joe Kubert a second time. So I drove to the school in this extremely dangerous weather." What should have been a one hour drive took four, but Ian made it there safely. Joe was so surprised when Ian banged on the doors of the Kubert School, and they spent a few hours talking in the empty building. Impressed by Ian's tenacity and commitment to his craft, Joe invited him to attend the school with a considerable scholarship. This story sums him up: he's determined yet humble, he gives his all to the projects and people he's working with, and he never gives up until he succeeds.
You can keep up with Ian Dorian at his Twitter, Instagram, Linkedin, and his website here and portfolio website here. I will leave you with this wise quote that Dorian is known for: "we are all both the hero and the victim in our own story."