BWW Album Review: Let The Praise Rise For JESUS CHRIST SUPERSTAR LIVE IN CONCERT Original Soundtrack
NBC's live concert staging of JESUS CHRIST SUPERSTAR aired this past Easter Sunday. Largely sung from the perspective of Judas, listeners join the journey through final week in the life Jesus Christ, from Palm Sunday to the arrest and crucifixion. Performed live on a set of exposed scaffolding in Brooklyn's Marcy Armory, this live musical gave cause to all of its televised musical predecessors. Masterworks Broadway released the live recording of the vivacious television event digitally on April 6th, with a physical version to follow on April 20.
Andrew Lloyd Webber and Tim Rice were in their early 20s when they wrote the music and lyrics, respectively, to JESUS CHRIST SUPERSTAR. Although they were young, this was the third musical that the duo had already written together (THE LIKES OF US and JOSEPH AND THE AMAZING TECHNICOLOR DREAMCOAT came first). Rounding out their musical trinity, the score of SUPERSTAR, at the very least, should serve as a source of hopefulness for all young, struggling and emerging creatives. Closing in on 50 years since the shows 1970 debut, to have such a successful, albeit contemporized, production still hold true to the source material really is a renewed testament to the writers. Some may even call it a new testament...
The producers of this production had it billed from the start as a "concert staging", which could not have been a more perfect fit, Webber and Rice originally wrote it as a rock opera. Coincidentally, having been in the room for the live taping, I can attest that not only was the audience encouraged to treat it like a rock concert with cell phones out and expressive cheering, but can attest that it is definitely the sort of rock concert any musical theatre fan would love to see. Furthermore, what really made this production work was the interaction between the performers and audience. While past televised musicals have had audiences, this production and its subsequent recording kept the energy alive by having the crowd and actors in acknowledgement of one another, as opposed to the typical minimal audience participation. On the album, the crowd here feels less like and audience and more like a character. For a musical that relies heavily on a strong and versatile ensemble, the live sea of audience members taking their cues also added greatly to that force. We hear it in tracks like the opening number, "Heaven on Their Minds", wherein the audience roars as Judas, played by the incredulous Brandon Victor Dixon, croons of how Jesus has amassed so many followers. Those cheers are a result of Jesus, portrayed here by renowned musician John Legend, doling out high fives to the pit fans. Later throughout the album, there are multiple references to the crowd of 50,000. Although there were not that many, disbelief can be suspended less where there is an involved crowd that sound that adds to the masses. All this to say there is something really special about this album, in is that it really lives up to its concert billing, and is resonant with all the fixings of an actual concert.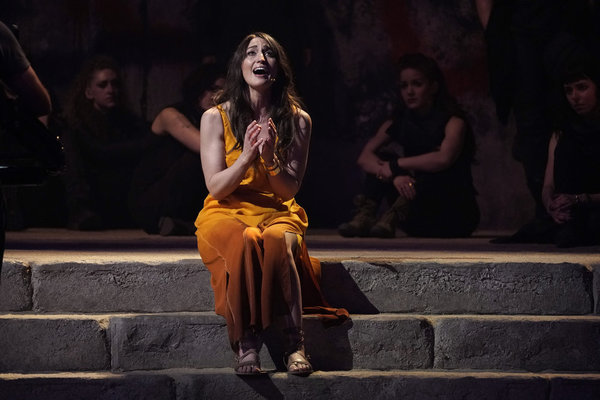 JESUS CHRIST SUPERSTAR LIVE IN CONCERT -- Pictured: Sara Bareilles as Mary -- (Photo by: Peter Kramer/NBC)
Many of the past live musicals have relied on household names. While some may say it is to draw viewership, that justification falls flat when the name is perfectly cast. That is definitely the case for Sara Bareilles in the role of Mary Magdalene. In fact, even outside of her and Legend's star power, the production as a whole sees no lack of talent. It has a perfect blend of Broadway and music industry names, while perfecting the balancing act of not having any performance seem forced. Bareilles is a great example as a recent cross between the two. The WAITRESS scribe gives a memorable performance of the Billboard Chart topping song "I Don't Know How To Love Him". In fact, the song even falls in line with the genre that the singer/songwriter typically writes and performs on her own, so it seems all the more natural. While there might be some to be said for Legend's acting, he also gives a memorable vocal performance as the title character. Our Jesus in high tops has a voice the gushes with pacifism and passion. Having celebrities in lead roles is hard to be contented with when they can deliver.
Unadulterated musical magic is delivered by Brandon Victor Dixon. The album is worth listening to for his performance as Judas alone. Since the story is told from his characters perspective, a lot of the exposition and emotional tone is Dixon's cross to bear. The stage actor, most known for taking over the role of Aaron Burr from Leslie Odum Jr. in HAMILTON, earns the MVP trope, ("P" standing for performer here) of the cast. His performance is nothing short of meticulous. Every note he exudes is calculated, but couldn't be farther from feeling forced. The foil between his Judas and Legend's Jesus was palpable. Each track he is featured on builds on the last, delving deeper and deeper in emotion and distress until we reach the characters inevitable act of self-destruction. From the conflicted-ness he renders in "Damned For All Time/Blood Money" to the desperation and agony in "Judas's Death", to the steampunk mockery in "Superstar", Dixon proves that he is not a master of none, but a Judas of all trades.

JESUS CHRIST SUPERSTAR LIVE IN CONCERT -- Pictured: Brandon Victor Dixon as Judas -- (Photo by: Paul Lee/NBC)
I would be amiss to not tip my hat in acknowledgement to the extremely talented, versatile and incredibly diverse ensemble of twenty-five. From lepers to apostles, the group of performers kept the energy in check from top to bottom. The youthful crew, ripe with Broadway talent, led the shouts of praise and pain, all the while speaking volumes to a message of inclusivity. Other stand out performances came from Jason Tam in the role of Peter, Jin Ha as Annas, and Norm Lewis as Caiaphas. The production also featured rocker Alice Cooper in a reprisal of the role of King Herod, which he had played back in 1996. Each portrayal added to the visually and sonically impressive album and production as a whole.
In summation, Legend brings a distinctive soothingness to the role. Dixon makes it look and sounds effortless. Bareilles delivers a healthy dose of humanity and gravity. Webber and Rice are tried and true musical craftsman, who wrote a perennial piece. Once you are done listening, you will be asking yourself "could we start again please". Click here for more information on how to listen/purchase the album! Be sure to also check out JESUS CHRIST SUPERSTAR on the newly announced national tour, starting in 2019.
Images Courtesy of NBC