BWW Review: THE TEMPEST at Teatro San Martin
International Season 2018 (United Kingdom-Argentina) at the Teatro San Martin, offers a variety of experiences where artists of different nationalities share their talent.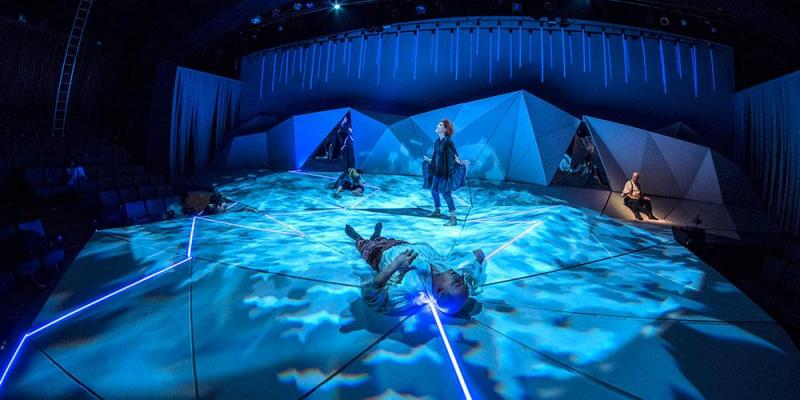 The Tempest by William Shakespeare, directed by Penny Cherns, brings to the stage a magical story, that in spite of it's fantastic elements, speaks loudly about the reality of the world we live in. Power, betrayal, love, nature, freedom and family, are some of the concepts that this play puts in the eye of the storm.
This storm takes the stage in an unreal and incredible way. The floor rises and becomes sky and sea at the same time. Geometric forms are mixed with light and sound, generating a surreal space for the actors to transform. Lighting by Eli Sirlin, scenery by Jorge Ferrari and sound design by Rony Keselman make the stage alive, and it becomes another force and a protagonist in the telling of this story.
Prospero, a father, willing to do anything for his daughter, manages to magically control other's fortune. Isolation and hunger for revenge have made him forget compassion, and he'll have to find a way back to his humanity. Osqui Guzman takes this role with grace and wit, and his playfulness makes Prospero more powerful and relatable, at the same time.
Malena Solda takes a risk giving life to Ariel, a spirit both funny and serious at times, loyal to it's master but yearning for it's freedom. Malena is present, dynamic and available for this unpredictable and temperamental but equally respectful and awake creature she's portraying.
Ferdinand (Martin Slipak) and Miranda (Alexia Moyano) find a beautiful innocence that becomes maybe, the only hope this world is going to have for a better future.
Martin, Gustavo Pardi, Marcelo Xicarts and Ivan Moschner are the four actors that play more than one role. They all have found specific and very effective and fun ways of transitioning from one into the other, and it works like clockwork, as any comedy should.
And I refer to it as a comedy, because even in the darkest moments of the story, the director Penny Cherns leaves room for humor to lead the way. Her vision is clear, she lets the characters speak for themselves, and takes them by the hand without imposing, but accompanying their journey.
Is Prospero's magic just a metaphor for the power he claims by being the leader of the island he was exiled to? Is his magic gone because he loses his power when he decides to return to Milan? Is that magic just seen by the eyes of his daughter? Is that her way of believing her father is an all-powerful man until she finds another one to also rely on?
There's a hundred different ways we can perceive this piece. But there is no question that our world today still deals with wars and people blinded by ambition.
We can only hope that happy endings are also possible for us.