An Unexpected Foray Into Elvis Mania Inspires A New Solo Show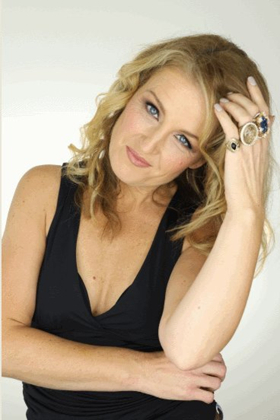 Adelaide singer and cabaret artist Mel McCaig will premiere her first solo show, Gifts from the King, on 16 and 17 November at Holden Street Theatres as part of the 2018 Feast Festival.
Renowned for her co-creations Flat on your Bacharach, Women with Standards and Joni Mitchell homage The Fiddle and the Drum, Mel McCaig has spent the last 5 years singing with internationally acclaimed Elvis Presley Tribute Artists from the UK, Australia and the USA - an experience that she says compelled her to create this new work.
Performing with 5 leading Adelaide musicians and with musical direction by Carol Young (State Theatre Co. SA, State Opera SA, Belvoir St Theatre, Brink) Mel says Gifts from the King will deliver fresh and unexpected interpretations of Elvis' most loved songs including tender ballads, big vocal harmonies, raw energy and honest storytelling.
'As a jazz educated singer I had reservations about entering the Elvis world!' Mel says.
'There can be a lot of judgement about Elvis Presley's music and the image that has been created of him over many years. But I found myself completely falling in love with his songs. Each night on stage I would discover another lyric, another chord change, another nuance that thrilled and moved me all at once.'
Studying the Elvis songbook, Mel found what she describes as 'breathtaking' recordings of the same songs by artists like Nancy Sinatra, Roberta Flack, Peggy Lee, Dusty Springfield and Aretha Franklin.
'I was literally stopped in my tracks,' Mel says. 'These musical masterpieces were being revealed to me and I had Elvis to thank for it - hence the name of the show Gifts from the King. If I'd allowed pre-conceived ideas and prejudice to blind me, I would never have discovered what are now some of my all time favourite songs. And really, that's what this show is about. Getting under the surface and finding the real story, the real heart of a song, and the real heart of a person - that's where the excellent surprises are.'
Mel says Feast is the perfect setting to premiere this work because it's a festival that celebrates open mindedness and acceptance. 'As a member of the LGBTQI community, I'm living proof that things aren't always as they seem!'
Gifts from the King premieres at Holden Street Theatres - The Arch. November 16 & 17, 8pm. Tickets: feast.org.au holdenstreettheatres.com ph 8225 8888
More Hot Stories For You