SHOW BIZ: Weekend Movie Box Office Estimates: August 27- August 29, 2010
Rank

Film

Distributor

Weekend Total

# Of Screens

Weeks Playing

Cumulative
Box Office

1

The Last Exorcism

Lions Gate

$21,300,000

2,874

1

$21,300,000

2

Takers

Sony/Columbia

$21,000,000

2,206

1

$21,000,000

3

The Expendables

Lions Gate

$9,500,000

3,398

3

$82,010,000

4

Eat Pray Love

Sony

$7,000,000

3,108

3

$60,716,000

5

The Other Guys

Sony

$6,600,000

3,181

4

$99,300,000
For more information, access the complete chart on boxofficemojo.com.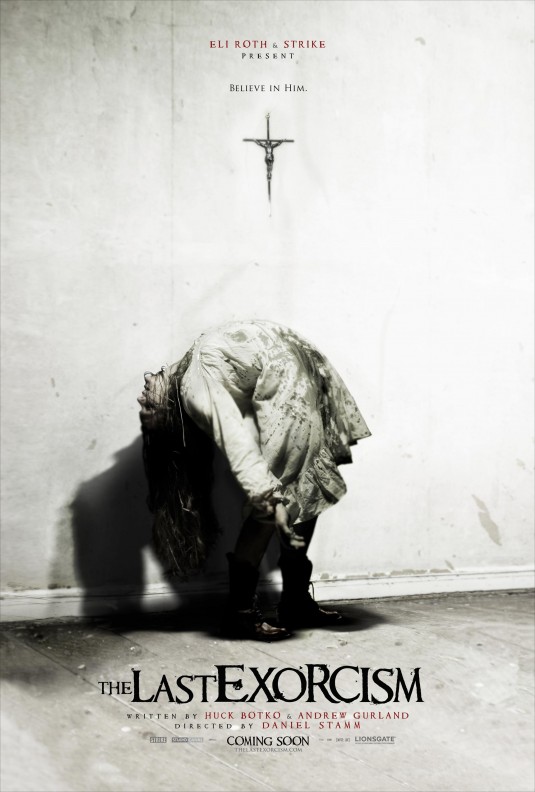 1."The Last Exorcism:" When he arrives on the rural Louisiana farm of Louis Sweetzer, the Reverend Cotton Marcus expects to perform just another routine "exorcism" on a disturbed religious fanatic. An earnest fundamentalist, Sweetzer has contacted the charismatic preacher as a last resort, certain his teenage daughter Nell is possessed by a demon who must be exorcized before their terrifying ordeal ends in unimaginable tragedy.
Buckling under the weight of his conscience after years of parting desperate believers with their money, Cotton and his crew plan to film a confessionary documentary of this, his last exorcism. But upon arriving at the already blood drenched family farm, it is soon clear that nothing could have prepared him for the true evil he encounters there. Now, too late to turn back, Reverend Marcus' own beliefs are shaken to the core when he and his crew must find a way to save Nell--and themselves--before it is too late. -www.moviefone.com

2. "Takers:" 'Takers,' directed by John Luessenhop, revolves around a notorious group of criminals (Idris Elba, Paul Walker, T.I., Chris Brown, Hayden Christensen and Michael Ealy) who continue to baffle police by pulling off perfectly executed bank robberies. They are in and out like clockwork, leaving no evidence behind and laying low in between heists. But when they attempt to pull off one last job with more money at stake than ever before, the crew may find their plans interrupted by a hardened detective (Matt Dillon) who is hell-bent on solving the case. -www.moviefone.com
3. "The Expendables:" An all-star cast of action-movie icons headline Sylvester Stallone's explosive action thriller about a group of hard-nosed mercenaries who are double-crossed during a treacherous mission. Approached by the shadowy Church (Bruce Willis) to overthrow tyrannical South American dictator General Gaza (David Zayas) and restore order to the troubled island country of Vilena, stoic soldier of fortune Barney Ross (Stallone) rounds up an unstoppable team that includes former SAS soldier and blade specialist Lee Christmas (Jason Statham); martial arts expert Yin (Jet Li); trigger-happy Hale Caesar (Terry Crews); and cerebral demolitions expert Toll Road (Randy Couture). Traveling to Vilena on a reconnaissance mission with his old pal Christmas, Barney meets their local contact, a cagey guerrilla fighter named Sandra (Giselle Itie), and together the trio scopes out the landscape.. It isn't long before Barney and Christmas have discovered that their actual target is not General Gaza but James Monroe (Eric Roberts), a former CIA operative who has recently gone rogue. Monroe won't be easy to get to either, because his hulking bodyguard Paine (Steve Austin) is a force to be reckoned with. When their mission is compromised, Barney and Christmas are forced to flee, leaving Sandra behind to face almost certain death. But Barney isn't the kind of soldier to abandon a mission, or a hostage, and now in order to get the job done he'll need the help of his old crew. - Jason Buchanan, Rovi

4. "Eat Pray Love:" A woman who once made it her goal in life to marry and rear a family finds her priorities suddenly shifting in Ryan Murphy and Jennifer Salt's adaptation of author Elizabeth Gilbert's best-selling memoir. In the eyes of many, Liz Gilbert (Julia Roberts) was a woman who had it all -- a loving husband, a great career, and a weekend home -- but sometimes one realizes too little too late that they haven't gotten what they truly wanted from life. On the heels of a painful divorce, the woman who had previously looked forward to a contented life of domestic bliss sets out to seek her true destiny by traveling first to Italy, where she learns to appreciate nourishment; then to India, where she discovers the power of prayer; and finally to Bali, where she unexpectedly finds the meaning of true love. - Jason Buchanan, Rovi

5. "The Other Guys:" Set in New York City, 'The Other Guys follows Detective Allen Gamble (Will Ferrell), a forensic accountant who's more interested in paperwork than hitting the streets, and Detective Terry Hoitz (Mark Wahlberg), a tough guy who has been stuck with Allen as his partner ever since an unfortunate run-in with Derek Jeter. Allen and Terry idolize the city's top cops, Danson and Highsmith (Dwayne Johnson and Samuel L. Jackson), but when an opportunity arises for the Other Guys to step up, things don't quite go as planned. - www.moviefone.com
More On:
Idris Elba
,
Paul Walker
,
Chris Brown
,
Hayden Christensen
,
Michael Ealy
,
Matt Dillon
,
Sylvester Stallone
,
Bruce Willis
,
David Zaya
.