Father, Son Find Adventure Crossing Continents in New Book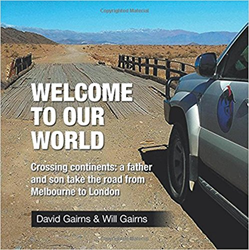 David Gairns and Will Gairns take readers on an extraordinary adventure across continents in their new book release, "Welcome to Our World" (published by Xlibris AU). A trip launched in Australia until their final destination of London, this chronicling looks not only at their travel experience but into a father and son's relationship, family interactions and trust of total strangers.

"Welcome to Our World" is about a rather settled, then 61-year-old David and his teen son Will taking a road trip in 2010, through Asia from Melbourne to London. Sparked by listening to mere snippets of radio chat, it explores their fears and doubts, stresses and joys, as well as father and son bonding - or not bonding at all, as so happens. It also describes what happens when David's partner, Ros, and older son, Hamish, join the adventure and, ultimately, what an extraordinary world it is that they drove through.

"At a time when fear, distrust, wars and depression, suicide and numerous other ills are talked daily, this book is an affirmation that much of the world is not so scary after all, and that love of family, trust of ordinary people and the pleasures of slow travel are aspects of life to be celebrated. It shows that exploring the world can be a humbling experience and that the generosity of strangers can change lives," David shares.

A journey described as life changing and relationship enhancing, "Welcome to Our World" is a family love story set in the context of a fascinating journey through exotic countries.